Ad blocker interference detected!
Wikia is a free-to-use site that makes money from advertising. We have a modified experience for viewers using ad blockers

Wikia is not accessible if you've made further modifications. Remove the custom ad blocker rule(s) and the page will load as expected.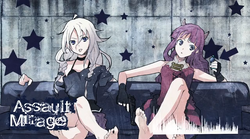 Song title
"Assault Mirage"
Uploaded April 19, 2012, with 68,000+ views
Singer(s)
IA, Aoki Lapis, Hakaine Maiko
Taishi (rap)
Producer(s)
Nhato (composer, arrange, tuning)
Taishi (composer, tuning, illust)
GaSHOT (lyrics, guitar, bass, movie)
Nameko (lyrics)
Ei (illust)
LiGHTEN (design)
Links
Niconico Broadcast • YouTube Broadcast (reprint, subbed)

Background
Edit
A heavy metal song about the harshness of life and the desire to eat udon.
| Singer | Color |
| --- | --- |
| Aoki Lapis | Slate grey |
| IA | Dim grey |
Japanese (日本語歌詞)
Romaji (ローマ字)

さぬきにきつね かれーもよくあう

sanuki ni kitsune karee mo yoku au

たまには素肌もよく視て かけうどん

tama ni wa suhada mo yoku mite kakeudon

妬けてしまうほど 焼うどん

kaketeshimau hodo yakiudon

だけど本当は私 お蕎麦派なんだ

dakedo hontou wa watashi o-soba ha nanda






世界が無機質に加速する

sekai ga mukishitsu ni kasokusuru

味気無い現実さえ

ajikenai genjitsu sae

欠けてしまえば壊れてしまう

kaketeshimaeba kowareteshimau

ツクリモノ

tsukurimono




冷たい部屋に一人佇む

tsumetai heya ni hitori tadazumu

欠けてしまった心は

kaketeshimatta kokoro wa

闇に染まり行く

yami ni somari yuku

そんなことよりおうどんたべたいよ

son'na koto yori o-udon tabeyai yo






あなたの心 おうどんの心

anata no kokoro o-udon no kokoro

たまにはお蕎麦も気にして LOVE OSOBA

tama ni wa o-soba mo ki ni shite LOVE OSOBA

愛してくれないならいっそ

aishitekurenai nara isso

お前を蕎麦にするわ だから私は

omae wo soba ni suru wa dakara watashi wa






世界に苛立ちを隠せない

sekai ni iradachi wo kakusenai

あり得ない真実さえ

arienai shinjitsu sae

嘘が本当になる瞬間 象られ

uso ga hontou ni naru shunkan katadorare




黒く塗りつぶされてゆく空

kuroku nuritsubusarete yuku sora

空いてしまった心は

aiteshimatta kokoro wa

嘘に染まりゆく

uso ni somariyuku

そんなことよりおうどんたべたいよ

son'na koto yori o-udon tabeyai yo
Derivatives
Edit
Rana, Yui, and Ichihime's Cover

| | |
| --- | --- |
| Featuring | Sorane Rana, Sorane Yui, Otodamaya Ichihime |
| Author(s) | AsterSelene (cover, UST), meganekkodrea (illust) |
| Category | UTAU cover |
External links
Edit
| | |
| --- | --- |
| | Official |
| | |
| --- | --- |
| | Articles |
| | |
| --- | --- |
| | Downloads |