Ad blocker interference detected!
Wikia is a free-to-use site that makes money from advertising. We have a modified experience for viewers using ad blockers

Wikia is not accessible if you've made further modifications. Remove the custom ad blocker rule(s) and the page will load as expected.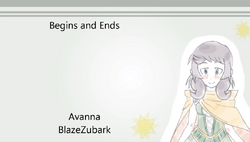 Song title
"Begins and Ends"
Uploaded November 1, 2014, with 100+ views
Singer(s)
AVANNA
Producer(s)
BlazeZubark
Links
YouTube Broadcast
Background
Edit
"Begins and Ends" is an original AVANNA song.
Deep in me I can feel my past
Back then when I knew how to laugh
Those harsh words when I was in last
Emotions split in half

I'm in command of my life
Now that you're gone from here
What my life once revolved around
Was my heart's false feelings

Viewing the waterfall
Cascading water drops
The waterfall

I'm ready to go now
And then I saw the train arrived
The mocking and the lies
I will not be deprived
This game we play is getting old
I need a second from you now
You're contantly putting me down
I'll say it again

I say when it begins and ends (x4)

Lots of failures on my record
But that doesn't mean I'm withdrawn
I cannot come up with the words
To explain why I'm gone

I'm in control of my life
Now that I found the will
What my life once revolved around
Will not mean anything

Viewing the fireworks
Lights falling from the sky
The fireworks

I'm ready to go now
And then I saw the train arrived
The mocking and the lies
I will not be deprived
This game we play is getting old
I need a second from you now
You're contantly putting me down
I'll say it again

I say when it begins and ends (x4)
(repeat)