This song article is lacking a proper background. You can help by adding one! The relevant section in the Song Article Guideline is a good starting point, and this blog post may also be helpful. We apologize for the inconvenience this may cause in the meantime.

Song pages lacking proper backgrounds are automatically sorted into this category.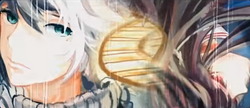 Song title
"Bird Cage"
Uploaded July 1, 2016, with 59,000+ views
Singer(s)
Yuezheng Ling
Producer(s)
Coin Music Studio: Cre-sc3NT (compose, arrange)
PTX (tuning)
E.S.C (lyrics)
Gold3 (illustrator)
Qin Ling Xi Mo (video editor)
Links
YouTube Broadcast (reprint)
bilibili Broadcast

Background
Edit
"Bird Cage" is an original song featuring Yuezheng Ling. Yuezheng Longya makes a cameo in the PV and the song is related to 飞跃乌托邦 (Fēiyuè Wūtuōbāng).
Chinese (中文歌词)
Pinyin (拼音)
沙漏计翻折 眼前蔓延深红
shalou ji fan zhe yanqian manyan shen hong
她抬头仰望 那片苍灰天空
ta taitou yangwang na pian cang hui tiankong


历史的重演 已经无法知晓
lishi de chongyan yijing wufa zhixiao
梦中下坠前 闭眼再次祈祷
meng zhong xiazhui qian bi yan zaici qidao
这世界依然 如同往日喧嚣
zhe shijie yiran rutong wangri xuanxiao
隔过铁丝网 禁锢于此地的小鸟
geguo tiesiwang jingu yu cidi de xiao niao
漫步在那条 繁华熟悉街道
manbu zai na tiao fanhua shuxi jiedao
黑白人行线 铭记什么纷扰
heibai renxing xian mingji shenme fenrao
漆黑人群间 青年身影孤傲
qihei renqun jian qingnian shenying gu'ao
凝视那边界 瞳中又将什么映照
ningshi na bianjie tong zhong you jiang shenme yingzhao


不断重叠 与交​​织 的对象生命线
buduan chongdie yu jiao​​zhi de duixiang shengmingxian
寻迹变演 再计算 那邂逅又将重现
xun ji bian yan zai jisuan na xiehou you jiang chong xian
加诸于此 连诘问 亦构成系统缺陷
jia zhu yu ci lian jiwen yi goucheng xitong quexian
此刻便 倾颓这 世界如同我所愿
cike bian qing tui zhe shijie rutong wo suo yuan
几近窒息 奔跑在 螺旋梯的边沿
ji jin zhixi benpao zai luoxuan ti de bianyan
步伐渐重 脚下似 纠缠着无形锁链
bufa jian zhong jiaoxia shi jiuchanzhe wuxing suolian
铁网封闭 抬头也 看不到的那一边
tie wang fengbi taitou ye kan bu dao di na yibian
又有谁 读秒着 牢笼之外的时间
you you shei dumiaozhe laolong zhi wai de shijian


红雀高唱 双翅被捆绑
hong que gao chang shuang chi bei kunbang
在何方 重复的反抗
zai hefang chongfu de fankang
又将 不断彷徨
you jiang buduan fanghuang
编织名为梦的虚妄
bianzhi ming wei meng de xuwang
时光漫长 看守者隐藏
shiguang manchang kanshou zhe yincang
那狂妄 无谓的念想
na kuangwang wuwei de nian xiang
应当 不再奢望
yingdang bu zai shewang
连感情也一并埋葬
lian ganqing ye yi bing maizang


现在推算 并重构 那逻辑终结点
xianzai tuisuan bing zhong gou na luoji zhongjie dian
依旧错乱 又循环 秩序也瞬息万变
yijiu cuoluan you xunhuan zhixu ye shunxiwanbian
再次睁眼 不去想 空洞无力的谎言
zaici zheng yan bu qu xiang kongdong wuli de huangyan
此刻就 挣脱那 束缚双脚的锁链
cike jiu zhengtuo na shufu shuang jiao de suolian
沙漏再次 被倒转 崭新世界重编
shalou zaici bei daozhuan zhanxin shijie zhong bian
灰色天际 缝隙外 狂想家宣判终焉
huise tianji fengxi wai kuangxiang jia xuanpan zhong yan
不断追逐 与杀戮 看守者凝视的眼
buduan zhuizhu yu shalu kanshou zhe ningshi de yan
红雀又 何时能 飞向天空的界限
hong que you he shi neng fei xiang tiankong de jiexian


冰封的心愿 已然无力申辩
bing feng de xinyuan yiran wuli shenbian
所谓的终结 过后依旧上演
suowei de zhongjie guohou yijiu shangyan
红雀的歌声 回响在他耳边
hong que de gesheng huixiang zai ta er bian
她永被囚于 他创造的完美伊甸
ta yong bei qiu yu ta chuangzao de wanmei yi dian
External links
Edit
| | |
| --- | --- |
| | Articles |