Ad blocker interference detected!
Wikia is a free-to-use site that makes money from advertising. We have a modified experience for viewers using ad blockers

Wikia is not accessible if you've made further modifications. Remove the custom ad blocker rule(s) and the page will load as expected.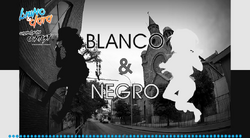 Song title
"Blanco & Negro"
English: Black & White
Uploaded October 7, 2014, with 530+ views
Singer(s)
Bruno & Clara
Producer(s)
KaoruPhantomhive (music, lyrics)
Links
YouTube Broadcast (VOCALOID.cl upload)

Background
Edit
"Blanco & Negro" was an entry for the Bruno & Clara Original Song Contest hosted by VOCALOID.cl. It was judged as note-worthy.
The genre is Alternative.
Dentro de mi cabeza
me puse a pensar
Que esto llegaría
a su punto final
Pero después de un tiempo
me di cuenta
Que para que esto acabe
mucho mas se va a necesitar.

(Blanco y Negro)
Ese es mi color
(Blanco y Negro)
Ese es mi color
(Blanco y Negro)
Es lo que soy yo.

Blanco, Blanco y Negro
Todo es Blanco y Negro
Todo lo que siento es Blanco, Blanco y Negro.

(Blanco, Blanco y Negro)
(Todo es Blanco y Negro)
(Todo lo que siento es Blanco, Blanco y Negro.)


Tal vez... no me convenció
Quise... pero no resultó.
Nunca... digas... nunca.

(Blanco y Negro)
Ese es mi color
(Blanco y Negro)
Ese es mi color
(Blanco y Negro)
(Blanco y Negro)
(Blanco y Negro)
Ese es mi color
(Blanco y Negro)
Ese es mi color
(Blanco y Negro)
Es lo que soy yo o - o - o - o

Blanco, Blanco y Negro
Todo es Blanco y Negro
Todo lo que siento es Blanco, Blanco y Negro
(Blanco y Negro, Blanco y Negro, Blanco y Negro, Blanco y Negro)
External links
Edit
| | |
| --- | --- |
| | Articles |