Ad blocker interference detected!
Wikia is a free-to-use site that makes money from advertising. We have a modified experience for viewers using ad blockers

Wikia is not accessible if you've made further modifications. Remove the custom ad blocker rule(s) and the page will load as expected.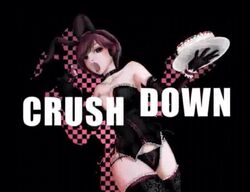 Song title
"CRUSH DOWN"
Uploaded May 29, 2009, with 3,000+ views
Singer(s)
MEIKO
Producer(s)
tatsuro (music, composer, lyrics)
Links
Niconico Broadcast
Background
Edit
Featured in the album Akatsuki (暁 -AKA-TSUKI-). This song had also been selected for a MEIKO V3 DARK Demo.
Succeeding versions
Edit
2011 Remake

Featuring
MEIKO
Author(s)
L.A.M.B
Category
remake

Description

A version this time made by L.A.M.B which added and changed lyrics. This version is also a but more popular than the first one with 11,000+ views on NicoNico.
V3 Demo

Featuring
MEIKO
Author(s)
L.A.M.B
Category
demo

Description

A V3 demo featuring MEIKO V3 DARK
Japanese (日本語歌詞)
Romaji (ローマ字)
今日も始まる 悪夢の一日
kyou mo hajimaru akumu no tsuitachi
街には 暗い顔が群れをなす
machi ni wa kurai kao ga mure o nasu
朝から晩まで 仕事をしたって
asa kara ban made shigoto o shitatte
少しも暮らしは 楽にはなりゃしない
sukoshi mo kurashi wa raku ni wa narya shinai


職場はいつでも 険悪なムード
shokuba wa itsu demo ken'akuna muudo
ヘマばかりの部下 イライラ上司
hema bakari no buka iraira joushi
古株マダムは 鷹の眼をして
furukabu madamu wa taka no me o shite
新人のあの娘 睨み付けてる
shinjin no anomusume niramitsuke teru


人は誰でも 見えない恐怖に怯え続ける
hito wa dare demo mienai kyoufu ni obie tsudzukeru
報われることない 社会の不条理飲み込んでいる
mukuwa reru koto nai shakai no fujōri nomikonde iru


今だけはそう ブチ切れて
ima dake wa sou buchigirete
声を上げ その怒り吐き出せ
koe o age sono ikari hakidase
拳を振り 突き破れ
ken o furi tsukiyabure
現実という この悪い夢
genjitsu to iu kono warui yume


生まれたことを悔やんでみたって
umareta koto o kuyande mitatte
誰かにすがり付きたくなったって
dareka ni sugaritsukitaku nattatte
明るい未来なんて 何処にもない
akarui mirai nante dokonimonai
存在するのは 確かな現在(いま)だけさ
sonzai suru no wa tashikana ima dake sa


誰かと誰かが 惚れた別れたの
dare ka to darekaga horeta betsu reta no
要らないニュースばかり溢れてる
iranai nyuusu bakari afure teru
根も葉もないこと 作り話も
nemohamonai koto tsukuribanashi mo
噂になったら それは真実
uwasa ni nattara sore wa shinjitsu


人の弱味を 掴んでしまえば 書いたもん勝ち
hito no yowami o tsukande shimaeba kaita mon kachi
憧れのスターさえ 奴らにかかれば ただの負け犬
akogareno sutā sae yatsura ni kakareba tada no makeinu


操作されてる情報
sousa sa re teru jouhou
くだらない 噂など要らない
kudaranai uwasa nado iranai
メディアに踊らされるな
media ni odorasareru na
真実は 自分で確かめろ
shinjitsu wa jibun de tashikamero


妄想だらけのゴシップ記事も
mousou-darake no goshippu kiji mo
フィクションだらけのリアリティショーも
fikushon-darake no riaritishoo mo
どいつもこいつも 信用出来ない
do itsumo koitsu mo shin'you dekinai
信じられるのは 自分自身だけさ
shinji rareru no wa jibun jishin dake sa


人は誰でも 生まれた時から首輪付けられ
hito wa dare demo umareta toki kara kubiwa tsuke rare
歪んだ社会の歯車になって もがき続けるだけ
yuganda shakai no haguruma ni natte mogaki tsudzukeru dake
それが運命さ
sore ga unmei sa


今だけはそう ブチ切れて
ima dake wa sou buchigirete
声を上げ その怒り吐き出せ
koe o age sono ikari hakidase
拳を振り 突き破れ
ken o furi tsukiyabure
現実という この悪い夢
genjitsu to iu kono warui yume


生まれたことを悔やんでみたって
umareta koto o kuyande mitatte
誰かにすがり付きたくなったって
dareka ni sugaritsukitaku nattatte
救済(すくい)の光なんて 何処にもない
sukui no hikari nante dokonimonai
突っ走るだけさ この世の終焉(おわり)まで
tsuppashiru dake sa konoyo no owari made
External links
Edit
| | |
| --- | --- |
| | Articles |