Ad blocker interference detected!
Wikia is a free-to-use site that makes money from advertising. We have a modified experience for viewers using ad blockers

Wikia is not accessible if you've made further modifications. Remove the custom ad blocker rule(s) and the page will load as expected.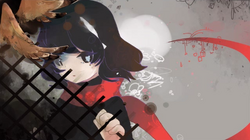 Song title
"Caballa 1/2"
Uploaded January 13, 2012, with 20,000+ views
Singer(s)
SeeU
Producer(s)
udaque (music, lyrics)
NG (illust)
Links
YouTube Broadcast
Background
Edit
| | | |
| --- | --- | --- |
| " | This song and movie were made for the vocaloid video contest, powered by SBS Arttech. If you think this song is nice enough, please go to tvPot and rate this song through the stars on the right side. | " |
"Caballa 1/2" is an original SeeU song, and one of the first written by udaque.
Korean (한국어 가사)
Romaja (로마자)
Official English (공식 영어 역)
언어의 무게에 짓밟혔던 그 해
eoneo-ui mugee jitbalpyeotdeon geu hae
The year I was crushed underneath the weight of words
겨울의 어느 매우 추웠던 그 때
gyeourui eoneu mae-u chuwotdeon geu ttae
That very cold moment of winter
눈 쌓인 길을 홀로 걸어가며 아파하고 있었지
nun ssain gireul hollo georeogamyeo apahago isseotji
I was walking a snow-covered road alone and hurting
한 걸음마다 과거의 후회를
han georeummada gwageo-ui huhoereul
With every step regrets of the past
한 걸음마다 숨기고픈 일을
han georeummada sumgigopeun ireul
With every step things I wanted to hide
종이에 쓰고서 눈 속에 몰래 감추려고 했을 때
jongie sseugoseo nun soge mollae gamchuryeogo haesseul ttae
I wrote down on a paper and the moment I tried to hide them underneath the snow
참새 한 마리 내게 다가와서
chamsae han mari naege dagawaseo
A sparrow came to me and said
"눈이 녹으면 다 보여질 거야"
"nuni nogeumyeon da boyeojil geoya"
"When the snow melts it'll all be seen"
한 마디 말하고 몇 걸음 걷더니 날아가버렸지
han madi malhago myeot georeum geotdeoni naragabeoryeotji
One sentence, hopped some and flew away
뒤를 돌아보니 발자국 사이로
dwireul doraboni baljaguk sairo
When I looked back between the footsteps
캔버스 하나가 놓여져 있었고
kaenbeoseu hanaga noyeojyeo isseotgo
Laid a canvas
그 위에는 물고기 머리 하나가 그려져 있었지
geu wieneun mulgogi meori hanaga geuryeojyeo isseotji
And on it a head of a fish was drawn on it


불완전연소되어 의미를 잃어버린 듯
bulwanjeonyeonsodoeeo uimireul ireobeorin deut
Losing meaning in incomplete combustion
입김에 쉽게 감춰지는 형이상학적인 그 표정
ipgime swipge gamchwojineun hyeongisanghakjeogin geu pyojeong
That metaphysical expression easily hidden in the winter breath
존재 가치에 목마른 그의 모습을 보는 게 흡사 거울을 본 것 같아 두려웠어
jonjae gachie mongmareun geu-ui moseubeul boneun ge heupsa geoureul bon geot gata duryeowosseo
I was afraid of looking at his shape so thirsty for the value of existence since it was like looking into a mirror


꽃밭에 덩그러니 놓여진 재떨이 속 잿빛에 물든 듯한 과거를
kkotbate deonggeureoni noyeojin jaetteori sok jaetbiche muldeun deuthan gwageoreul
The gray past inside the ashtray lying in a flowerbed
잊으려 달려갔던 거리에 우두커니 혼자서 방황하는 현재를
ijeuryeo dallyeogatdeon georie udukeoni honjaseo banghwanghaneun hyeonjaereul
The present lonely wandering in the middle of the streets I've run to forget


아무 말 없던 물고기 불현듯
amu mal eopdeon mulgogi bulhyeondeut
The wordless fish suddenly
자기소갤 하지 "내 이름은 카바야
jagisogael haji "nae ireumeun kabaya
Introduces itself "My name is Caballa
지금은 비록 머리 뿐이지만
jigeumeun birok meori ppunijiman
Even though right now it's just my head
날 때부터 정해진 내 이름은 카바야"
nal ttaebuteo jeonghaejin nae ireumeun kabaya"
My name from the moment I was born is Caballa"
자신의 없어진 몸을 찾아달라고
jasin-ui eopseojin momeul chajadallago
Look for its lost body
나에게 나지막히 부탁을 했지
na-ege najimakhi butageul haetji
It asked me in a quiet voice
그것은 분명히 내 자신에게도 도움이 될 거라며
geugeoseun bunmyeonghi nae jasinegedo doumi doel georamyeo
Saying that it would definitely be helpful to me as well
주위를 샅샅이 찾기 시작하니
juwireul satsachi chatgi sijakhani
While looking around everywhere
어느덧 가로등 하나 둘 켜지고
eoneudeot garodeung hana dul kyeojigo
One by one the streetlamps came on
추운 달빛 아래 두 개의 캔버스를 찾아내어 건넸지
chuun dalbit arae du gae-ui kaenbeoseureul chajanae-eo geonnetji
Underneath the cold moonlight I found the two canvases and handed them over
두 번째 그림과 세 번째 그림엔
du beonjjae geurimgwa se beonjjae geurimen
On the second and the third picture
물고기의 반토막이 없었고
mulgogi-ui bantomagi eopseotgo
Half of the fish wasn't there
빨간 속살이 허무하게 보여 눈물을 훔쳤지
ppalgan soksari heomuhage boyeo nunmureul humchyeotji
And at the stark sight of the red inner flesh I started to cry


카바야는 나를 보며 여전히 자기 자신의 이름은 그대로라고 담담하게 말했어
kabaya-neun nareul bomyeo yeojeonhi jagi jasin-ui ireumeun geudaerorago damdamhage malhaesseo
Looking at me, Caballa calmly said that its name was still what it was
그림 한 장속 자신도, 반쪽 짜리인 자신도
geurim han jangsok jasindo, banjjok jjariin jasindo
Itself in one picture, and itself with only half a body
여전히 모두 계속 사랑한다고
yeojeonhi modu gyesok saranghandago
All of itself it still loves


갑자기 바람 하나 불어와 겨울 바람
gapjagi baram hana bureowa gyeoul baram
Suddenly a wind blew, winter wind
내음이 나의 머릴 깨우고
nae-eumi naui meoril kkae-ugo
Smell woke my head
반쪽의 자신마저 껴안은 그 모습이
banjjogui jasinmajeo kkyeoaneun geu moseubi
And that figure hugging even the halved body of itself
너무나 눈부시게 보였어
neomuna nunbusige boyeosseo
Looked so brilliant in my eyes
정신을 차리고서 두 번째 그림 속의 등 위에 날개를 그려 줬어
jeongsineul charigoseo du beonjjae geurim sogui deung wie nalgaereul geuryeo jwosseo
Collecting my thoughts I drew wings on top of its back in the second picture
눈동자 속에 비친 내 모습도 이제는 따스히 어루만져 줄 테니
nundongja soge bichin nae moseupdo ijeneun ttaseuhi eorumanjyeo jul teni
I will warmly embrace even the reflection of myself in its eyes
꽃밭에 덩그러니 놓여진 재떨이 속 잿빛에 물든 듯한 현재를
kkotbate deonggeureoni noyeojin jaetteori sok jaetbite muldeun deuthan hyeonjaereul
The gray present inside the ashtray lying in a flowerbed
살면서 일그러진 자신을 사랑하며 상처가 아물어질 미래를
salmyeonseo ilgeureojin jasineul saranghamyeo sangcheoga amureojil miraereul
The future where in living loving my crooked self the wounds will heal
Other media appearances
Edit
This song was featured in the following concerts:
Crazy Otaku's Unofficial B-Rated Don't Ask SeeU Concert
External links
Edit
| | |
| --- | --- |
| | Lyrics |
| | |
| --- | --- |
| | Downloads |