This song article is lacking a proper background. You can help by adding one! The relevant section in the Song Article Guideline is a good starting point, and this blog post may also be helpful. We apologize for the inconvenience this may cause in the meantime.

Song pages lacking proper backgrounds are automatically sorted into this category.
©

Notice:

This song is no longer available publicly; the original upload has been ceased by the Producer. Take caution with reprints as the Producer can still claim copyright infringement.

The Vocaloid Wiki does not have a policy on lyrical contents or themes no longer being available from its original source, however, it attempts to follow the Wikia TOU, the Author must contact Administrators or Wikia Staff for such concerns.
For further discussion see Thread:107893. Ceased songs are automatically sorted into this category.

©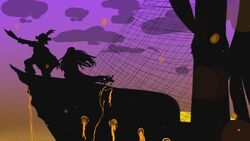 Song title
"Call me Captain"
Uploaded December 8, 2012, with 2,300+ views
Singer(s)
Prima
Producer(s)
Crusher-P (music, lyrics, illust)
Links
YouTube Broadcast (deleted)

Background
Edit
"Call me Captain" is an original song by CrusherP featuring Prima.
Ruler of the seven seas
Poisons all the air he breathes
Captain of captivity
Master of longevity

I am the daylight
I am the darkness
I am the moonlight
I am the sun
External links
Edit
| | |
| --- | --- |
| | Articles |
| | |
| --- | --- |
| | Lyrics |
Ad blocker interference detected!
Wikia is a free-to-use site that makes money from advertising. We have a modified experience for viewers using ad blockers

Wikia is not accessible if you've made further modifications. Remove the custom ad blocker rule(s) and the page will load as expected.