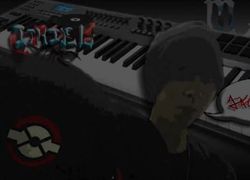 Song title
"Calm Down Chill Out"
Uploaded Dec 17, 2011, with 150+ views
Singer(s)
Sweet ANN (verse), SONiKA (chorus), DJ Ithiel (rap break)
Producer(s)
Simeon Kang (aka. DJ Ithiel) (music, lyrics)
Links
YouTube Broadcast (unavailable)

Background
Edit
This was Simeon Kang's second use of VOCALOID2 SONiKA. The producer was open to having vocalists sing his original works.
The one other song he created using VOCALOID is "One Thing I Regret".
Note: A set with this marker, (※) means repeat the whole set of lyrics before going onto the next set. Each set has its own marker style, so it doesn't mean repeat the amount of single markers seen.
---
Chorus:
Calm down
Chill out
What you got to worry about
(Not a damn thing)
Lay back
Cut slack
Nothing's worth stressing over
(Not a damn thing) (※)

Verse:
I used to worry so much
But our worlds still spinnin' round
Heart rates beating at 3000 bpm
Had no footing on the ground
but I

Still breathe
And I
Still live
Even though
There's nothing to live for
yes I

Still smile
When I
Feel down
Feel like I'm a captive in war (※※)



Repeat (※)



DJ Ithiel:
Back in the day
I used to dream about cash rollin' in
Started to mature
Reality came stormin' in
Life ain't bout the money
Bout no love
Bout no sex
It's bout overcoming
Obstacles
This life is just a test

My life's a mess
And my heart is my enemy
At least
That's what the cortex in my brain
Keeps telling me
I don't need nobody
Everybody disappoints
Yet
Why do I feel
Alone to the point where I need a joint

To the point
Where I seek support
To the point
Can't take no more
To the point
Where I make music
In the darkness
On the floor

I'm saying f▬k the world
Coz I don't need you
The world is shady
And
Humans are see through

♬

♬


Repeat chorus (※)

Repeat verse (※※)


♬
 
♬


Repeat chorus (※)
External links
Edit
Ad blocker interference detected!
Wikia is a free-to-use site that makes money from advertising. We have a modified experience for viewers using ad blockers

Wikia is not accessible if you've made further modifications. Remove the custom ad blocker rule(s) and the page will load as expected.