Camui Gackpo

Biographical information
Gender

Male

Voice

GACKT

Illustrator

Kentaro Miura

Product information
Company

Internet Co., Ltd.

Distributor

Internet Co., Ltd.

Language

Japanese 

Code

VA-G01

Affiliation
Website
Camui Gackpo (神威がくぽ), (or Kamui Gakupo) is a Japanese VOCALOID developed and distributed by Internet Co., Ltd. as Gackpoid (がくっぽいど), which was initially released July 2008 for the VOCALOID2 engine. There has since been a second installment developed for the VOCALOID3 engine. His voice is provided by Japanese male singer, GACKT.
Etymology
Edit
"Gackpo" is based on the pronunciation of the name "Gackt". The software name of "Gackpoid" also takes its name from Gackt's own. The "poid" on the end of the name is short for "like VOCALOID". Consequently, the full implied name of this product is "Gackt-like VOCALOID".
However, the spelling of his name can vary. For example, at the Karen-T website, his name is often also seen written as "Camui Gackpo". Other spellings of his name have also been witnessed from other sources.
Appearance
Edit
The avatar of the software was drawn by the illustrator Kentaro Miura (三浦健太郎 Miura Kentaro).[1] A note from Crypton Future Media's VOCALOIDs was that they were using cyber-style clothes which can "melt into" our everyday lives as much as possible. Internet co., Ltd drew up their own ideas from this on what makes VOCALOID popular. Gackpo's look was picked from several possible designs.[2]
Gackpo has a samurai aesthetic: the VOCALOID is clad in a Jinbaori, a kind of kimono which was used as a battle surcoat, with parts of Japanese armor, and carries a katana which is named "Music katana, Miburi" (楽刀・美振 / Gakutou Miburi). The patterns on its blade make musical sounds when it is swung down. The sword existed because producers wanted a link to a musical instrument, there were no objections to the use of a weapon.
When considering the features of Gackpo, the producers informed them they wanted the eyes to look like Gackt's, and for his outfit to include a combination of cyber and traditional Japanese-styled clothing. The colours were picked to make him stand out from the other VOCALOIDs.[3]
The symbol on the back of both Gackpo's fan and shirt/jacket is a stylized version of the kanji for "music" which is "楽". In romaji format, this is literally spoken and read as "gaku", which is most likely a pun on both the avatar's naming and the literal form of "楽" which can stand for "musician" after being changed into "楽人".
Gackpo is one of the few VOCALOIDs to see his most popular Meme make it into merchandise form. The "eggplant", or rather the version with stick-legs, is an additional item included with his Nendoroid figurine.
VOCALOID Releases
Edit
Examples of Usage
Edit
Music featuring Camui Gackpo
This VOCALOID is featured in 45 songs and on 111 albums on this wiki.
There are listings for notable, original and cover songs.
External search →

Romaji — Camui_Gackpo |
Alias — Kamui_Gakupo |
Written — 神威がくぽ |

To our readers and editors: For section notes, please read this tutorial. And before adding translated videos, please read this tutorial.
Episode.0

| | |
| --- | --- |
| Featuring | Camui Gackpo |
| Author(s) | Kanimiso-P |
| Category | Original song |
夢幻ノ如ク

| | |
| --- | --- |
| Romaji/English | Mugen no Gotoku (Phantom Roh Ju cláusula) |
| Featuring | Camui Gackpo |
| Author(s) | Peperon-P |
| Category | Original song |
夕方場面、春告げる花

| | |
| --- | --- |
| Romaji/English | Yūgata bamen, haru tsugeru hana (Spring-Heralding Apricot Flowers in an Evening Scene) |
| Featuring | Camui Gackpo |
| Author(s) | かずちゃ |
| Category | Original song |
soul without destination

| | |
| --- | --- |
| Featuring | Camui Gackpo |
| Author(s) | maya |
| Category | Original song |
太陽の絆

| | |
| --- | --- |
| Romaji/English | Taiyō no kizuna (Solar Bonds) |
| Featuring | V3 Camui Gackpo; Power |
| Author(s) | Natsu-P |
| Category | Original song |
夢見てもいいじゃないの
Pumpkin Candy

| | |
| --- | --- |
| Featuring | V3 Camui Gackpo; Whisper |
| Author(s) | LAYER-0 |
| Category | Original song |
Bad Apple Traditional

| | |
| --- | --- |
| Romaji/English | Bad Apple!! |
| Featuring | V3 Camui Gackpo; Whisper & Native |
| Author(s) | Sarah Lynn |
| Category | Cover song |
Marketing
Edit
The Gackpoid software was marketed as part of the bid to introduce professional singers to VOCALOID, allowing users access to the vocal of a famous professional singer. He was also marketed with a guide book on his usage, which could be purchased optionally with his software. He was promoted as 'the first male (masculine) VOCALOID' for VOCALOID2.
Originally, Gackpo songs were not allowed to be sold on KARENT; however, this was later allowed in 2009.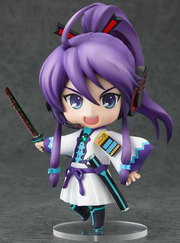 Song Contest
In 2009, GACKT also challenged users of VOCALOID™ to compete in a competition using Gackpo. The best song not only won 10 million yen, but if GACKT liked it enough he would sing the song and include it on one of his next albums.[4][5] In 2011, the winning song "Episode 0" by mathru/KanimisoP and runner up "Paranoid Doll" by natsuP (SCL Project) were sung by Gackt in his 39th single, released July 13th. The producer of the runner up song also received 300,000 yen while the producers of the other 8 top ten songs received 100,000 yen each.[6][7][8]
The short preview for the original version of the song "Episode.0" (GACKT's version) was released during the month of May 2011 Gackt-Episode.0 (Short PV During the early days of June an official video of the complete version of the song was uploaded to Niconico Gackt-Episode.0 (Unofficial PV)
V3 JOYSOUND Contest
In order to celebrate the release of VOCALOID3 Gackpoid, INTERNET held a contest where winners could get their songs added to JOYSOUND's karaoke database. Entries were uploaded before the end of September to Niconico with the tag "JOYSOUNDがくっぽいど" locked. There were separate awards for the Gackpoid, Gackpoid POWER and Gackpoid WHISPER categories. Until 6PM JST on September 14, the trial version of VOCALOID Gackpoid POWER was also made downloadable from INTERNET Co.'s website.
Maker Hikōshiki Hatsune Mix
He has made a guest appearance in Maker Hikōshiki Hatsune Mix, so far he has been the only non-Crypton official VOCALOID to appear in the unofficial manga.
Figurines
Gackpo has a Nendoroid figurine produced by the Good Smile company.
Taiwan release
On Dec 11, 2010, the president of INTERNET Co. announced that Gackpo and GUMI will be distributed in Taiwan.
King Run Anison Red and White Concert
GUMI and Gackpo made special appearances in the 2010 new year celebration event known as King Run Anison Red and White.
The songs they covered were;
アニソン紅白2010 M-32[Love Letter]神威がくぽ(がくっぽいど) "Love Letter" covered by Gackpo originally from "Mobile Suit Z Gundam", which had originally been sung by GACKT
アニソン紅白2010 M-33[星間飛行]GUMI(メグッポイド) "Interstellar Flight" covered by GUMI from "Macross Frontier", which had originally been sung by Megumi Nakajima.
Their appearance was strictly a one off event.[9][10]
Phone Haiku
INTERNET Co. Ltd has released a service that offers Gackpo's voice for use with telephones, first announced in April of 2009. The service is greatly limited compared to what the VOCALOID software allows normally but offers a chance for users to play with a limited version of Gackpo's voice for creating Haiku. The service was later updated for use with the PC in 2011. There is no fee for use of it and the service is open to fans across the world. However, the software application can only be used in Japanese hiragana and will take what is written as literal text, so for more complex patterns a great deal of thought may have to go into writing words. INTERNET Co., Ltd commented they intend to work with Twitter to open the service up more so others can share their works around the world. Users can download their creations for free as MP3's an unlimited amount of times.[11]
iOS App
They also appears in the app "AR Vocaloid Walk", a Augmented Reality app. Several other Vocaloids, UTAU and Derivative characters also appear in the app.[12]
VocaloTracks Song Contest
A contest was held by Vocalotracks on 3rd July 2013 to create an original song using any of Gackpo's voicebanks. The deadline was 31st Jul 2013 and the winning songs where able to sell their songs with a professional label.[13]
Additional information
Edit
Popularity
Edit
Camui Gackpo Popularity
To our readers and editors: For section notes, please read Wiki notes:Popularity sections.
Reaction
In the Japanese fandom, he was slow to gain popularity due to a lack of demand for male vocals at the time of his release. Gackpo eventually gained popularity because of an increase in interest for male vocals and the popularity of his voice provider. Male VOCALOIDs had not been developed for a long time and had little demand at that time of Gackpo's release, indicated by the failure of KAITO's release early on in VOCALOID's life circle.
In mid-2010, he was reported to be on par with Crypton Future Media in terms of popularity. However, GUMI had overtaken him.
Miscellaneous
A independent search on Nico Nico Douga revealed that most VOCALOIDs had less then 1,000 videos uploaded on Nico Nico Douga in 2011 between July 1st and December 15th. Gackpo however did manage to be the 4th most popular VOCALOID when a mean count was done with 375 views and 17 mylists.[14]
If you change the symbol on his fan and back further, the literal word "gaku" can be changed into hiragana, which will be "がく", a commonly known name given to males.
Less experienced overseas fans mis-labeled Gackpo as a "Gackpoid" rather than a "VOCALOID" and sometimes dismissed that he is a VOCALOID altogether. This is owed to the confusion over the name.
Gackpoid could be considered another contender for the inside joke "BIG AL syndrome" that overseas fans sometimes use to describe late VOCALOIDs. He was delayed for a month, however at the time the term had yet to be invented.
The Internet Item Meme craze envisions him with an eggplant. This probably comes from the purple color of his hair and parts of his clothing.
Notable for...
Edit
First VOCALOID to be voiced by a major singer in Japan
First INTERNET Co., Ltd VOCALOID
First male VOCALOID released as a single package since KAITO's release
First of INTERNET Co., Ltd's "VOCALOID Artist" series
First male INTERNET Co., Ltd VOCALOID
References
Edit
External links
Edit
Language
Description
Site
Japanese
SingerSongWriter Jp official homepage
Link
Japanese
VOCALOID2 Gackpoid product page
Link
Japanese
VOCALOID3 Gackpoid product page for GV3
Link
Japanese
SingerSongWriterjp The official YouTube channel
Link


English
deviantArt , art and media community
Link
Japanese
Pixiv , art and media community
Link
Japanese
Piapro , art and media community
Link
English
MikuMikuDance wiki for models
Link
English
Fanloid wiki for derivatives
Link
VOCALOID by Voicebank gender factor