This song article is lacking a proper background. You can help by adding one! The relevant section in the Song Article Guideline is a good starting point, and this blog post may also be helpful. We apologize for the inconvenience this may cause in the meantime.

Song pages lacking proper backgrounds are automatically sorted into this category.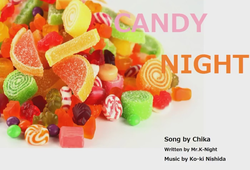 Song title
"Candy Night"
Uploaded February 1, 2015, with 136+ views
Singer(s)
Chika
Producer(s)
Mr.K-Night (lyrics)
Nishida Kouki (music)
Links
YouTube Broadcast
Background
Edit
"Candy Night" is an original song by Mr.K-Night and Nishida Kouki featuring Chika.
Japanese (日本語歌詞)
Romaji (ローマ字)
口に広がる More sweet love
kuchi ni hirogaru More sweet love
せつないビターな Chocolate
setsunai bitaana Chocolate
思いやりで ほんのり甘く
omoiyari de honnori amaku
隠し味さ My secret
kakushi asusa My secret


顔のタイプだけじゃ意味ない
kao no taipu dake ja imi nai
見た目よりも 中身さぁ
mitame yori mo nakami saa
純粋な乙女心
junsuina otomekokoro
香りだけ漂わせ
kaori dake tadayowase


二人で行ける Fantasy land
futari de ikeru Fantasy land
どこへでも連れて行きたいな
doko e demo tsure te ikitai na
手をつないで Fly me so high
te o tsunaide Fly me so high
宇宙(そら)も 星も 海まで
sora mo hoshi mo umi made


Candy night×2 carry on babe
Candy night×2 carry on babe
この歌を届けるみたいに
kono uta o todokeru mitai ni
Candy night×2 catch my heart
Candy night×2 catch my heart
Forever, for me
Forever, for me


Silent night×2 carry on babe
Silent night×2 carry on babe
この愛を君に受け止めて
kono ai o kimi ni uketomete
Silent night×2 touch my soul
Silent night×2 touch my soul
Forever, to u
Forever, to u


青空の太陽の下
aozora no taiyou no shita
不幸な僕をライト下さい
fukou na boku o raito kudasai
とってもキュート 優しさに
tottemo kyuuto yasashisa ni
包まれたい I've sweet heart
tsutsumare tai I've sweet heart


笑顔あふれる Boy&girl
egao afureru Boy&girl
何度も恋をしたいな
nando mo koi o shitai na
見てると何か悔しい
miteru to nanka kuyashii
羨ましいだけさ
urayamashii dake sa


Candy night×2 Carry on babe
Candy night×2 Carry on babe
この世界中に届くまで
kono sekaijuu ni todoku made
Candy night×2 catch my heart
Candy night×2 catch my heart
Forever, for me
Forever, for me


Silent night×2 carry on babe
Silent night×2 carry on babe
この夢を一杯広げたい
kono yume o ippai hiroge tai
Silent night×2 Catch my dream
Silent night×2 Catch my dream
Forever, to u
Forever, to u


Candy night×2 Carry on babe
Candy night×2 Carry on babe
あの鳥が飛んで来るまでに
ano tori ga tonde kuru made ni
Candy night×2 catch my heart
Candy night×2 catch my heart
Forever, for me
Forever, for me


Silent night×2 carry on babe
Silent night×2 carry on babe
この夢を一杯広げたい
kono yume o ippai hiroge tai
Silent night×2 Catch my dream
Silent night×2 Catch my dream
Forever, to u
Forever, to u
External links
Edit
| | |
| --- | --- |
| | Lyrics |