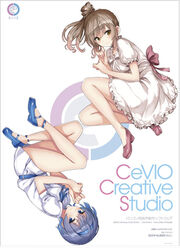 CeVIO (pronounced che-ˈvē-ˈo[1]) is the collective name of a range of projects, Vision (digital signage) and Creative Studio (audio creation software).
Background
Edit
CeVIO was made to assist in the creation of user-generated content.[2]
CeVIO Vision
Edit
CeVIO Vision is for digital signage over anime shops in Akibahara.[3] It uses Sato Sasara's image to advertise things such as new products. It is used in conjunction with CeVIO Creative Studio.
CeVIO Creative Studio
Edit
CeVIO Creative Studio is audio creation software for speech and voice synthesizing. Originally there were three voices available: Sato Sasara (さとうささら), Suzuki Tsudumi (すずきつづみ), and Takahashi (タカハシ). In 2015, six new voices were announced as part of the "Color Voice Series", all aimed at singing.[4] 1st Place also produced ONE for the CeVIO engine during the same year. Original songs have been made with CeVIO, as well as many covers. CeVIO Creative Studio's speech intonation can be controlled with three parameters: cheery, angry, and sad. Other things can be controlled as well, such as volume and speed of consonants and vowels.
Main article: CeVIO Creative Studio
As with Yuzuki Yukari, Sato Sasara's speaking capabilities have been used for gameplay videos.
CeVIO Creative Studio FREE
Edit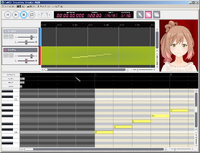 CeVIO Creative Studio FREE is a free demo version of CeVIO available for download from CeVIO's website. Sato Sasara is the only voice available for use.
References
Edit
External links
Edit