CeVIO Creative Studio
 (pronounced
che-ˈvē-ˈo
) is a commercial vocal synthesizer product released on September 26, 2013. CeVIO Creative Studio won two awards in 2013, the "MicrosoftⓇ Innovation Award 2013" and the "CEDEC Award".
Its demo version, CeVIO Creative Studio FREE, was popular and likely helped to spread CeVIO's popularity even before the final product's release. Many users still use this free version instead of the commercial version.
Capabilities (Speech)
Edit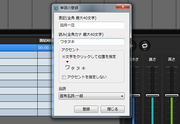 Speech and Song are this program's main features. The Speech portion offers a large dictionary of words to which Sato Sasara, Suzuki Tsudumi, and Takahashi never pronounce or read wrong. If they do, you have the option to manually edit it yourself. The Speech portion was created with help of the HTS method, this method is famous in the VOCALOID fanbase because this method created the online synthesizers Sinsy, Open J-Talk, Renoid Player, and many more. The Speech portion offers different types of voices for each character. 
Sato Sasara's voices are Normal, Happy, Angry, and Sad.
Suzuki Tsudumi's voices are Cool, and Dere.
Takahashi's voices are Normal, Casual, and "Dent".

There are parameters for the voices, which include pitch and speed. There are also settings for Volume (VOL), Length (LEN), and Tone (TON). Editing this section is much similar to that of editing flags in VOCALOID3. 
Capabilities (Song)
Edit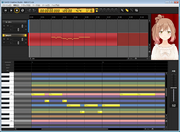 The singing part of this program is now much more efficient than it was in the FREE version. In the FREE version, one was free to create tracks, insert lyrics, and add breaths to the end of notes, but even then those would get caught up in the end of her already automatically set breaths. Anything else would require external software but didn't really stop the choppiness of Sato's vowel transitions. Other singers include ONE and the Color Voice series.
In the commercial version, more options for fine-tuning became available. Fine-Tune Amplitude Timing, which allows editing of the choppiness. Pitch can be adjusted like before, but now pitch-bends are also able to be edited, along with vibrato and vibrato timing are also able to be edited. Most importantly, volume and dynamics can be edited. Gender factor is also available, which does the same effect as it does in VOCALOID (making the voice more or less mature). The option to import MIDI's and .xml's is still present. The file extension also has changed from the free version's ".ccs" to ".csv".
Resources
Edit
External links
Edit