Ad blocker interference detected!
Wikia is a free-to-use site that makes money from advertising. We have a modified experience for viewers using ad blockers

Wikia is not accessible if you've made further modifications. Remove the custom ad blocker rule(s) and the page will load as expected.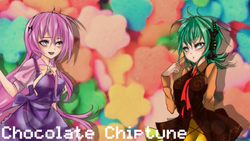 Song title
"「~Chocolate*Chiptune~」"
Japanese: 「チョコラ・チップチューン」
Uploaded August 6, 2014, with 1,900+ views views
Singer(s)
GUMI English, Luka Megurine
Producer(s)
giraffey (arrangement, lyrics)
PianoBench (composer)
Trancyursa (Art)
Links
YouTube Broadcast
Background
Edit
This song is a collaboration between giraffey and PianoBench. The Japanese in the lyrics is at beginner level.
Singer + Color
Gumi

Light Green

Luka

Pink
Fluffy Dreams

of Cotton Candy and Sweets

Puffy Marshmallow and Gram Crackers

And Pocky




Lovely Cream

in cookies

Japanese candy

so かわいい (kawaii)




Mint IceCream, Chewy Taffy, Rivers of Sweet Gold

Makes me Hungry, Sour Gummies, to the Candy Store




You know that I love the sweet smell of caramel

Oh the texture of tapioca pudding

I get craziest when I get a whiff of the Chocolate Chiptune

You know that I can't resist a little kiss

love the way you crave strawberry cheesecake

there's no hotdogs near, yes, all you can hear is the Chocolate Chiptune




Make it free

banana chocolate cream

Hard candies with the yummy goo

in the middle




Coffee Drinks

rock candy

全部を (zenbu o)

食べるよ。 (taberu yo.)




Mint IceCream, Chewy Taffy, Rivers of Sweet Gold

Makes me Hungry, Sour Gummies, to the candy store




You know that I love the sweet smell of caramel

Oh the texture of tapioca pudding

I get craziest when I get a whiff of the Chocolate Chiptune

You know that I can't resist a little kiss

love the way you crave strawberry cheesecake

there's no hotdogs near, yes, all you can hear is the Chocolate Chiptune




僕はキャンディを食べるで、だからキャンディはなくなって。

(boku wa kyandi o taberu de, dakara kyandi wa nakunatte.)

僕はチョコラチップチューンを愛してるの。

(boku wa chokora chippuchūn o aishiteru no.)