Ad blocker interference detected!
Wikia is a free-to-use site that makes money from advertising. We have a modified experience for viewers using ad blockers

Wikia is not accessible if you've made further modifications. Remove the custom ad blocker rule(s) and the page will load as expected.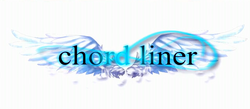 Song title
"chord liner"
Uploaded July 2, 2013, with 295,000+ views
Singer(s)
IA
Producer(s)
OtsuP (music)
Umi Usagi (lyrics)
Yuppi (guitar)
Mariwai (illustration, video)
Links
Niconico Broadcast
Background
Edit
"
Always right by my side.
「Come, let's go.」
"
 

— Author's comment.

This song is featured on TEAM Entertainment's compilation album IA THE WORLD ~Tsubasa~.
It has entered the Hall of Fame.
Japanese (日本語歌詞)
Romaji (ローマ字)
飛び立てるツバサが 私を空へ誘う
tobitateru tsubasa ga watashi o sora e izanau
最初の景色 アオイソラ 届くまで何度も
saisho no keshiki aoi sora todoku made nando mo
諦めたくないよ リミット振り切れるまで
akirametakunai yo rimitto furikireru made
スピード上げて 君の中飛び込んで今すぐに
supiido agete kimi no naka tobikonde ima sugu ni




幼い頃夢見た景色に 手を伸ばして
osanai koro yumemita keshiki ni te o nobashite
何度も落ちてしまう気がして 足がすくむ
nando mo ochite shimau ki ga shite ashi ga sukumu
あと一歩踏み出せず 大地を踏み締めてた
atoippo fumidasezu daichi o fumishimeteta
でも君の為ならば 出来る気がしてたよ
demo kimi no tame naraba dekiru ki ga shiteta yo


支え合う絆から 生まれた白いツバサが今
sasae au kizuna kara umareta shiroi tsubasa ga ima
私に受け継がれて 飛び立つから
watashi ni uketsugarete tobitatsu kara


「飛べない日もあるさ」 君が支えてくれてた
「tobenai hi mo aru sa」 kimi ga sasaete kureteta
守りたいもの 大切でかけがえのない人
mamoritai mono taisetsu de kakegae no nai hito
あの日の私へと勇気のツバサをくれた
ano hi no watashi e to yūki no tsubasa o kureta
今度は君を助けたい 伸ばした手 夢の中
kondo wa kimi o tasuketai nobashita te yume no naka




澄み渡る青空に 何かを忘れてゆく
Sumiwataru aozora ni nanika o wasurete yuku
頬を伝う涙は 誰かを想う涙
Hoho o tsutau namida wa dareka o omou namida
解き明かしたパズルのピースを やり直して
Tokiakashita pazuru no pīsu o yarinaoshite
ホントのコト知りたい このツバサの意味も
Honto no koto shiritai kono tsubasa no imi mo


いつか聞こえた言葉 「まだ夢から醒めないでいて」
Itsuka kikoeta kotoba 「Mada yume kara samenaide ite」
踏み切って落ちるよに 私は飛ぶ
Fumikitte ochiru yo ni watashi wa tobu


君というツバサが 私に受け継がれてく
Kimi to iu tsubasa ga watashi ni uketsugareteku
「もう怖くない」 その声に嬉しくて 泣きたい
「Mō kowakunai」 sono koe ni ureshikute nakitai
どんなに夢見ても 届かないけど分かるよ
Donnani yumemite mo todokanai kedo wakaru yo
君の存在感じてる いつだってすぐ側に
Kimi no sonzai kanjiteru itsu datte sugu soba ni




飛び立てるツバサが 私を空へ誘う
tobitateru tsubasa ga watashi o sora e izanau
最初の景色 アオイソラ 届くまで何度も
saisho no keshiki aoi sora todoku made nando mo
諦めたくないよ リミット振り切れるまで
akirametakunai yo rimitto furikireru made
スピード上げて 君の中飛び込んで今すぐに
supiido agete kimi no naka tobikonde ima sugu ni


愛してる その言葉を伝えたい
aishiteru sono kotoba o tsutaetai
守りたいもの 大切でかけがえのない人
mamoritai mono taisetsu de kakegae no nai hito
あの日の私へと勇気のツバサをくれた
ano hi no watashi e to yūki no tsubasa o kureta
今度は君とこの空を 飛びたくて目を閉じた
kondo wa kimi to kono sora o tobitakute me o tojita
External links
Edit