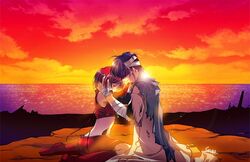 Series title
"Color Chronicle Series"
Uploaded August 10, 2011
Featuring
Singer(s): KAITO and MEIKO
Producer(s)
maya (music, lyrics)
Shiina (illust), Mikuriwata (PV)
Background
Edit
The Color Chronicle Series tells a story about two people, a guardian and a "robot" who both love each other, and about how they struggle to protect one another.
The main characters in the series are KAITO and MEIKO. The scenes take place in the futuristic Middle East, as hinted in Guardian Blue (brief mentions of "gypsies" and the Arab appearance of both main characters) and Red Reflection (Futurist Ruins and the reconstruction of MEIKO).
The trilogy starts with Guardian Blue, followed by Red Reflection, uploaded one month afterwards, and ending with the third song: "Color Chronicle," released for MEIKO's birthday.
Note: The name "Color Chronicle Series" is not the official name given by the composer Maya; this series has no "official" name whatsoever.
The Trilogy
Edit
Gardian Blue (Guardian Blue)

Uploaded
Aug. 10, 2011
Featuring
KAITO
Music
maya, Kenji Arai
Lyrics
maya
Video
Shiina, Mikuriwata
In this song KAITO is depicted as MEIKO's guardian, both chased in middle of the desert. Decided to protect MEIKO from any harm, he swears beat any opponent with his sword and be her shield, no matter if this cost him his life, as his only wish is see her bloom innocently and full of 'glory'.

However, at the end and after uncountable battles the guardian is finally defeated. Incapable to move anymore, he pretended to be 'at peace' just to prevent her from crying. Finally he wishes that his loved one be able to survive.
Red Reflection

Uploaded
Sep. 04, 2011
Featuring
MEIKO
Music
maya, Kenji Arai
Lyrics
maya
Video
Shiina, Mikuriwata
MEIKO sings on how as long as she was by KAITO's (the guardian's) side, she didn't need anything else. And so her heart aches for being separated from him. He was nice to her, even though she didn't know anything. She knew, in fact, that he risked himself to protect her.


Forever she was alone, but KAITO changed her way of life. So she tried looking for him, and thought it was her turn to protect him. When they meet, she was no longer the 'girl' KAITO had known before. Half of her body was broken, and even if she loves him, it won't last forever. She knew this, and just wanted to protect him.


In the end, even with her distorted body, KAITO held her tight and said "I love you" to her. And he too was crying. Though it's a hopeless world, she loves him, forever and ever.
Color Chronicle

Uploaded
Nov.04.2011
Featuring
Sung by MEIKO, Chorus by KAITO
Music
maya, Kenji Arai
Lyrics
maya
Video
Shiina
After many struggles and tribulations MEIKO and KAITO are finally together. Despite the sorrows in their path MEIKO declares that love gave her the strength to continue; also to the fact that both of their bodies injured.


With the ruined and desert scenery transformed into a Paradise both characters prepare to live a bright future.

Discography
Edit
The last song to the series, "Color Chronicle", was uploaded in celebration of MEIKO's birthday on November 5, 2011. It was at first, in Maya's album fake or fate? released on August 2011.
Ad blocker interference detected!
Wikia is a free-to-use site that makes money from advertising. We have a modified experience for viewers using ad blockers

Wikia is not accessible if you've made further modifications. Remove the custom ad blocker rule(s) and the page will load as expected.