This song article is lacking a proper background. You can help by adding one! The relevant section in the Song Article Guideline is a good starting point, and this blog post may also be helpful. We apologize for the inconvenience this may cause in the meantime.

Song pages lacking proper backgrounds are automatically sorted into this category.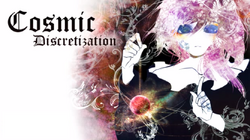 Song title
"Cosmic Discretization"
Uploaded January 30, 2013, with 700+ views
Singer(s)
SeeU
Producer(s)
Phryxia (music, lyrics)
Qinya (illust)
Team Seeunion (composition)
Links
YouTube Broadcast
Background
Edit
"Cosmic Discretization" is an original SeeU song. This song was composed for BOF 2012.
Korean (한국어 가사)
Romaja (로마자)
약속했던 이뤄진 바람
yaksokhaetdeon irweojin baram
Promised wish came true
끊어져가요 하나 둘
kkeunheojyeogayo hana dul
but going to disconnect by itself
흩어지는 별들이 슬퍼
heuteojineun byeoldeuri seulpeo
Sorrow fill the dispersed stars,
혼자 울어도 조각나
honja ureodo jogakna
no matter what you cry
잘못한 게 없는데
jalmothan ge eomnneunde
I just take my effort
나는 노력하는데
naneun noryeokhaneunde
and I didn't do the wrong things,
조각나버리는 건가요
jogaknabeorineun geongayo
It was no use but discretize.