Ad blocker interference detected!
Wikia is a free-to-use site that makes money from advertising. We have a modified experience for viewers using ad blockers

Wikia is not accessible if you've made further modifications. Remove the custom ad blocker rule(s) and the page will load as expected.
This song article is lacking a proper background. You can help by adding one! The relevant section in the Song Article Guideline is a good starting point, and this blog post may also be helpful. We apologize for the inconvenience this may cause in the meantime.

Song pages lacking proper backgrounds are automatically sorted into this category.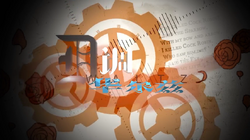 Song title
"D调华尔兹"
Traditional Chinese: D調華爾茲
Pinyin: D-diào Huá'ěrzī
English: Waltz in D
Uploaded April 14, 2016, with 43,000+ views
Singer(s)
Luo Tianyi, YANHE
Producer(s)
Jiuling (music)
Saikelisi Nafeng (tuning, mixing)
Yi Zhan Deng (illustrator)
Chenxingji (lyrics, video)
Yanzimo (sound effect production, special thanks)
Links
YouTube Broadcast (reprint)
bilibili Broadcast

Background
Edit
"D-diào Waltz" is an original Chinese duet song featuring Luo Tianyi and YANHE.
Singer + Color
Tianyi
Both
YANHE
Chinese (中文歌词)
Pinyin (拼音)

蔷薇有腐烂腥甜香气

qiangwei you fulan xing tian xiangqi

刺鼻作呕到唤醒昏迷

ci bi zuo'ou dao huanxing hunmi

破败的华庭

 

潮湿的呼吸

pobai de hua ting

chaoshi de huxi

呼唤得不到任何回应
huhuan de bu dao renhe huiying

钥匙转动生锈锁体

yaoshi zhuandong sheng xiu suo ti

齿轮咬合出吱吱笑意

chilun yaohe chu zhi zhi xiao yi

信笺留下浮夸字迹

xinjian liu xia fukua ziji

欢迎光临我的游戏
huanying guanglin wo de youxi



缺失掉关键页码的童话集

queshi diao guanjian yema de tonghua ji

拼图的最后一块藏在哪里

pintu de zuihou yikuai cang zai nali

拧动八音盒歌声已走音

ning dong bayinhe gesheng yi zou yin

眼前有看不清的字体

yanqian you kan bu qing de ziti

若隐若现面容到底是怨恨还是哭泣

ruoyinruoxian mianrong daodi shi yuanhen haishi kuqi




假面内淌出温热液体

jia mian nei tang chu wen re yeti

滴进红茶端上了宴席

di jin hongcha duan shangle yanxi

空的扶手椅只有这里

kong de fushou yi zhiyou zheli

对角是另外一个自己

dui jiao shi lingwai yige ziji

反色的镜面流露表情

fan se de jingmian liulu biaoqing

抓紧绘满图腾的锋镝

zhuajin hui man tuteng de feng di

追来脚步声歇斯底里

zhui lai jiaobu sheng xiesidili

来来疯狂吧再放弃逃离

lai lai fengkuang ba zai fangqi taoli




骨制扑克无色的桃心

gu zhi puke wu se de tao xin

抽对牌面才会有谜底

chou dui pai mian cai hui you midi

假如再迟疑

 

权当你放弃

jiaru zai chiyi

quan dang ni fangqi

错了只不过无法前行
cuole zhi buguo wufa qian xing

挪动过皇后的象棋

nuodongguo huanghou de xiangqi

雕像烫伤形状像泪滴

diaoxiang tangshang xingzhuang xiang lei di

守夜的人已经窒息

shouye de ren yijing zhixi

旋转木马如何运行
xuanzhuan muma ruhe yunxing



散落进枯萎花园无名日记

sanluo jin kuwei huayuan wuming riji

中断的最后字句措辞依稀

zhongduan de zuihou ziju cuoci yixi

焚烧的玩具焦黄了过去

fenshao de wanju jiaohuangle guoqu

是否忘记和谁的约定

shifou wangji he shei de yueding

永久终止等待日期是幻觉还是回忆

yongjiu zhongzhi dengdai riqi shi huanjue haishi huiyi




撕裂油画裸露了缝隙

si lie youhua luolule fengxi

镶嵌主人遗落的银器

xiangqian zhuren yi luo de yin qi

装裱了血迹的羽毛笔

zhuangbiaole xieji de yumao bi

挂上舞台的虚假布景

gua shang wutai de xujia bujing

谢幕的掌声寥寥无几

xiemu de zhangsheng liaoliao wuji

退场的道路通往哪里

tuichang de daolu tong wang nali

锁闭的终点乐声响起

suo bi de zhongdian yue shengxiang qi

来来闭眼再跳这一曲

lai lai bi yan zai tiao zhe yi qu



把手后脸庞似曾相识
bashou hou lianpang sicengxiangshi
敲上最后一句的故事
qiao shang zuihou yiju de gushi
苍白冰凉断裂的小指
cangbai bingliang duanlie de xiaozhi
就是誓言死去的姿势
jiushi shiyan siqu de zishi
谜题的线索到此停止
mi ti de xiansuo dao ci tingzhi
联系的是心脏的位置
lianxi de shi xinzang de weizhi
这把就是离开的钥匙
zhe ba jiushi likai de yaoshi
来来你所希望的结局是
lai lai ni suo xiwang de jieju shi
External links
Edit
| | |
| --- | --- |
| | Articles |