This song article is lacking a proper background. You can help by adding one! The relevant section in the Song Article Guideline is a good starting point, and this blog post may also be helpful. We apologize for the inconvenience this may cause in the meantime.

Song pages lacking proper backgrounds are automatically sorted into this category.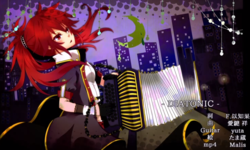 Song title
"DIATONIC"
Uploaded December 3, 2012, with 6,800+ (NND), 350+ (PP) views
Singer(s)
CUL
Producer(s)
Aikagi Shou (music)
F. Dotto Ichika (lyrics)
Malis (movie)
yuta (guitar)
たまの様な子 (illust)
Links
Niconico Broadcast
piapro Broadcast
Background
Edit
"DIATONIC" is an original song by Aikagi Shou and F. Dotto Ichika featuring CUL.
Japanese (日本語歌詞)
Romaji (ローマ字)
影踏む街角
kage fumu machikado
夜明けも見えない
yoake mo mienai
道にそよいでは 消えてゆく この声
michi ni soyoi de wa kiete yuku kono koe


楽器を両手に
gakki o ryoute ni
空気を吸い込む 満たされたのは肺だけ
kuuki o suikomu mitasareta no wa hai dake
それだけのこと
soredake no koto


歌を響かせて
uta o hibikasete
指を踊らせて 奏でるのは悲しい少年の話
yubi o odorasete kanaderu no wa kanashii shounen no hanashi


他人に騙され
tanin ni damasare
自分に背いた いたはずの仲間はいつしか見えなくて
jibun ni somuita ita hazu no nakama wa itsushika mienakute


涙は零れず そっと心に溜まった
namida wa koborezu sotto kokoro ni tamatta
迷い浮かぶクロマチックな理想を求め 行き交う波
mayoiukabu kuromachikku na risou o motome ikikau nami


アコーディオン 丸いボタン
akoudion marui botan
ダイアトニックな今
daiatonikku na ima
人生など 二面性の虚しい騙し合い
jinsei nado futaomote sei no munashii damashiai
アコーディオン 抱えた夢
akoudion kakaeta yume
もう疲れたと泣いてる
mou tsukareta to naiteru
包む未練 ふわり見上げれば 月が笑った
tsutsumu miren fuwari miagereba tsuki ga waratta


影追う街灯
kage ou gaitou
こぼれた歌声
koboreta utagoe
栄えたネオン 招く舞台は遠く
sakaeta neon maneku butai wa touku


楽器を置いては 溜め息をひとつ
gakki o oite wa tameiki o hitotsu
満たしてください 酸素をください ねえ
mitashite kudasai sanso o kudasai nee


歌が響かない
uta ga hibikanai
指が動かない
yubi ga ugokanai
仕舞った疑問を 空き瓶からそそぐ
shimatta gimon o akibin kara sosogu


僕を裏切って
boku o uragitte
僕はなにを得た 答えるならば 度数100の空虚だけ
boku wa nani o eta kotaeru naraba dosuu hyaku no kuukyo dake


笑顔はダミーの いわば僕の分身だ
egao wa damii no iwaba boku no bunshinda
泣いた顔なんて切ないから 繋ぐ押し引き 晒す異音
naita kao nante setsunai kara tsunagu oshi biki sarasui oto


アコーディオン 丸いボタン
akoudion marui botan
ダイアトニックな今
daiatonikku na ima
人生など 嘘だらけのツギハギぼろ布
jinsei nado uso darake no tsugihagi boro nuno
アコーディオン 抱えた夢
akoudion kakaeta yume
もう疲れたと泣いてる
mou tsukareta to naiteru
続く休符 さらり遮った 誰かの拍手
tsuzuku kyuu fu sarari saegitta dare ka no hakushu


きっと ひとつの世界が いつかふたつに分かれて
kitto hitotsu no sekai ga itsuka futatsu ni wakarete
そんな空想を浮かべながら いつまでいつまで僕は道端
sonna kuusou o ukabe nagara itsu made itsu made boku wa michibata
立ち続ける 歩いてゆく
tachitsuzukeru aruite yuku


アコーディオン 丸いボタン
akoudion marui botan
ダイアトニックな今
daiatonikku na ima
人生など 二面性の虚しい騙し合い
jinsei nado futaomote sei no munashii damashiai
アコーディオン 抱えた夢
akoudion kakaeta yume
もう疲れたと泣いてる
mou tsukareta to naiteru
包む未練 ふわり見上げれば 誰かの声
tsutsumu miren fuwari miagereba dare ka no koe


見惚れていた 光の色
mihorete ita hikari no iro
夜も今 消えてく
yoru mo ima kieteku
薄れていた 白い月が僕を見つけ笑うから
usurete ita shiroi tsuki ga boku o mitsukewarau kara
すぐに行くよ ネオンの先
sugu ni iku yo neon no saki
ダイアトニックな未来
daiatonikku na mirai
掴んだ鍵 両手に抱えて
tsukanda kagi ryoute ni kakaete
踏みしめる影
fumishimeru kage
開いたケース
hiraita keesu
動いた指が 今
ugoita yubi ga ima
External links
Edit
| | |
| --- | --- |
| | Lyrics |
| | |
| --- | --- |
| | Articles |