Ad blocker interference detected!
Wikia is a free-to-use site that makes money from advertising. We have a modified experience for viewers using ad blockers

Wikia is not accessible if you've made further modifications. Remove the custom ad blocker rule(s) and the page will load as expected.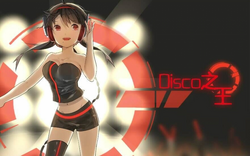 Song title
"DISCO之王"
Pinyin: DISCO zhī Wáng
Official English: The King of Disco
Uploaded October 14, 2015, with 300,000+ views
Singer(s)
Yuezheng Ling
GUMI
Producer(s)
Qianyimohua-P (compose, arrange, lyrics)
yoyo bang ni (tuning)
Wei Tu (illustrator)
Lingmu Zhongben Gu (video editor)
Links
YouTube Broadcast (reprint)
bilibili Broadcast

Background
Edit
"The King of Disco" is an original song featuring Yuezheng Ling. The song uses GUMI's vocals in the beginning. The lyrics are open for interpretation.
This song has exceeded 100,000 views on bilibili.
Chinese (中文歌词)
Pinyin (拼音)

Hey girls

Do you wanna dance?

uh uh yeah



la lala lalala
la lala lalala
la
lalala lalalalalalala


la lala lalala
la lala lalala
la
lalala lalalalalalala


穿上漂亮新装 跟上我的步伐
chuan shang piaoliang xinzhuang gen shang wo de bufa
其他的事都随他 也没有人会回答
qita de shi dou sui ta ye meiyou ren hui huida
音乐已开始奏响 我走进舞池中央
yinyue yi kaishi zou xiang wo zou jin wuchi zhongyang
八零年代的张扬 我就是DISCO之王
Ba ling niandai de zhangyang wo jiushi DISCO zhi wang


la lala lalala
la lala lalala
la
lalala lalalalalalala


激荡起来的音浪 停不下来的顺畅
jidang qilai de yin lang ting bu xialai de shunchang
每个人都不平凡 动态都变得迷幻
mei geren dou bu pingfan dongtai dou bian de mi huan
随着贝斯的震颤 跳到深夜也不晚
suizhe beisi de zhenchan tiao dao shenye ye bu wan
在我们引领的主场
zai women yinling de zhuchang


有没有感受到DISCO的震撼
you meiyou ganshou dao DISCO de zhenhan
想不想酣快淋漓再来一场
xiang buxiang han kuai linli zailai yi chang
你不用懂只要动就会飞到太空
ni buyong dong zhiyao dong jiu hui fei dao taikong
他太沉闷不放松会被震到耳聋
ta tai chenmen bu fangsong hui bei zhen dao erlong


WU WO OOOO O O O O
WU WO OOOO O O O O
WU WO OOOO O O O O
WU WO OOOO O O O O


la lala lalala
la lala lalala
la
lalala lalalalalalala


la lala lalala
la lala lalala
la
lalala lalalalalalala


传导电流给他 随着镜面摩擦
chuandao dianliu gei ta suizhe jingmian moca
其他的事都随他 也没有人会回答
qita de shi dou sui ta ye meiyou ren hui huida
音乐已开始奏响 我搭上他的肩膀
yinyue yi kaishi zou xiang wo da shang ta de jianbang
八零年代的张扬 我就是DISCO之王
ba ling niandai de zhangyang wo jiushi DISCO zhi wang


la lala lalala
la lala lalala
la
lalala lalalalalalala


激荡起来的音浪 停不下来的顺畅
jidang qilai de yin lang ting bu xialai de shunchang
每个人都不平凡 动态都变得迷幻
mei geren dou bu pingfan dongtai dou bian de mi huan
让手势左上右下 跳到深夜也不怕
rang shoushi zuoshang you xia tiao dao shenye ye bupa
在我们引领的主场
zai women yinling de zhuchang


有没有感受到DISCO的震撼
you meiyou ganshou dao DISCO de zhenhan
想不想酣快淋漓再来一场
xiang buxiang han kuai linli zailai yi chang
你不用懂只要动就会飞到太空
ni buyong dong zhiyao dong jiu hui fei dao taikong
他太沉闷不放松会被震到耳聋
ta tai chenmen bu fangsong hui bei zhen dao erlong


WU WO OOOO O O O O
WU WO OOOO O O O O
WU WO OOOO O O O O
WU WO OOOO O O O O
Derivatives
Edit
Xigua Kune's Cover

| | |
| --- | --- |
| Featuring | Xigua Kune |
| Author(s) | Xigua Kune |
| Category | Human cover |