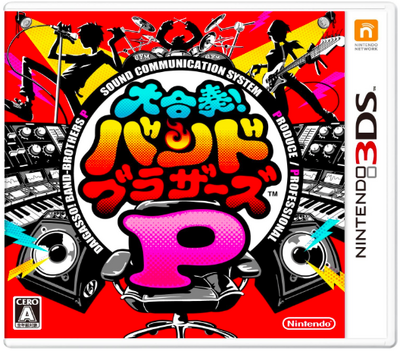 Daigasso! Band Brothers P (大合奏!バンドブラザーズ, Daigassō! Bando Burazāzu, lit. "Grand Ensemble! Band Brothers") is a video game created by Nintendo for the 3DS handheld system. The game is based on becoming a VOCALOID Producer, and totes a "Create Your Own VOCALOID" system using the 3DS's built-in microphone. A free Lite will be available in Nintendo e-Shop 
Engine usage
Edit
This game is the first 3rd party VOCALOID application to use the VOCALOID3 engine instead of the previously used VOCALOID2 engine. The version used in the game is a heavily modified "lite" version of VOCALOID3, and uses a brand-new user interface. Unlike other VOCALOID applications, editing of the song data (such as lyrics, tempo, or pitch), is not allowed. The interface used by the game's engine bears resemblance to the interface used by Vocalodama (a game which itself uses the VOCALOID2 Lite Engine). The engine is operated in real-time during gameplay and is a core element in the game.
"Create a VOCALOID"
Edit
In order to properly play this game, the user must "Create a VOCALOID" using the 3DS's microphone. The VOCALOID that results will be used in gameplay. However, due to recording limitations and constraints, the VOCALOID that is generated is low-quality. During the recording process, the 3DS will prompt the user to sing syllables in sequence. Only one pitch is recorded. The recorded sounds are processed using an audio alogrithm and compressed into a .ddb file for use in the game. Triphones are generated through the same algorithm. It is illegal to use this VOCALOID in any other VOCALOID engine, however it is mechanically possible to do so.
VOCALOID voicebanks
Edit
Promotional videos
Edit
External links
Edit
Ad blocker interference detected!
Wikia is a free-to-use site that makes money from advertising. We have a modified experience for viewers using ad blockers

Wikia is not accessible if you've made further modifications. Remove the custom ad blocker rule(s) and the page will load as expected.