This song article is lacking a proper background. You can help by adding one! The relevant section in the Song Article Guideline is a good starting point, and this blog post may also be helpful. We apologize for the inconvenience this may cause in the meantime.

Song pages lacking proper backgrounds are automatically sorted into this category.
©

Notice:

This song is no longer available publicly; the original upload has been ceased by the Producer. Take caution with reprints as the Producer can still claim copyright infringement.

The Vocaloid Wiki does not have a policy on lyrical contents or themes no longer being available from its original source, however, it attempts to follow the Wikia TOU, the Author must contact Administrators or Wikia Staff for such concerns.
For further discussion see Thread:107893. Ceased songs are automatically sorted into this category.

©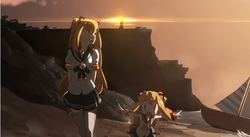 Song title
"Dreamland"
Uploaded February 21, 2012
Singer(s)
SeeU
Producer(s)
YuSun (music)
Darxy (lyrics)
Director J (illust)
Lyrebird (movie)
Nick (guitar)
Links
YouTube Broadcast (deleted)
tvPot (reprint)
Background
Edit
This song is an original SeeU song.
Korean (한국어 가사)
Romaja (로마자)
똑같은 매일매일 천천히 지나가요
ttokgateun maeilmaeil cheoncheonhi jinagayo
그 속엔 너무 지루한 이야기들 뿐
geu sogen neomu jiruhan iyagideul ppun
저 멀리 밝게 빛나는 꿈을 향해
jeo meolli balkge binnaneun kkumeul hyanghae
나만의 새로운 이야기
namanui saeroun iyagi


눈부신 아침에 살며시 눈뜨면
nunbusin achime salmyeosi nuntteumyeon
꿈 그리던 작은 책상
kkum geurideon jageun chaeksang
구석 한 곳에 있는 큰 나침반
guseok han gose inneun keun nachimban
품어왔던 내 작은 꿈을 가리키네
pumeowatdeon nae jageun kkumeul garikine
큰 섬 너머에 있을까
keun seom neomeoe isseulkka
먼 바다 건너에 있을까
meon bada geonneoe isseulkka
바다 끝 어딘가 숨겨진 꿈을 향해
bada kkeut eodinga sumgyeojin kkumeul hyanghae
꿈의 지도 펼쳐놓고 나아가자
kkumui jido pyeolchyeonoko naagaja
환하게 빛나는 태양 아래
hwanhage binnaneun taeyang arae
새하얀 바다를 향해서
saehayan badareul hyanghaeseo
조그만 배 꿈 한가득 싣고
jogeuman bae kkum hangadeuk sitko
끝없는 저 무지개 따라서
kkeudeomneun jeo mujigae ttaraseo
파도를 따라온 바람따라
padoreul ttaraon baramttara
드넓은 바다 끝 향해서
deuneolbeun bada kkeut hyanghaeseo
조그만 돛단배 파도타고
jogeuman dotdanbae padotago
오늘도 난 꿈을 쫒아가
oneuldo nan kkumeul jjochaga


해지는 저녁에 바닷길 거닐면
haejineun jeonyeoge badatgil geonilmyeon
꿈 펼치던 높은 언덕
kkum pyeolchideon nopeun eondeok
절벽 한 곳에 있는 작은 등대
jeolbyeok han gose inneun jageun deungdae
품어왔던 내 작은 꿈을 비춰주네
Pumeowatdeon nae jageun kkumeul bichwojune
큰 섬 너머에 있을까
keun seom neomeoe isseulkka
먼 바다 건너에 있을까
meon bada geonneoe isseulkka
바다 끝 어딘가 숨겨진 꿈을 향해
bada kkeut eodinga sumgyeojin kkumeul hyanghae
꿈의 지도 펼쳐놓고 나아가자
kkumui jido pyeolchyeonoko naagaja
어둠을 비추는 달빛 아래
eodumeul bichuneun dalbit arae
조용한 파도를 타고서
joyonghan padoreul tagoseo
하늘 위 빛나는 꿈을 향해
haneul wi binnaneun kkumeul hyanghae
커다란 저 구름을 따라서
keodaran jeo gureumeul ttaraseo
하늘에 펼쳐진 별을 따라
haneule pyeolchyeojin byeoreul ttara
아득한 하늘 끝 향해서
adeukhan haneul kkeut hyanghaeseo
조그만 돛단배 구름타고
jogeuman dotdanbae gureumtago
꿈을 향해 계속 나아가
kkumeul hyanghae gyesok naaga


큰 검은 구름 몰려오고
geun geomeun gureum molryeoogo
높은 파도가 내 꿈울 가로막고
nopeun padoga nae kkumeul garomakgo
저 폭풍 속 비바람 거세게 몰아쳐도
jeo pokpung sok bibaram geosege morachyeodo
나아갈꺼야
naagalkkeoya
많은 시련도 막을 수 없어
maneun siryeondo mageul su eopseo
꿈을 향해 떠나
kkumeul hyanghae tteona
깨끗이 개인 저 하늘 아래
kkaekkeusi gaein jeo haneul arae
나만의 멋진 꿈 향해서
namanui meotjin kkum hyanghaeseo
바다 위 쭉 펴진 길을 따라
bada wi jjuk pyeojin gireul ttara
오늘도 즐겁게 나아가자
oneuldo jeulgeopge naagaja
괴롭고 힘든 일 이겨내고
goeropgo himdeun il igyeonaego
언? 가 닿을 꿈 향해서
eonjenga daeul kkum hyanghaeseo
조그만 돛단배 꿈길타고
jogeuman dotdanbae kkumgiltago
마음 속의 Dreamland로
maeum sogui Dreamland-ro
External links
Edit
| | |
| --- | --- |
| | Lyrics |