Ad blocker interference detected!
Wikia is a free-to-use site that makes money from advertising. We have a modified experience for viewers using ad blockers

Wikia is not accessible if you've made further modifications. Remove the custom ad blocker rule(s) and the page will load as expected.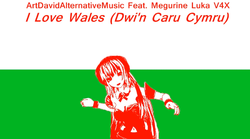 Song title
"Dwi'n Caru Cymru"
English: I Love Wales
Uploaded March 21, 2016, with 400+ views
Singer(s)
Megurine Luka
Producer(s)
ArtDavidAlternativeMusic
Links
YouTube Broadcast
Background
Edit
"Dwi'n Caru Cymru" is an original Welsh song featuring Megurine Luka. In it, Luka welcomes the listener to the country of Wales, and what they could expect when they arrive there.
Welcome to Wales
Croeso i Gymru
I'm learning Welsh
Dwi'n dysgu Cymraeg
Are you cold
Dach chi'n oer
How are you
Sut wyt ti

Excuse me
Esgusodwch fi
I'm sorry
Mae'n ddrwg gen i
Very good
Da iawn
Thank you
Diolch

I have a cold
Mae gen i annwyd
I have a headache
Mae gen i gur pen
I like ice cream
Dwi'n hoffi hufen ia
I love Japan
Dwi'n caru Japan

It's hot
Mae'n boeth
Can I help you?
Ga i helpu?
Please
Os gwelwch yn dda
Love you
Caru ti

I love Wales
Dwi'n caru Cymru
Hello Luka
S'mae Luka
Hello Miku
S'mae Miku
I love England
Dwi'n caru Lloegr
Goodnight Kaito
Nos da Kaito
Goodbye Meiko
Hwyl fawr Meiko
Rhys Ifans, Ryan Giggs, Gruff Rhys, Tom Jones, and Duffy

I like coffee
Dwi'n hoffi coffi
I want a cup of tea
Dwi isio paned o de
I like anime
Dwi'n hoffi anime
I speak Japanese
Dwi'n siarad Japaneg

Excuse me
Esgusodwch fi
I'm sorry
Mae'n ddrwg gen i
Very good
Da iawn
Thank you very much
Diolch yn fawr iawn

Dwi'n caru Ffa Coffi Pawb
I Love Super Furry Animals
External links
Edit
| | |
| --- | --- |
| | Articles |