This song article is lacking a proper background. You can help by adding one! The relevant section in the Song Article Guideline is a good starting point, and this blog post may also be helpful. We apologize for the inconvenience this may cause in the meantime.

Song pages lacking proper backgrounds are automatically sorted into this category.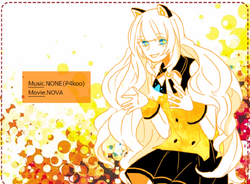 Song title
"Electro★Trip"
Uploaded December 5, 2013, with 900+ views
Singer(s)
SeeU
Producer(s)
NONE (music)
NOVA (illustration, movie)
Links
YouTube Broadcast
Background
Edit
"Electro★Trip" is an original SeeU song.
Korean (한국어 가사)
Romaja (로마자)
도시의 불빛 흘러내려
dosi-ui bulbit heulleonaeryeo
밤하늘엔 별도 하나없고
bamhaneuren byeoldo hanaeoptgo
잊고있던 기억들은
itgoitdeon gieokdeureun
하나둘씩 나를 찾아와
hanadulssik nareul chajawa


울지도 못해
uljido mothae
이제 난 어른이니까
ije nan eoreuninikka
멈추지 못해
meomchuji mothae
시간이 부족해
sigani bujokhae
잠들지 못해
jamdeulji mothae
오늘도 악몽을 꿀까봐
oneuldo akmongeul kkulkkabwa
말하지 못해
malhaji mothae
마음으로만 식히고 있어
ma-eumeuroman sikhigo isseo


첨없던 그땐
cheomeoptdeon geuttaen
무서울 것이 없었지
museoul geosi eopseotji
몰랐던 그땐
mollatdeon geuttaen
빛나던 세상이
binnadeon sesangi
오늘 시간엔
oneul siganen
왜이리 어두워 졌는지
waeiri eoduwo jyeonneunji
지금 순간엔
jigeum sunganen
꿈같은 이야기를 이루고 싶은데
kkumgateun iyagireul irugo sipeunde


사실 아직도 서투르지만 해서
sasil ajikdo seotureujiman haeseo
어른인척하는 아이로써
eoreunincheokhaneun airosseo
살아가는 사람들이야
saraganeun saramdeuriya
고갤들어봐!
gogaeldeureobwa!


되돌릴순 없잖아
dwidollilsun eoptjanha
뒤돌아 보지말고 계속 걷는 거야
dwidora bojimalgo gyesok geonneun geoya
길을잃고 헤매도
gireurilko hemaedo
괜찮아 언? 가는 도착할테니까
gwaenchanha eonjen ganeun dochakhaltenikka
쓰러질순 없잖아
sseureojilsun eoptjanha
아직 조금은 서툴러도 괜찮잖아
ajik jogeumeun seotulleodo gwaenchanchanha
한발만 더 딛어봐
hanbalman deo dideobwa
어두웠던 하늘의 별이
eoduweotdeon haneurui byeori


빛을 내
bicheul nae
Ad blocker interference detected!
Wikia is a free-to-use site that makes money from advertising. We have a modified experience for viewers using ad blockers

Wikia is not accessible if you've made further modifications. Remove the custom ad blocker rule(s) and the page will load as expected.