Ad blocker interference detected!
Wikia is a free-to-use site that makes money from advertising. We have a modified experience for viewers using ad blockers

Wikia is not accessible if you've made further modifications. Remove the custom ad blocker rule(s) and the page will load as expected.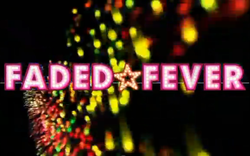 Song title
"faded fever"
Uploaded August 10, 2010, with 4,700+ views
Singer(s)
Megurine Luka
Producer(s)
function (music, movie)
Sahara (lyrics)
Tetsu Inu (bass)
Niche (illust)
Kaze笄 (illust)
watahiko (illust)
Links
Niconico Broadcast
Background
Edit
"Faded fever" is an original song by function and Sahara featuring Megurine Luka.
There's nothing left but emptiness
I still sing for you, though soundless

I remember how your touch
Moved my heart cuz you meant so much
I'm drinkin' the night away with wine
The moon doesn't shine

Feels like time goes by way too slow
I just don't know where to go
Now I can't see where I be
Won't someone tell me

Hugs and kisses, rings and promises
It's all gone
Just filling me with an emptier feeling
How do I stand alone

Your faded fever...
All that I can feel is only your faded fever
Your faded fever...
Everything you've done, and you've said, all still in my head
Your faded fever...
Why did we part, why did we cease, your faded fever
Your faded fever...
Ooh, now fever

My girls tell me I have to
Hit and tear up a club or two
Although I say that I'm free from that man
They don't understand

Now I'm dancing my thoughts away
It feels okay to sing and sway
Mister DJ, play my fave songs
All night long

Friends and music, and this soothing tune is
Where I belong
But his illusion sometimes bring confusion
While the party's well along...

Everyone meet up, let's get the heat up
So that I can forget about his faded fever
Everyone keep up, let's get together
Don't really matter if I can't handle this ember
Everyone meet up, let's get the heat up
I do regret, it's a secret, his faded fever
Everyone keep up, let's get together
Another fever

Everyone meet up, let's get the heat up
I can forget about his faded fever
Everyone keep up, let's get together
Don't really matter if I can't handle this ember
Your faded fever...
Everyone keep up, let's get together
Ooh, now fever
External links
Edit
| | |
| --- | --- |
| | Lyrics |