Ad blocker interference detected!
Wikia is a free-to-use site that makes money from advertising. We have a modified experience for viewers using ad blockers

Wikia is not accessible if you've made further modifications. Remove the custom ad blocker rule(s) and the page will load as expected.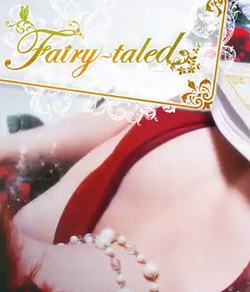 Song title
"Fairy-taled"
Uploaded November 3, 2010, with 310,000+ views
Singer(s)
MEIKO
Producer(s)
yuukiss (music, lyrics, video)
Yumiko (dancer)
Sacrow (logo designer)
u-ka (background)
Rokuto (MEIKO material)
Links
Niconico Broadcast • YouTube Broadcast (with subtitles)

Background
Edit
The song was first uploaded on October 28, 2010 as a 30 second crossfade preview of the full song "Fairy-taled". Later it was uploaded on November 3, 2010 as a part of Meiko's 2010 anniversary. It has reached th Hall of Fame.
Halfways through "Fairy-taled" the melody of Yuukiss' previous work, Nostalogic can be heard. The lyrics to the song also suggests that the song Fairy-taled is connected to Yuukiss' next work "FLOWER TAIL" sung by Kaito; although different themes, FLOWER TAIL is said to borrow phrases and parts of the lyrics of Fairy-taled.
Fairy-taled is featured in the EXIT TUNES compilation "EXIT TUNES PRESENTS Supernova 4".
The song ranked first on Vocaloid's weekly ranking number #162.
Japanese (日本語歌詞)
Romaji (ローマ字)
追憶と忘却の波に 踵(かかと)を委ねては
tsuioku to boukyaku no nami ni kakato o yudanetewa
真っ新(さら)な安らぎを あてもなく求めて
massarana yasuragi wo ate mo naku motomete


旅人を気取る足取りは どこからか流れる
tabibito o kidoru ashidori wa doko kara ka nagareru
鐘の音に向かうも やがて膝をつき崩れる
kane no ne ni mukau mo yagate hiza wo tuki kuzureru


お互いの瞬きが 聞こえるくらいの距離なのに
otagai no matataki ga kikoeru kurai no kyori nanoni
いつの間にか 幕は下りて
itsu no ma nika maku wa orite
乾いた拍手が鳴り響く
kawaita hakushu ga nari hibiku


二人で導き出した 離別の日々は
futari de michibikidashita ribetu no hibi wa
かつて誓い合った 永遠と同じ
katsute chikaiatta eien to onaji
果たせない約束も 後悔も嘘も
hatasenai yakusoku mo koukai mo uso mo
綴ればいいのでしょう おとぎ話に
tsuzureba ii no de shou otogibanashi ni


朝露で目覚めを迎え 黄昏を見送る
asatsuyu de mezame wo mukae tasogare wo miokuru
あっけない歳月は 足跡さえ遺せず
akke nai saigetu wa ashiato sae nokosezu


琥珀色に染まる言の葉を いくら紡ぎ出しても
kohakuiro ni somaru koto no ha o ikura tumugi dashite mo
小鳥の羽音には やはり敵わないのだろう
kotori no haoto niwa yahari kanawa nai no darou


粗筋も結末も 曖昧な舞台に立ち尽くす
arasuji mo ketsumatu mo aimai na butai ni tachi tsukusu
それでもまた 幕は上がる
sore demo mata maku wa agaru
誰かと手をとり 踊りだす
dareka to te wo tori odori dasu


それぞれが辿り着いた 未開の荒野は
sorezore ga tadoritsuita mikai no kouya wa
かつて目指してた 理想郷となり
katsute mezashiteta risoukyou to nari
儚く萌ゆる花も 情熱も罪も
hakanaku moyuru hana mo jyounetu mo tsumi mo
生まれ変わるのでしょう おとぎ話に
umarekawaru no deshou otogibanashi ni


二人で導き出した 離別の日々は
futari de michibikidashita ribetu no hibi wa
かつて誓い合った 永遠と同じ
katsute chikaiatta eien to onaji
果たせない約束も 後悔も嘘も
hatasenai yakusoku mo koukai mo uso mo
綴ればいいのでしょう おとぎ話に
tsuzureba ii no de shou otogibanashi ni


それぞれが辿り着いた 未開の荒野は
sorezore ga tadoritsuita mikai no kouya wa
かつて目指してた 理想郷となり
katsute mezashiteta risoukyou to nari
儚く萌ゆる花も 情熱も罪も
hakanaku moyuru hana mo jyounetu mo tsumi mo
生まれ変わるのでしょう おとぎ話に
umarekawaru no deshou otogibanashi ni
Derivatives
Edit
Noaru and Saiya's cover

| | |
| --- | --- |
| Featuring | Noaru, Saiya |
| Author(s) | Noaru |
| Category | Human cover |
External links
Edit