Ad blocker interference detected!
Wikia is a free-to-use site that makes money from advertising. We have a modified experience for viewers using ad blockers

Wikia is not accessible if you've made further modifications. Remove the custom ad blocker rule(s) and the page will load as expected.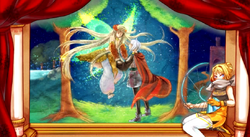 Song title
"Fairy Forest"
Uploaded October 25, 2013, with 800+ views
Singer(s)
SeeU
Producer(s)
Springhead (music, lyrics)
porifra (illust)
Suya (movie)
Links
YouTube Broadcast
Background
Edit
"Fairy Forest" is an original Korean song by Springhead featuring SeeU. It was created as an entry for the 2013 "Second UGC Contest".
Korean (한국어 가사)
Romaja (로마자)
별을 따라 흘러온
byeoreul ttara heulleoon
어느 숲의 길을 잃은 밤
eoneu supui gireul ilheun bam
숨결 같은 따스한 향기에
sumgyeol gateun ttaseuhan hyeonggie
눈을 떴을 때 그곳에는
nuneul tteosseul ttae geugoteneun
금과 은으로 날개를 기관진
geumgwa euneuro nalgaereul gigwanjin
영원한 전설속 꿈 같은 모습
yeongweon han jeonseolsok kkum gateun moseup
이야기의 끝을 이미 두 사람은 알아
iyagi-ui kkeuteul imi du sarameun ara


영원 하길 원했던 그 날의 밤으로
yeongweon hangil weonhaetdeon geu narui bameuro
그대 곁에서 길을 잃고 싶었어
geudae gyeoteseo gireul ilhgo sipeosseo
그곳에 남아 함께
geugose nama hamkke
수십 번의 봄을 하면서
susip beon-ui bomeul hamyeonseo


늙어가고 싶었던 밤
neulkeogago sipeotdeon bam


언? 가는 깨어나는
eonjenganeun kkaeeonaneun
꿈 이란 걸 두 사람은 알아
kkum iran geoldu sarameun ara
영원 토록 닿고 싶지 않은
yeongweon torok dako sipji anheun
숲의 끝으로 나아가며
supui kkeuteuro naagamyeo
발길은 자꾸만 녹아내리고
balgireun jakkuman noganaerigo
머무름은 한참 깊어져만 가
meomureumeun hancham gipeojyeoman ga
결심하는 것은 이미 두 사람은 달라
gyeolsimhaneun geoseun imi du sarameun dalla


영원 하길 원했던 그 날의 밤으로
yeongweon hagil weonhaetdeon geu narui bameuro
그대 곁에서 길을 잃고 싶었어
geudae gyeoteseo gireul ilhgo sipeosseo
그곳에 남아 함께
geugose nama hamkke
수십 번의 봄을 하면
susip beon-ui bomeul hamyeon


늙어가고 싶었던 밤
neulkeogago sipeotdeon bam


숲을 넘어 혼자가 되어버린
supeul neomeo honjaga doeeobeorin
꿈의 끝자락은 괴롭고 괴로워
kkumui kkeutjarageun gwiropgo gwiroweo


영원 토록 그녀의 아름다움이
yeongweon torok geunyeo-ui areumdaumi
더러워지지 않기를
deoreoweojiji ankireul
허락받 못할 마음 홀로 품고 돌아가
heorakbat mothal maeum hollo pumgo doraga
서로의 곁에서
seoro-ui gyeoteseo


영원토록 길을 헤매고 싶었던 밤
yeongweontorok gireul hemaego sipeotdeon bam
끝나지 않길 계속 기도했던 밤
kkeunnaji ankil gyesok gidohaetdeon bam
겨울이 지나 또다시 수많은 봄을 그대와
gyeouri jina ttodasi sumanheun bomeul geudaewa
함께 하고 싶었던 그밤
hamkke hago sipeotdeon geubam


두 번 다시 찾아낼 길 없는 그골에 부디 그대 행복히 살아가
du beon dasi chajanael gil eopnneun geugore budi geudae haengbokhi saraga
External links
Edit
| | |
| --- | --- |
| | Lyrics |