This song article is lacking a proper background. You can help by adding one! The relevant section in the Song Article Guideline is a good starting point, and this blog post may also be helpful. We apologize for the inconvenience this may cause in the meantime.

Song pages lacking proper backgrounds are automatically sorted into this category.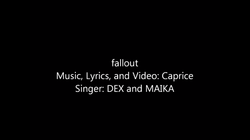 Song title
"fallout"
Uploaded November 20, 2015, with 610+ views
Singer(s)
DEX
MAIKA (chorus)
Producer(s)
Caprice (music, lyrics, video)
Links
YouTube Broadcast
Background
Edit
"
EDIT: Wow, over 100 views overnight! @.@

Whee, a Dex original so soon~ I was waiting for his release, so I wrote a song for him, then put it in stand-by while waiting for his release. Now I have Dex and Daina~!

"
"fallout" is an original song by Caprice featuring DEX, along with MAIKA in the chorus.
It appears to be about a man lamenting someone dear to him.
As I comfort you
You sit there silently
"I don't know why,
But she cannot say a word to you"
The doctor's words pierce my heart

It hasn't been very long
When you were fully normal
But now I see you declining into this
And I don't know what to say

Both of us speechless
For two different reasons
I try to comprehend what's going on

But both of us feel
The same on the inside
Despite everything trying to rip us apart

Day by day, it changed
'Til you could barely stand
"I don't know why,
But her bones are suffering a lot"
The doctor's words reminded me
External links
Edit
| | |
| --- | --- |
| | Articles |
| | |
| --- | --- |
| | Lyrics |
Ad blocker interference detected!
Wikia is a free-to-use site that makes money from advertising. We have a modified experience for viewers using ad blockers

Wikia is not accessible if you've made further modifications. Remove the custom ad blocker rule(s) and the page will load as expected.