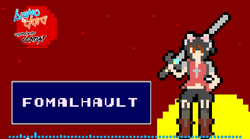 Song title
"Fomalhault"
Uploaded October 7, 2014, with 160+ views
Singer(s)
Clara
Producer(s)
Aensland (music, lyrics)
Links
YouTube Broadcast (VOCALOID.cl upload)

Background
Edit
"Fomalhault" was an entry for the Bruno & Clara Original Song Contest hosted by VOCALOID.cl. It was judged as note-worthy.
The genre is RPG-style.
The Fomalhaut, also known as Formalhaut, is a recurring weapon in the Final Fantasy series. It is usually the most powerful gun.
Batalla tras batalla, mi camino solo fue
Llegando a este momento para probar mi fé
Cuando nuestro cielo rojo se torno y ellos deseaban traer el fin
Admiraban con grandeza como si fuera un rey

La estrella más brillante, aquella que nos traera ruina
Ven, ven por mí y sálvame
Gritaban una y otra vez, mientras valientemente
caminaba hacia el triste amanecer


Será que todo es inútil?
Es acaso imparable su devastadora fuerza?
Con la espada en alto y mi propio corazón
Mi resolución es fuerte para poder continuar
De los cielos el entonces descendió
Con una catastrofica majestad
El astro reinante que contenía al más grande mal

El ser mas imponente
Que cuya presencia es el fin de nuestro mundo
ven, te detendre
Por todo en lo que yo creo, por todo lo que amo
Luchare por el futuro que vendrá
External links
Edit
| | |
| --- | --- |
| | Articles |