This song article is lacking a proper background. You can help by adding one! The relevant section in the Song Article Guideline is a good starting point, and this blog post may also be helpful. We apologize for the inconvenience this may cause in the meantime.

Song pages lacking proper backgrounds are automatically sorted into this category.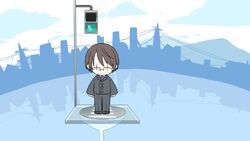 Song title
"GAME『崖っぷち』"
Romaji: GAME『Gakeppuchi』
Uploaded December 4, 2013, with 1,900+ views
Singer(s)
Hiyama Kiyoteru
Producer(s)
Asaichi (music, lyrics, illustration, video)
Links
Niconico Broadcast
Background
Edit
Asaichi's 13th original song. It is their third song featuring Kiyoteru.
Japanese (日本語歌詞)
Romaji (ローマ字)
おはようおはよう乾いた声 毎日変わらず横断歩道歩く
ohayou ohayou kawaita koe mainichi kawarazu oudan hodou aruku
点滅信号渡るか否か? 学んだ教えは守るべきと?
tenmetsu shingou wataru ka ina ka? mananda oshie wa mamorubeki to?
ああ、なんてつまらないのだろう
aa, nante tsumaranai no darou
昨夜に遊んだパズルのほうがまだいいな
yure ni asonda pazuru no hou ga mada iina


なあ 日常を繰り返し繰り返し楽しいとか思うのかい?
naa nichijou o kurikaeshi kurikaeshi tanoshii toka omou no kai?
憎い彼も愛しの彼女も俺に何もしないのに
nikui kare mo itoshi no kanojo mo ore ni nani mo shinai no ni
学校街並み流されて 一分一秒短くて
gakkou machinami nagasarete ippun ichibyou mijikaku te
周り皆に置いてかれたような 惨めな心
mawari mina ni oite kareta youna mijimena kokoro


あの時あの場所かもしれない 外れたラインの上を歩いてた
ano toki ano basho kamo shirenai hazureta rain no ue o aruiteta
間違いを認めたくはなくて 誤魔化してつくろってまともなフリしてた
machigai o mitometaku wa nakute gomakashite tsukurotte mato mo na furi shite ta
ああ、なんて小さい器だろう
aa, nante chiisai utsuwa darou
昔に遊んだゲームのようにはいかないな
mukashi ni asonda geemu no youni wa ikanai na


玉砕粉砕撃沈して 気付けば一人崖っぷち
gyokusai funsai gekichin shite kizukeba hitori gakeppuchi
助けを呼んでも声のコダマだけ 周りに誰もいないって
tasuke o yon demo koe no kodama dake mawari ni dare mo inaitte
否定されて投げ出された 頼みは細い命綱
hitei sarete nagedasare ta tanomi wa hosoi inochizuna
下の誰かの声が五月蝿いって 乱れた心
shita no dareka no koe ga urusaitte midareta kokoro


癒し求め奔走して見つけたのはそう
iyashi motome honsou shite mitsuketa no wa sou
勇者になって悪を倒すゲーム
yuusha ni natte aku o taosu geemu


呪文一つで復活 世界の正義は俺のもの
jumon hitotsu de fukkatsu sekai no seigi wa ore no mono
悪は悪のままでなくなって それでも
aku wa aku no mama de naku natte sore demo
ポチッとResetでなんてあっけない
pochitto Reset de nante akkenai


ゲームのようにはいかないけど 理想を夢見るリアルがあって
geemu no youni wa ikanai kedo risou o yumemiru riaru ga atte
荒んだ俺の心を変えてく ほんのいくらの箱庭
susanda ore no kokoro o kaeteku honno ikura no hakoniwa
おはようおはよういつもの光景 見送り手を振り遅刻して
ohayou ohayou itsumo no koukei miokuri te o furi chikoku shite
悪も正義もフラグもあるだろ?
aku mo seigi mo furagu mo aru daro?
…そう、ゲームの名前は
... sou, geemu no namae wa
External links
Edit
| | |
| --- | --- |
| | Downloads |
| | |
| --- | --- |
| | Lyrics |
Ad blocker interference detected!
Wikia is a free-to-use site that makes money from advertising. We have a modified experience for viewers using ad blockers

Wikia is not accessible if you've made further modifications. Remove the custom ad blocker rule(s) and the page will load as expected.