galaco (ギャラ子) is a Japanese VOCALOID originally developed by Internet Co., Ltd. and YAMAHA Corporation, under the Stardust Music, Inc. name. Her update is a collaboration between YAMAHA & Stardust Music, Inc. only. She was offered exclusively as a competition prize in the VOCALOID Shop, and was initially released in August 2012 for the VOCALOID3 engine. The voice provider was revealed to be Kou Shibasaki[1] who portrayed galaco in her album galaxias!.
VOCALOID Releases
Edit
Examples of Usage
Edit
To our readers and editors, for section notes please read; this page.
Before adding translated or subbed videos, please read this tutorial in order not to list gravely mistranslated ones.
どんどん♪ぎゃらくしぃ!

Author(s)
nami
Romaji/English
Dondon♪Gyarakushii! (Rapid♪Galaxy)
Category
Original song
Featuring
galaco
Niconico YouTube
未来Treasure

Author(s)
銀河方面P@神野貴志
Romaji/English
Mirai Treasure (Future Treasure)
Category
Original song
Featuring
galaco & GUMI
Niconico YouTube
Marketing
Edit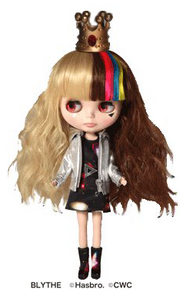 Prior to her announcement, she also had a doll made for her by BLYTHE and custom made by galaxxxy.[2] The doll was only for display and not for sale, but was used in promotion.
galaco's image first appeared on Kou's music video of galaxias! and later on T-shirts and posters in the VOCALOID Shop, however, the images of her prior to her announcement were either pixelated or appeared in silhouette form to reveal her identity.
A dress based on galaco's own has been produced. These outfits have been used in the dance "galaxias!" by the popular dance group "DANCEROID"[3]
Additional information
Edit
Due to the fact that she was only obtainable via competition, it was only possible to legally gain access to galaco by using another pre-bought VOCALOID3 voicebank, although her software itself still acted as a normal VOCALOID vocal library. She is the first case of needing a previous VOCALOID to gain access to a completely new voicebank of a new character.
galaco is the first new VOCALOID3 vocaloid to receive an update.
References
Edit
External links
Edit
Official :
Fandom :
VOCALOID by Voicebank gender factor

</div>