Ad blocker interference detected!
Wikia is a free-to-use site that makes money from advertising. We have a modified experience for viewers using ad blockers

Wikia is not accessible if you've made further modifications. Remove the custom ad blocker rule(s) and the page will load as expected.
This song article is lacking a proper background. You can help by adding one! The relevant section in the Song Article Guideline is a good starting point, and this blog post may also be helpful. We apologize for the inconvenience this may cause in the meantime.

Song pages lacking proper backgrounds are automatically sorted into this category.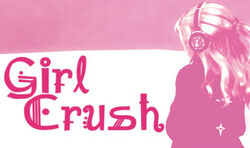 Song title
"Girl Crush"
Uploaded October 8, 2015, with 800+ views
Singer(s)
Ruby
CYBER DIVA (chorus)
Producer(s)
A. Maya (music, lyrics)
Wampa842 (MMD stage)
Vanmak 3D (Ruby's MMD model)
Pikadude31451 (CYBER DIVA's MMD model)
Links
YouTube Broadcast
Background
Edit
"
Please note that this is a demo version. I wanted to upload this ASAP so other people could hear what she sounds like 'cause honestly I was hesitant to buy her due to the lack of available songs (and the available songs used too many high notes that just made her sound awful). 

The vocal range for this song is G2~A4 and the BPM is 140, in case anyone was wondering. Mostly untuned. Pitch snap mode enabled. No growl/gender factor/any other parameters. I did use V4's compression, some additional compression in Reaper/Audacity, reverb outside of V4, and an equalizer.

"
"Girl Crush" is an original song by A. Maya featuring Ruby along with CYBER DIVA in the chorus.
The full version of the song has yet be uploaded.
I see her smile,
Feel it come up again -
Try to suppress the feelings,
But I know I can't run.

Oh, I've got
A girl crush.

The way she teases,
And oh, the way she laughs –
Gotta suppress these feelings
'Cause I don't wanna get
Hurt again.
Got a girl crush

It's not fair 'cause I know she doesn't feel the same way
It's not fair 'cause two and one don't make four
Can't hold her in my arms,
Can't be her princess – no!
I've got a girl crush.

Gotta hold it down until it consumes me.

My feelings are in
Complete disarray and
My heart is a mess of fear.
I just don't want to lose you;
Can't take the risk

'Cause so many girls
Said no, couldn't return
This heart 'cause girls who like boys
Shine like diamonds, and girls
Who like boys
Are my kryptonite.

It's not fair 'cause I know she doesn't feel the same way
It's not fair 'cause two and one don't make four
Can't hold her in my arms,
Can't be her princess – no!
I've got a girl crush.

Gotta hold it down until it consumes me.

I swear to you
That I will love you
The rest of our lives.
If only you could love me,
Yeah, I'd love you until our death.

Now that I've tasted life with you, I
Can't erase this girl crush.
I can't get rid of this girl crush.

Oh, it's not fair 'cause I know she doesn't feel the same way
It's not fair 'cause two and one don't make four
Can't hold her in my arms,
Can't be her princess – no!
I've got a girl crush.

Gotta hold it down until it consumes me.

It's not fair 'cause I know she doesn't feel the same way
It's not fair 'cause two and one don't make four
Can't hold her in my arms,
Can't be her princess – no!
I've got a girl crush.

Gotta hold it down until it consumes me.

I'll hold it down,
Hold it down,
Hold it down,
Hold it down,
Hold it down,
But before long, I know

This girl crush is gonna crush me,
Crush me, crush me,
Crush me
External links
Edit
| | |
| --- | --- |
| | Official |
| | |
| --- | --- |
| | Articles |