Ad blocker interference detected!
Wikia is a free-to-use site that makes money from advertising. We have a modified experience for viewers using ad blockers

Wikia is not accessible if you've made further modifications. Remove the custom ad blocker rule(s) and the page will load as expected.
©

Notice:

This song is no longer available publicly; the original upload has been ceased by the Producer. Take caution with reprints as the Producer can still claim copyright infringement.

The Vocaloid Wiki does not have a policy on lyrical contents or themes no longer being available from its original source, however, it attempts to follow the Wikia TOU, the Author must contact Administrators or Wikia Staff for such concerns.
For further discussion see Thread:107893. Ceased songs are automatically sorted into this category.

©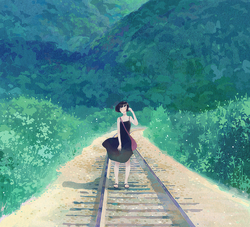 Song title
"girlfriend"
Uploaded December 06, 2009, with 59,000+ views
Singer(s)
Hatsune Miku, GUMI, Megurine Luka
Producer(s)
Furukawa-P (music, composition, lyrics, arrangement
Acane madder (composition, arrangement)
Jun (illustration)
Links
Niconico Broadcast (deleted) • YouTube Broadcast (reprint, subbed)

Background
Edit
Furukawa-P's ninth song. The song is a relaxed and emotional ballad about a stumbling love from the singer to their girlfriend.
The official video has been taken down on Furukawa-P's Niconico.
This song is featured on Furukawa-P's albums, Peams.E.P and (the army for your) ENVY E.P. It was also featured in his album Girlfriend from Kyoto, featuring human covers of his notable works.
Japanese (日本語歌詞)
Romaji (ローマ字)
足はもつれた。
ashi wa motsureta.
旅のその途中で転んだ姿を笑う君だ。
tabi no sono tochuu de koronda sugata o warau kimida.


夢は砕けた。
yume wa kudaketa.
夜の真ん中で、俯いた背中を包むのさ。
yoru no mannaka de, utsumuita senaka o tsutsumu no sa.


振り返り、君が手を叩き笑う
furi kaeri, kimi ga te o tataki warau
定まらない気持ちに名前をつけた。
sadamara nai kimochi ni namae o tsuketa.


漕ぎ出して、また戻って、
kogi dashite, mata modotte,
「いい加減な人だ。」と笑い
'iikagen na hito da' to warai
君以外は、誰もいない道の上、ふたり転げ回って
kimi igai wa dare mo inai michi no ue futari koroge mawatte


振り出し。ね、また戻って、続きは?
furidashi. ne, mata modotte, tsuzuki wa?
「もう良いんじゃない?」だって。
'mou iinja nai?' datte.
誰もいない道の上、ふたり笑って。
dare mo inai michi no ue futari waratte.


話をしようか。
hanashi o shiyou ka.
遠い国の映画の悲しいストーリー、懐かしい歌
tooi kuni no eiga no kanashii sutoorii, natsukashi uta


鳴らして、揺らして、
narashite, yurashite,
夕暮れに痛みを残して、今日は終わる。
yuugure ni itami o nokoshite, kyou wa owaru


笑い飛ばしたら、置いて行く
warai tobashita ra, oite iku
暗くなって、見えなくなって、
kuraku natte, mienaku natte,
指先に残るものだけが柔らかな朝を迎える。
yubi saki ni nokoru mono dake ga yawaraka na asa o mukaeru.
そうあるように。
sou aru you ni.


I know you, my friend.
I know you, girlfriend.
I know it's only Rock'n Roll
you are my girlfriend.
Derivatives
Edit
IA's Short Cover

| | |
| --- | --- |
| Featuring | IA |
| Author(s) | cillia |
| Category | VOCALOID cover |
Buzz Panda's Cover

| | |
| --- | --- |
| Featuring | Buzz Panda |
| Author(s) | Buzz Panda |
| Category | Human cover |
Ipomoea_Remix

| | |
| --- | --- |
| Featuring | Megurine Luka, SF-A2 miki |
| Author(s) | itikura (cover, arrange), Ichizo (illust) |
| Category | Remix; VOCALOID cover |
External links
Edit
| | |
| --- | --- |
| | Articles |