This song article is lacking a proper background. You can help by adding one! The relevant section in the Song Article Guideline is a good starting point, and this blog post may also be helpful. We apologize for the inconvenience this may cause in the meantime.

Song pages lacking proper backgrounds are automatically sorted into this category.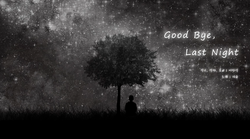 Song title
"Good Bye, Last Night"
Uploaded August 9, 2016, with 100+ views
Singer(s)
SeeU
Producer(s)
Lee Mansik
Links
YouTube Broadcast
Background
Edit
"Good Bye, Last Night" is an original Korean song by Lee Mansik featuring SeeU.
Korean (한국어 가사)
Romaja (로마자)
돌아서겠다 말하면 그땐 안아주려나
doraseogetda malhamyeon geuttaen anajuryeona
조용히 돌아서는 길 내가 흘러가는 길
joyonghi doraseoneun gil naega heulleoganeun gil
누군가의 기억 속 조금 슬프게 남아
nugunga-ui gieok sok jogeum seulpeuge nama
스스로 가야하는 길에 가까워져간다
seuseuro gayahaneun gire gakkawojyeoganda


이 기억으로 최대한 아파하도록
i gieogeuro choedaehan apahadorok
내 웃음이 먼 곳에서 부서지도록
nae useum-i meon goseseo buseojidorok
아무도 바라지않은 시간 속에서
amudo barajianheun sigan sogeseo
세상은 점점 그렇게 만들어지고있다
sesangeun jeomjeom geureoke mandeureojigoitda


가슴이 찢어질만큼 행복해서
gaseum-i jjijeojilmankeum haengbokhaeseo
서럽게 쥐고 다신 놓지 못하도록
seoreopge jwego dasin nochi mothadorok
하늘을 보고 마음껏 슬퍼한다면
haneureul bogo ma-eumkkeot seulpeohandamyeon
내일도 내가 살아있다면
naeildo naega saraitdamyeon


나는 어디로 가야할까
naneun eodiro gayahalkka


살려달라고 말 없이 외치지 않았을까
sallyeodallago mal eopsi oechiji anhasseulkka
누군가 들어주기를 바라지 않았을까
nugunga deureojugireul baraji anhasseulkka
이제서야 돌아봐주길 원하는거라면
ijeseoya dorabwajugil wonhaneungeoramyeon
혼자 울고있는 날이 너무 당연해질까
honja ulgoinneun nari neomu dangyeonhaejilkka


이 기억으로 최대한 아파하도록
i gieogeuro choedaehan apahadorok
내 웃음이 먼 곳에서 부서지도록
nae useumi meon goseseo buseojidorok
아무도 바라지않은 시간 속에서
amudo barajianheun sigan sogeseo
세상은 점점 그렇게 만들어지고있다
sesangeun jeomjeom georeoke mandeureojigoitda


가슴이 찢어질만큼 행복해서
gaseum-i jjijeojilmankeum haengbokhaeseo
서럽게 쥐고 다신 놓지 못하도록
seoreopke jwego dasin nochi mothadorok
하늘을 보고 마음껏 슬퍼한다면
haneureul bogo ma-eumkkeot seulpeohandamyeon
내일도 내가 살아있다면
naeildo naega saraitdamyeon


나는 어디로 가야할까
naneun eodiro gayahalkka


사실 이것이 그대가 사랑하는 방법이라고
sasil igeosi geudaega saranghaneun bangbeobirago
흩어지는 바람에 지치지않게
heuteojineun barame jichijianke


이 기억으로 최대한 아파하도록
i gieogeuro choedaehan apahadorok
내 웃음이 먼 곳에서 부서지도록
nae useumi meon goseseo buseojidorok
아무도 바라지않은 시간 속에서
amudo barajianheun sigan sogeseo
세상은 점점 그렇게 만들어지고있다
sesangeun jeomjeom geureoke mandeureojigoitda


가슴이 찢어질만큼 행복해서
gaseum-i jjijeojilmankeum haengbokhaeseo
서럽게 쥐고 다신 놓지 못하도록
seoreopge jwego dasin nochi mothadorok
하늘을 보고 마음껏 슬퍼한다면
haneureul bogo ma-eumkkeot seulpeohandamyeon
내일도 내가 살아있다면
naeildo naega saraitdamyeon


나는 어디로 가야할까
naneun eodiro gayahalkka
External Links
Edit
| | |
| --- | --- |
| | Articles |