GUMI (グミ) is an official mascot character of Megpoid (メグッポイド / Meguppoido) which is a singing synthesizer application software powered by Yamaha's Vocaloid2 and was published by INTERNET Co.,Ltd. The avatar character of the software drawn by the illustrator Masami Yuuki (ゆうきまさみ Yuuki Masami).
Gumi was the next Vocaloid to be released from Internet Co., Ltd and had a more retro-futuristic approach than Gakupo had.
Etymology
Edit
The name GUMI is from the voice provider Megumi Nakajima's nickname in her childhood.[1] The software name of "Megpoid" is taken from the provider's name "Megumi". The name of "poid" on the end of the name is short for "like Vocaloid", the full implied name of this product is "Megumi-like Vocaloid".
Vocaloid Releases
Edit
Examples of Usage
Edit
| | |
| --- | --- |
| | Before adding translated or subbed videos, please read this tutorial in order not to list gravely mistranslated ones. |
To our readers and editors, for section notes please read; Notes; Examples sections.
SterCrew

Author(s):
Akagami (song), AO (illust)
Category:
Original song
Featuring:
V3 Megpoid
Nicovideo Broadcast  Youtube Broadcast    


Description

A song which utilizes Gumi's different V3 voicebanks to create emotive, expressive and realistic singing.
Author(s):
Category:
Featuring:
     

More examples
Author(s):
Category:
Featuring:
     

Author(s):
Category:
Featuring:
     

Author(s):
Category:
Featuring:
     

Marketing
Edit
Gumi originally did not have much marketing, but has since gained enough popularity for further marketing possibilities. She is Internet co, Ltd's most successful Vocaloid and since the launch of Vocaloid 3, has seen a increase in merchandise based on her.
Originally, Gumi songs were not allowed to be sold on Karen-T, this was later changed and INTERNET Co., gave permission for both her and Gakupo in 2009.
Her English version is aimed more at the English speaking market. This is the first actual English capable vocal to be purchasable from the Vocaloid shop itself as well as the the developers own website. Her vocal can be bought by anyone in the USA or the UK, though other English speaking countries still cannot purchase the vocal.
Taiwan release
Edit
On Dec 11th, 2010, the president of INTERNET Co. announced that Kamui Gakupo, GUMI and Lily will be distributed in Taiwan.[2]
Robot Gumi
Edit
Megpoid was one of 3 voicebanks the robot model HRP-4C was set up to react to[3], the other two being Miku Hatsune and Crypton's non-commercial Vocaloid named CV-4Cβ.[4]
King Run Anison Red and White Concert
Edit
Gumi and Gakupo made special appearances in the 2010 new year celebration event known as King Run Anison Red and White.
The songs they covered were;
アニソン紅白2010 M-32[Love Letter]神威がくぽ(がくっぽいど) "Love Letter" covered by Gackupo originally from "Mobile Suit Z Gundam", which had originally been sung by Gackt himself.
アニソン紅白2010 M-33[星間飛行]GUMI(メグッポイド) "Interstellar Flight" covered by Gumi from "Macross Frontier", which had originally been sung by Megumi Nakajima herself.
Their appearance was strictly a one off event.[5][6]
3D Concert
Edit
Gumi and Akikoloid-chan appeared in a concert together in Japan dancing on stage. Though other concerts have been done for Vocaloid, this is the first official "3D" concert, previously all concerts had been done with 2D technology.[7] Later a merchandise related to the concert was released including DVD and CDs of the event.[8]
On the 2nd of November a video-clip about the 3D Concert "Vocaloid x LiveAR" was released
On the 15th-16th of December Gumi , VY1V3 , Akikoloid-chan, Tone Rion and Aoki Lapis appeared in a 3D concert at VOCAFARRE 2011
Main article: Vocafarre 2011
Figurines
Edit
The first of two figurines based on Gumi's art on an Exit Tunes album are due for release. Details are currently unknown. Gumi is also due a Nendoroid figurine produced by the Good Smile company. There is also going to be a few figurines based on her Vocaloid3 design. Details are also unknown.
Vocaloid-P Data Series
Edit
Vol.3 of the Vocaloid-P Data Series had only Megpoid songs in it and was released on the 16th of March 2012, the same day of V3 Megpoid - Native's release, as part of a promotion of the new updated voicebank.
Song Contest
Edit
In May 2012, a song contest was announced for Gumi, which was hosted by CreoFUGA. Producers entering the contest could use any Vocaloid2 or Vocaloid3 Gumi voicebank. Winning entries would make it into a game made by NAMCO Bandai. The contest began on May 26, 2012 and ended on June 26, 2012. As part of promotion, CreoFUGA will offer coupons to buy other Internet co., Ltd Voicebanks before the end of the competition.[9]
Commemorating Lily's 2nd anniversary and VOCALOID3 GUMI's 1st anniversary, Avex Management and INTERNET Co., Ltd are holding a music contest, accepting entries in the span of time between August 25, Lily's release date and October 15, with winners being announced on October 21, VOCALOID3 GUMI's release date. To enter, the applicant must upload a song made using Lily and/or GUMI to Nico Nico Douga before the deadline, add the tag "LilyGUMI楽曲コンテスト" and lock it. The fine print says that previously uploaded works are eligible, although uploaded songs must be the original work of the uploader. The grand prize winning song nets 100,000 JPY of prize money and gets added to the upcoming 2013 "LilyxMegpoid Split Album". Three songs receiving an award of excellence will net 30,000 JPY in prize money. Finally, three special prize winners will result in a copy of Singer Song Writer 9 Professional each.
Another song contest was run in link with the release of her English vocal.[10]
Video Game
Edit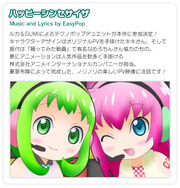 Gumi made a guest appearance in Project Mirai. This is the second time an Internet Co., Ltd Vocaloid has appeared along side Crypton Future Media Vocaloids, the first being Kamui Gakupo in Maker Hikōshiki Hatsune Mix.
Gumi is due to have a video game produced starring her, this will be released for the PSP in 2013.[11][12]
A iPhone featuring Gumi on its casing has been produced.[13]
A calendar for 2013 was also produced for Gumi.[14]
Gumi is due to get her own manga series.[15]
Additional information
Edit
Popularity
Edit
Gumi has seen a faster growth of usage within the Japanese fandom, gaining popularity faster than her predecessor Gakupo. She has quickly become a fan favorite in both Japanese and Western fandoms and arguably has been the most commonly used non-Crypton Future Media Vocaloid.
By 2010, Gumi's popularity was on par with Crypton Future Media's voicebanks and had also out sold her predessor Kamui Gakupo, becoming the most popular and well known non-Crypton Vocaloid. In 2011, her usage grew and in a number of weeks, she would even have more songs in the top 100 rankings then some of the Crypton Future Media based Vocaloids.
In 2011 a independent report was made into the popularity of Vocaloid and revealed that most Vocaloids had less then 1,000 videos uploaded on Nico Nico Douga in between July 1 and December 15, 2011. Gumi, had managed to succeed at grabbing more attention then most Vocaloids and at 2,107 uploads was the 3rd highest video upload related to a Vocaloid. At 9,538,464 views and 929,810 Mylists, Gumi was the Vocaloid to receive the 2nd highest number of views overall. Based on average views, managed to come out on top with 4,527.04 views (and 441.3 mylists) on average per video. When the mean count was performed on the Vocaloid results, Gumi remained on top with 485 views and 34 mylists per video and Gumi was the only one besides the Kagamine's to successfully be on all lists performed in the report. [16]
Gumi currently ties with Hatsune Miku with 7 voicebanks in total having been released. This makes her joint 2nd place with Miku in total number of vocals released.
Gumi has proven to be quite a popular Vocaloid for MMD model makers and has several models compared to most other Vocaloids. One of them is ISAO's model, available by purchase of Windows 100% magazine and MMD Starter Pack magazine.
Less experienced overseas fans often mislabel Gumi as a "Megpoid" rather than a "Vocaloid" and sometimes dismiss that she is a Vocaloid altogether. This is owed to the confusion over the name.
Gumi's design is often said to be influenced by Ranka Lee's character (one of the first roles done by Megumi Nakajima as seiyuu). Ranka Lee's main notable outfit had the colours green, yellow, and orange also. This has never been confirmed as anything more than coincidence; still it is a popular assumption in both Japan and overseas Vocaloid fans.
Notable for...
Edit
First female Vocaloid from Internet Co. Ltd.
One of 3 voicebanks used by the robot HRP-4C.
First Vocaloid from Internet Co. Ltd to be upgraded to Vocaloid 3.
First Internet Co. Ltd. Vocaloid to get an Extend.
MMD model by Kio
MMD model by mamama
MMD model Whisper Version by mamama
MMD model by mamama &
dede
References
Edit
External links
Edit
Official :
Fandom :
VOCALOID by Voicebank gender factor