Ad blocker interference detected!
Wikia is a free-to-use site that makes money from advertising. We have a modified experience for viewers using ad blockers

Wikia is not accessible if you've made further modifications. Remove the custom ad blocker rule(s) and the page will load as expected.
The following article is still a work in progress and being improved for the benefit of all visitors. Please bear with us while improvements are being made, and as soon as an editor is available to do so assume good faith until the edits are complete. For information on how to help, see the manual of style guideline. We apologize for the inconvenience this may cause in the meantime.

What is being worked on?

Entry fee.

Work-in-progress pages are automatically sorted into this category.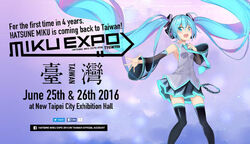 Event title
HATSUNE MIKU EXPO 2016 in TAIWAN
Singer
Hatsune Miku, Kagamine Rin, Kagamine Len, Megurine Luka, KAITO, MEIKO
Producer(s)
baker • Buriru-P • CircusP • cosMo • DATEKEN • DECO*27 • Dixie Flatline • Hachioji-P • halyosy • iroha(sasaki) • Kurousa-P • kz • livetune • Mikito-P • minato • Nori-P • ryo • sasakure.UK • shu-tP • wowaka • Wonderful☆Opportunity
Resources
Mikufan.com
crunchyroll
VocaDB
Description
A concert that marked the first live appearance of Crypton's VOCALOID lineup in Taiwan in nearly 4 years. This concert was held at the New Taipei City Exhibition Hall in Wugu District, New Taipei City, Taiwan, and was accompanied by an official exhibition. This exhibition was held from June 4 to June 12, at the Huashan 1914 Creative Park venue in Zhongzheng District, Taipei City, Taiwan, and consisted of goods, merchandise, and DIY VOCALOID workshops.
Background
Edit
Concert date: June 25–26, 2016
Location: New Taipei City Exhibition Hall, Taipei, Taiwan
Entry fee: unknown
Playlist №: 25
Company: Crypton Future Media, SEGA
Associations: piapro
Band Members:

Tsuguhito Konno (Bass)
Tetsuyuki (Drums)
MEG.ME (Keyboards)
Takahiro Misawa (Guitar)
Song list
Edit
| № | Japanese, Romaji | English | Singer | Producer |
| --- | --- | --- | --- | --- |
| 01 | ワールドイズマイン (World is Mine) | (The) World is Mine | Miku | ryo (supercell) |
| 02 | 初音ミクの消失 (Hatsune Miku no Shoushitsu) | The Disappearance of Hatsune Miku | Miku | cosMo |
| 03 | 裏表ラバーズ (Ura-omote Lovers) | Two-Faced Lovers | Miku | wowaka |
| 04 | アンハッピーリフレイン (Unhappy Refrain) | Unhappy Refrain | Miku | wowaka |
| 05 | ワールズエンド・ダンスホール (World's End Dancehall) | World's End Dancehall | Miku, Luka | wowaka |
| 06 | magnet | magnet | Miku, Luka | minato |
| 07 | Weekender Girl | Weekender Girl | Miku | kz (livetune), Hachioji-P |
| 08 | 恋は戦争 (Koi wa Sensou) | Love is War | Miku | ryo |
| 09 | celluloid | celluloid | Miku | baker |
| 10 | スノーマン (Snowman) | Snowman | KAITO | halyosy |
| 11 | Change me | Change me | MEIKO | shu-tP |
| 12 | 炉心融解 (Roshin Yuukai) | Meltdown (Nuclear Fusion) | Rin | iroha(sasaki), kuma(alfred) |
| 13 | 右肩の蝶 (Migikata no Chou) | Butterfly on Your Right Shoulder | Len | Nori-P, Yura Mizuno |
| 14 | リモコン (Rimokon) | Remote Control | Rin, Len | Wonderful☆Opportunity |
| 15 | いーあるふぁんくらぶ (Ii Aru Fanclub) | 1, 2 Fanclub | Rin, Len | Mikito-P |
| 16 | Last Night, Good Night | Last Night, Good Night | Miku | kz |
| 17 | Ten Thousand Stars | Ten Thousand Stars | Miku | CircusP |
| 18 | Just Be Friends | Just Be Friends | Luka | Dixie Flatline |
| 19 | 千本桜 (Senbonzakura) | Thousand Cherry Blossoms/Thousand Cherry Tree | Miku | Kurousa-P |
| 20 | 初音ミクの激唱 (Hatsune Miku no Gekishou) | The Intense Voice of Hatsune Miku | Miku | cosMo, GAiA |
| 21 | Tell Your World | Tell Your World | Miku | kz |
| 22 | Blue Star | Blue Star | Miku | Hachioji-P |
| 23 | 紡唄 -つむぎうた- (Tsumugi Uta) | Spinning Song | Rin, Len | DATEKEN |
| 24 | 秘密警察 (Himitsu Keisatsu) | Secret Police | Miku | Buriru-P |
| 25 | 39 (San Kyuu) | Thank You | Miku | sasakure.UK, DECO*27 |
【初音未來】HATSUNE MIKU EXPO 2016 in 台灣 CM公開了!

Featuring
Various producers
Author(s)
HatsuneMiku (official YouTube channel)
Category
Trailer

Description

HATSUNE MIKU EXPO是"初音未來"的世界巡演。巡演自2014年起在世界各國舉辦。2016年3月,初音未來的首次日本國內巡演「HATSUNE MIKU EXPO 2016 Japan Tour」將在日本全國五大城市展開。隨後,4月23日至6月4日期間橫跨北美三國八大城市的「HATSUNE MIKU EXPO 2016 North America」,以及而6月25日、26日時隔四年的台灣公演「HATSUNE MIKU EXPO 2016 in Taiwan」也將相繼舉行。

HATSUNE MIKU EXPO 2016 in TAIWAN 演唱會:6月25日26日 新北市工商展覽中心

票券將於3月12日(六)中午12點整於年代售票系統準時開賣! 詳細時間為: 6月25日 (六) 入場時間: 17:00 ; 開演時間: 19:00 6月26日 (日)午 場 入場時間: 12:00 ; 開演時間: 14:00 6月26日 (日) 晚場 進場時間: 17:00, 開演時間: 19:00

票券將於3月12日(六)中午12點整於年代售票系統準時開賣。主辦單位將給予每位歌迷最完美的聲光及舞台效果,規劃最完善的場地座位及可視視角。
【初音未來】MIKU EXPO 2016 in Taiwan【初音ミク】

Featuring
Various producers
Author(s)
HatsuneMiku (official YouTube channel)
Category
Trailer

Description

HATSUNE MIKU EXPO是"初音未來"的世界巡演。巡演自2014年起在世界各國舉辦。2016年3月,初音未來的首次日本國內巡演「HATSUNE MIKU EXPO 2016 Japan Tour」將在日本全國五大城市展開。隨後,4月23日至6月4日期間橫跨北美三國八大城市的「HATSUNE MIKU EXPO 2016 North America」,以及而6月25日、26日時隔四年的台灣公演「HATSUNE MIKU EXPO 2016 in Taiwan」也將相繼舉行。

HATSUNE MIKU EXPO 2016 in TAIWAN ◆看得見的聲音-初音未來特展 2016年6月4日(六)~6月12日(日) 華山1914藝術園區 東三館 ◆演唱會 2016年6月25日 26日 新北市工商展覽中心 6月25日 (六) 入場時間: 17:00 ; 開演時間: 19:00 6月26日 (日)午 場 入場時間: 12:00 ; 開演時間: 14:00 6月26日 (日) 晚場

進場時間: 17:00, 開演時間: 19:00