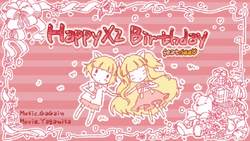 Song title
"HappyX2 Birthday"
Uploaded March 19, 2012, with 14,000+ views
Singer(s)
SeeU
Producer(s)
GaGain (music, lyrics)
Yagamisa (movie)
Links
YouTube Broadcast
Background
Edit
"
It's a Celebration music of Birthday.

I wish whoever listen this song be happy and could sing to your friends. SeeU is an amazing Vocaloid that I have yet to found all of her critical functions. You can watch it with English translation when you click the cc butten. Hope you enjoy this song :D

"
"HappyX2 Birthday" is an original SeeU song by GaGain, created to celebrate SeeU's second anniversary.
Korean (한국어 가사)
Romaja (로마자)
English
Happy happy birthday
Happy happy birthday
오늘은 소중한 그대의 birthday
oneureun sojunghan geudae-ui birthday
Today is the birthday of precious you
Happy happy birthday
Happy happy birthday
그대를 위한 이 노래를 불러요
geudaereul wihan i noraereul bulleoyo
I sing this song for you
Oh my love


매일 아침 눈 뜨면 그대가 떠올라
maeil achim nun tteumyeon geudaega tteoolla
Every morning when I open my eyes I think of you
캘린더에 D-Day check 난 잊지 않죠
kaellindeo-e D-Day check nan itji anchyo
D-Day check on the calendar, I don't forget
그대 생일이 점점 또 다가올 때면
geudae saengiri jeomjeom tto dagaol ttaemyeon
When your birthday inches closer again
내 들뜬 마음 그대에게 감추기 너무 힘들어
nae deultteun ma-eum geudaeege gamchugi neomu himdeureo
It's so hard to hide my excitement from you
오늘도 난 너무 많은 고민을 하죠
oneuldo nan neomu manheun gomineul hajyo
Again today I fuss over all the details
무슨 선물을 하면 그대 감동해 줄까요
museun seonmureul hamyeon geudae gamdonghae julkkayo
What present should I give to touch your heart?
그대 기뻐하는 얼굴 떠올릴 때면
geudae gippeohaneun eolgul tteoollil ttaemyeon
When I think of your happy face
온 세상을 모두 다 가진 것만 같은 걸
on sesangeul modu da gajin geonman gateun geol
It seems like I own all the world


Happy happy birthday
Happy happy birthday
오늘은 소중한 그대의 birthday
oneureun sojunghan geudae-ui birthday
Today is the birthday of precious you
Happy happy birthday
Happy happy birthday
그대를 위한 이 노래를 불러요
geudaereul wihan i noraereul bullreoyo
I sing this song for you
Oh my love


오늘은 그대 생일 즐거운 하루죠 Oh
oneureun geudae saengil jeulgeoun harujyo Oh
Today is your birthday, it's a wonderful day Oh
열두시가 되면 제일 먼저 문자를 보내죠
yeoldusiga doemyeon jeil meonjeo munjareul bonaejyo
When it turns twelve I text you the first thing
날씨 따윈 상관 없죠 그대와 함께라면
nalssi ttawin sanggwan eopjyo geudaewa hamkkeramyeon
Weather doesn't matter when I'm with you
어디를 가던지 난 행복할 수 있어요
eodireul gadeonji nan hangbokhal su isseoyo
Wherever I go I can be happy
아무 것도 필요 없죠 그대만 있으면
amu geotdo piryo eopjyo geudaeman isseumyeon
I don't need anything if I have you
모든걸 다 준다고 해도 아깝지 않은 걸
modeun geol da jundago haedo akkapji anheun geol
Even if I have to give you everything I have I won't think twice of it
Happy happy birthday
Happy happy birthday
오늘은 사랑하는 너의 생일
oneureun saranghaneun neoui saengil
Today is the birthday of my love
Happy happy birthday
Happy happy birthday
너만을 위한 이 노래를 불러요
neomaneul wihan i noraereul bulleoyo
I sing this song meant just for you
Oh my love
(Oh my baby)


Happy happy birthday
Happy happy birthday
Happy happy birthday
to you my friend
Happy happy birthday
Happy happy birthday
그대를 위한 이 노래를 불러요
geudaereul wihan i noraereul bulleoyo
I sing this song for you
OH MY LOVE
External links
Edit
| | |
| --- | --- |
| | Lyrics |