This song article is lacking a proper background. You can help by adding one! The relevant section in the Song Article Guideline is a good starting point, and this blog post may also be helpful. We apologize for the inconvenience this may cause in the meantime.

Song pages lacking proper backgrounds are automatically sorted into this category.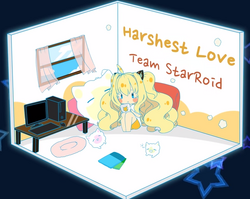 Song title
"Harshest Love"
Uploaded Nov 9, 2013, with 1,200+ views
Singer(s)
SeeU
Producer(s)
Team StarRoid
Mr.Xtacy (composer, mixing)
Bloomat (vocal melody, lyrics, video)
sabhwa (Illustration)
Links
YouTube Broadcast
Background
Edit
An original song by Team StarRoid featuring SeeU.
Korean (한국어 가사)
Romaja (로마자)
한 평 방이 전부였어 그래도 행복했지
han pyeong bangi jeonbuyeosseo geuraedo haengbokhaetji
기다리는 즐거움에 아픈 줄도 몰랐거든
gidarineun jeulgeoume apeun juldo mollatgeodeun
작은 방에서 사랑을 배워
jageun bangeseo sarangeul baeweo
세상소리 몰라도 항상 즐거운 걸
sesangsori mollado hangsang jeulgeoun geol
이제는 좀 더 함께하길 바라
ijeneun jom deo hamkkehagil bara
아무도 갖지 못한 마음을 열어서
amudo gatji mothan ma-eumeul yeoreoseo


고통 속에 눈을 떴어 그래도 행복했지
gotong soge nuneul tteosseo geuraedo haengbokhaetji
마음속의 포만감에 힘든 줄도 몰랐거든
ma-eumsogui pomangame himdeun juldo mollatgeodeun
작은 창으로 사랑을 느껴
jageun changeuro sarangeul neukkyeo
먹구름만 보여도 항상 즐거운 걸
meoggureumman boyeodo jangsang jeulgeoun geol
이제는 좀 더 함께하길 바라
ijeneun jom deo hamkkehagil bara
아무도 갖지 못한 마음을 열어서
amudo gajji mothan ma-eumeul yeoreoseo
언제나 항상 함께하길 바라
eonjena hangsang hamkkehagil bara
마음속에 다 채울 거야
ma-eumsoge da cha-eul geoya


이제는 행복한 걸 언제나 즐거운 걸
ijeneun haengbokhan geol eonjena jeulgeoun geol
알려준 사랑을 할 거야
allyeojun sarangeul hal geoya
이제는 행복한 걸 언제나 즐거운 걸
ijeneun haengbokhan geol eonjena jeulgeoun geol
알려준 사랑을 할 거야
allyeojun sarangeul hal geoya