Ad blocker interference detected!
Wikia is a free-to-use site that makes money from advertising. We have a modified experience for viewers using ad blockers

Wikia is not accessible if you've made further modifications. Remove the custom ad blocker rule(s) and the page will load as expected.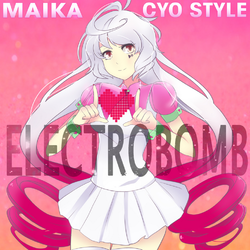 Song title
"Hasta el cielo"
Uploaded October 18, 2014
Singer(s)
MAIKA
Producer(s)
CYO Style (music, lyrics)
Nyancy Peekachew (illust)
Links
Background
Edit
Hasta el cielo is an original song by CYO Style featuring MAIKA. This song is featured in CYO Style's album, Electro Bomb.
Entendí tu elección
decidió tu corazón
con ella eres feliz
con el tiempo lo comprendí

Me voy a retirar
el tiempo sanará
mi sonrisa renacerá

Así es el amor
a veces da y a veces no
llevaré tu recuerdo
hasta el cielo

La paz y calma en mi estará
es hora de cantar y sonreír
nuestra amistad permanecerá
cuentas conmigo te quiero de aquí
hasta el cielo

Buenos tiempos (contigo siempre estaré)
tus abrazos (tu amiga siempre seré)
se guardan en mi corazón

Si alguien vendrá (lo nuestro no olvidaré)
me enamora (en mi alma lo guardaré)
espero lo haga como tu

Me voy a retirar
el tiempo sanará
mi sonrisa renacerá

Así es el amora
veces da y a veces no
llevaré tu recuerdo
hasta el cielo

La paz y calma en mi estará
es hora de cantar y sonreír
nuestra amistad permanecerá
cuentas conmigo te quiero de aquí
hasta el cielo
External links
Edit
| | |
| --- | --- |
| | Articles |
| | |
| --- | --- |
| | Purchase |