Hatsune Miku: Project DIVA Arcade
Comments

41
2,653pages on
this wiki

Project Diva Arcade is the sequel to Project DIVA by SEGA and is developed for arcade machines. The game still seems to focus only with Hatsune Miku and her songs, with the other Cryptonloids; Megurine Luka, MEIKO, KAITO, and Kagamine Rin \ Len, which will be contributed by fans/players.

Overall it has similar features to the basic Project Diva rhythm game, only in an arcade form. In some cases, songs from the games Project Diva, 2nd, or Extend are also featured there.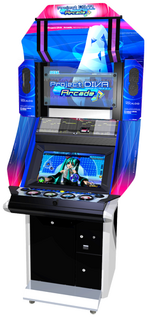 The website Piapro have held an event/contest for artists to submit their created Vocaloid songs as well as illustrations for the game. The game was also tested on its location on January 8–11, 2010.[1][2]

Tripshots designed the machine which will include four buttons which seems to have the same gameplay as its prequel on PSP.[1]

Currently Project Diva Arcade is updated monthly with new modules, songs, or skin designs; some of which are available from previous Project Diva games such as 2nd, or Extend. From time to time Project Diva Arcade would held "contests" and fans could compose their own song and submit as an entry to Project Diva Arcade game or use the Project Diva series' edit mode to create PVs for certain songs.

On early 2012, it's announced that Project Diva Arcade are now in the stage of "version B" with improved graphics and several other tweaks. However, several modules for Project Diva Arcade version B may not work in arcades with version A inside. Skin designers have also been added to Project Diva Arcade's site. Some notable illustrators include Riria009, Deino, NEGI, Hiro Tamura, Anko, and more.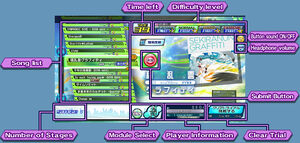 Project Diva Arcade is currently available to play in five different countries: Taiwan, Hongkong, Singapore, Korea, and Macau. A more detailed version of the locations can be read in Project Diva Arcade's
official site
.
Like it's prequels, Project Diva Arcade's concept is highly similar. As the song plays, with a PV plays in the background, players need to press four buttons in the game with a correct timing. Project Diva Arcade introduces the game as "a simply rhythm game any players can play".
A notable difference from it's prequels, Project Diva Arcade uses an "IC Card" in which players use to start the game / save the datas. Later on, players need to select the game's difficulty (EASY, MEDIUM, HARD or EXTREME), select the songs, and also the modules (which can be bought by VP points / Vocaloid Points). The results will be given by the end of the song.
Players can also participate in "contests" also known as "Contest Mode". Contest Mode is only opened when contests are opened (which are held monthly) and if players win the "contest mode" in the event, they have the chance to win prizes.
Items are divided into two categories, "modules" in which players can change "costumes" into, and "skins" for the games. The items are updated monthly, and can be purchased through DIVA.NET. On 2013, N7 Armor is now Available for Purchasing at the End of Game. DLC N7Armor is allowed for all characters.
Hatsune Miku
MEIKO Style
Rin Style
Space Channel 5


Space Channel 39
Gallian Army Squad 7
P Style PB
P Style CW


P Style IS
P Style RP
P Style LP
P Style FB


P Style MG
P Style CG
Cheer
Plug-In


Gothic
Princess
Miko
Cat Girl


Sleepy
Heart Hunter
Vocal
Punk


Dancer
Star
Fairy
School


Snow
Arabian
Miyabi
China


Magician
White Dress
Pirate
VN02


Galaxy
Hanne Miku
Hatsune Miku Swim Wear S
Hatsune Miku Swim Wear


Hatsune Miku Append
White One Piece
Natural
Spiritual


Colorful Drop
Hatsune Miku Butterfly
Hatsune Miku Christmas
Snow Miku 2010
Snow Miku 2011
Pink Pops
Pink Pops AS
Vintage Dress


Noble
Miku Hood
Strolling Style
Hatsune Miku Cute


Saihate Miku
Hatsune Miku Swimwear B
Jersey
Powder


Yellow
Aile D'ange
Snow Miku 2012
Angel


∞
Spacey Nurse
Sakura Miku
Patchwork


Conflict
Spirits & Corpses
Shiny
AMERICANA


Sonic Style
Type 2020
Tyrol
Hello World


Rolling Girl
Orbit
White Eve
Racing Miku 2010ver.


Fei-Yen Style
Hatsune Miku Delusion Girl
Racing Miku 2011ver.
Snow Miku 2013


Snow Miku 2013 AS
Ribbon Girl
Dreamer
Racing Miku 2012ver.


Running
Kagamine Rin
Kagamine Rin Swimwear
Cheerful Candy
Kagamine Rin Christmas


Reactor
Kagamine Rin Cute
Kagamine Rin Swimwear T
Asymmetry R


EoE Style
Kagamine Rin Schoolwear
Kagamine Rin Append
Kagamine Rin Deep-Red


Kagamine Rin Deep-Red Fox
Heat-Haze
Black Star
Racing Rin 2010ver.


Kagamine Rin Delusion Girl
Nameless Number 1
Trad School
Stylish Energy R
Kagamine Len
Kagamine Len Swimwear
School Jersey
Kagamine Len Christmas


Punkish
Kagamine Len Swimwear WS
Asymmetry L
Kagamine Len Schoolwear


Kagamine Len Append
Kagamine Len Deep-Blue
Kagamine Len Deep-Blue Fox
Strange Dark


Blue Moon
Nameless Number 7
Executive Student Council
Stylish Energy L
Megurine Luka
Megurine Luka Swimwear
Megurine Luka Flower
Megurine Luka Christmas


Hard Rock
Chiffon One-Piece
Fairy Macaroon
Megurine Luka Swimwear P


Fraulein
Cyber Nation
VF Suit
Luka Witch Style


Megurine Luka Conflict
Silence
Nagisa Repuka
Nagisa Repuka AS


Racing Luka 2010ver.
Logica List
After School Mode
Queen Bee
MEIKO
MEIKO Swimwear
MEIKO Christmas
Scarlet


Sexy Pudding
MEIKO Swimwear B
Fluffy Coat
MEIKO Taisho Romance


Modren Girl
Modren Girl AS
Autumn Leafs
Lorelei


Phantom Thief Black Tail
Racing MEIKO 2010ver.
Graduate
BB Operator


Whistle
KAITO
KAITO Swimwear
KAITO Christmas
Classic


Cat Cyber
KAITO Swimwear V
KAITO Swimwear V AS
Campus


KAITO White Blazer
Drizzle
Violet
On the rock


VF Ninja
VF Ninja AS
School Uniform★Parka
KAITO V3


Genius
Derivative Characters
Edit
| | | | |
| --- | --- | --- | --- |
| Yowane Haku | Cyber Dive | Yowane Haku Swimwear | Gothic Purple |
| | | | |
| --- | --- | --- | --- |
| Akita Neru | Ethnic | Akita Neru Swimwear | Club Activities Girl |
Sakine Meiko
Black One-Piece
Black One-Piece NS
Sakine Meiko Swimwear


Nostalgia
Song List
Edit
| Title | Singer | Producer |
| --- | --- | --- |
| 愛言葉 / Ai Kotoba / Love Words | Hatsune Miku | DECO*27 |
| あなたの歌姫 / Anata no Utahime / Your Diva | Hatsune Miku | Boku-P |
| AFTER BURNER | MEIKO | Hal × HIRO |
| 数多の舞 / Amata no Mai -Dance of many- | Hatsune Miku | Hikutsu-P |
| 雨のちSweet*Drops / Ame Nochi Sweet*Drops / After Rain Sweet*Drops | Hatsune Miku | OSTER project |
| Ievan Polkka / Eva's Polka | Hatsune Miku | Otomania |
| Yellow | Hatsune Miku | kz (livetune) |
| Equation+** | Kagamine Rin | Powapowa-P |
| Innocence | Hatsune Miku | Kazu-P |
| いのちの歌 / Inochi no Uta / Song of Life | Hatsune Miku | Toraboruta-P |
| イヤイヤ星人 / Iya Iya Seijin | Megurine Luka | Iyaiya-P |
| いろは唄 / Iroha Uta / Iroha Song | Kagamine Rin | Ginsaku |
| 嘘つきベティ / Usotsuki Betty / Liar Betty | Kagamine Rin | PolyphonicBranch |
| 歌に形はないけれど / Uta ni Katachi wa Nai Keredo / Although Songs Have No Form | Hatsune Miku | doriko |
| 裏表ラバーズ / Ura Omote Lovers / Two-Faced Lovers | Hatsune Miku | wowaka |
| えれくとりっく・えんじぇぅ / Electric Angel | Hatsune Miku | Yasuo-P |
| オオカミガール / Ookami Girl / Wolf Girl | Hatsune Miku | Kura-P |
| on the rocks | KAITO, MEIKO | OSTER project |
| 片想いサンバ / Kataomoi Sanba | Hatsune Miku | Owata-P |
| カラフルxセクシィ / Colorful x Sexy | Megurine Luka, MEIKO | Team MOER |
| カラフルxメロディ / Colorful x Melody | Hatsune Miku, Kagamine Rin | Team MOER |
| カンタレラ / Cantarella | Hatsune Miku, KAITO | Kurousa-P |
| キップル・インダストリー / Kipple Industry Inc. | Hatsune Miku | millstones |
| 巨大少女 / Kyodai Shoujo / Gigantic Girl | Hatsune Miku | 40meterP |
| クローバー♣クラブ / Clover♣Club | Hatsune Miku | Yuuyu-P |
| 恋色病棟 / Koi Iro Byouto / Love-Colored Ward | Hatsune Miku | OSTER project |
| 恋スルVOC@LOID / Koi Suru VOC@LOID / VOC@LOID in Love | Hatsune Miku | OSTER project |
| 恋ノート//// / Koi Notes//// / Love Notes//// | Hatsune Miku | Jevanni-P, Hattori-P |
| 恋は戦争 / Koi wa Sensou / Eager Love Revenge | Hatsune Miku | ryo (supercell) |
| 荒野と森と魔法の歌 / Kouya to Mori to Mahou no Uta / Song of Wastelands, Forests, and Magic | Hatsune Miku | Toraboruta-P |
| 金の聖夜霜雪に朽ちて / Kogane no Seiya Sousetsu ni Kuchite / Requiem for the Phantasma | Hatsune Miku | Deadball-P |
| ココロ / Kokoro / Heart | Kagamine Rin | Toraboruta-P |
| Gothic and Loneliness ~I'm the very DIVA~ | Kagamine Rin | Narushima Takashi |
| こっち向いて Baby / Kocchi Muite Baby / Look this Way, Baby | Hatsune Miku | ryo (supercell) |
| 孤独の果て / Kodoku no Hate / The End of Soltitude | Kagamine Rin | Hikari Shuuyou |
| 孤独の果て / Kodoku no Hate / The End of Soltitude -extend edition- | Kagamine Rin | Hikari Shuuyou |
| さあ、どっち? / Saa, Docchi? / Now, Which? | Kagamine Rin, Kagamine len | Hinata Haruhana |
| サイハテ / Saihate / The Farthest End | Hatsune Miku | Kobayashi Onyx |
| サウンド / sound | Hatsune Miku | baker |
| saturation | Hatsune Miku | fatP |
| サヨナラ・グッバイ / Sayonara Goodbye | Hatsune Miku | Noboru↑-P |
| The secret garden | Hatsune Miku | Kamimae Akira |
| 39 | Hatsune Miku | sasakure.UK × DECO*27 |
| ジェミニ / Gemini | Kagamine Rin, Kagamine Len | Dixie Flatline |
| ZIGG-ZAGG | Hatsune Miku | Junky |
| Just Be Friends | Megurine Luka | Dixie Flatline |
| ジュゲムシーケンサー / Jugemu Sequencer | Hatsune Miku | Vocaliod-P |
| 白い雪のプリンセスは / Shiroi Yuki no Princess wa / The Snow White Princess is | Hatsune Miku | Noboru↑-P |
| SYMPHONIC DIVE - DIVA edit - | Hatsune Miku | Re:nG |
| StargazeR | Hatsune Miku | Kotsuban-P |
| Star Story | Hatsune Miku | kz (livetune) |
| Starduster | Hatsune Miku | JimmyThumb-P |
| Starlite★Lydian | Hatsune Miku | Masaki |
| ストロボナイツ / Strobo Nights | Hatsune Miku | kz (livetune) |
| SPiCa -39's Giving Day Edition- | Hatsune Miku | Toku-P |
| slump | Hatsune Miku | Shiba Inu |
| 積乱雲グラフィティ / Sekiranun Graffiti / Cumulonibus Cloud Graffiti | Hatsune Miku | ryo (supercell) |
| 千年の独奏歌 / Sennen no Dokusou ka / A Thousand Year Solo (DIVA edit) | KAITO | yanagi |
| 千本桜 / Senbonzakura / THOUSAND CHERRY TREE (A Thousand Cherry Blossoms) | Hatsune Miku | Kurousa-P |
| そいやっさぁ!! / Soi Yassa!! | Kagamine Rin, Kagamine Len | Shuujin-P |
| So much loving you★ -DIVA Edit- | Hatsune Miku | kofunP |
| その一秒 スローモーション / Sono Ichibyoo Slow Motion / That One Second, In Slow Motion | Hatsune Miku | ryo (supercell) |
| タイムリミット / Time Limit | Hatsune Miku | North-T |
| 多重未来のカルテット / Tajuu Mirai no Quartet -QUARTET THEME- | Hatsune Miku | Kusemono-P |
| ダブルラリアット / Double Lariat | Megurine Luka | Agoaniki-P |
| Change me | MEIKO | shu-tP |
| 番凩 / Tsugai Kogarashi / A Pair of Wintry Winds | KAITO, MEIKO | Shigotoshite-P |
| Dear | Hatsune Miku | 19's Sound Factory |
| Dear cocoa girls | Hatsune Miku | Kamimae Akira |
| 透明水彩 / Toumei Suisai | Hatsune Miku | Yasuo-P |
| どうしてこうなった / Doushite Kounatta | Hatsune Miku | Udongerge-P |
| Dreaming Leaf -ユメミルコトノハ- / -Yume Miru Kotonoha- / -Dreaming Words- | Hatsune Miku | OSTER project |
| ナイトメア☆パーティーナイト / Nightmare☆Party Night | Hatsune Miku | Kuchibashi-P |
| 那由他の彼方まで / Nayuta no Kanata Made / To Beyond a Duodecillion | Kagamine Len | Tsurishi-P |
| ネコミミアーカイブ / Nekomimi Archive | Hatsune Miku | Kusoinaka-P |
| ねこみみスイッチ / Nekomimi Switch | Hatsune Miku | daniwellP |
| No Logic | Megurine Luka | JimmyThumb-P |
| ハイスクール Days / High School Days - DIVA EDIT | Hatsune Miku | U-ji (Reichourui-P) |
| ハジメテノオト / Hajimete no Oto / The First Melody | Hatsune Miku | malo |
| 初めての恋が終わる時 / Hajimete no Koi ga Owaru Toki / When the First Love Ends | Hatsune Miku | ryo (supercell) |
| パズル / Puzzle | Hatsune Miku | Kuwagata-P |
| Packaged | Hatsune Miku | kz (livetune) |
| 初音ミクの激唱 / Hatsune Miku no Gekishou / The Intense Singing of Hatsune Miku | Hatsune Miku | cosMo@Bousou-P |
| 初音ミクの消失 / Hatsune Miku no Shoushitsu / The Disappearance of Hatsune Miku | Hatsune Miku | cosMo@Bousou-P |
| ハト / Hato / Pigeon | Hatsune Miku | Hadano-P |
| 花舞月詠譚 / Hanama Tsukiuta Tan | Megurine Luka | Hoskey |
| Pane dhiria | KAITO | Shinjou-P |
| パラジクロロベンゼン / Paradichlorobenzene | Kagamine Len | Owata-P |
| Palette | Megurine Luka | Yuyoyuppe × meola |
| *ハロー、プラネット。 / *HELLO, PLANET. (I.M.PLSE-EDIT) | Hatsune Miku | sasakure.UK |
| ひねくれ者 / Hinekure Mono / The Rebel | Hatsune Miku | ryo (supercell) |
| 天鵞絨アラベスク / Birodo Arabesque / Velvet Arabesque | Hatsune Miku | Hata Aki |
| ピンクムーン / Pink Moon | Hatsune Miku | Mojo-P |
| Far Away | Hatsune Miku | kz (livetune) |
| ファインダー / Finder (DSLR remix - re:edit) | Hatsune Miku | kz (livetune) |
| フキゲンワルツ / Fukigen Waltz / Moody Waltz | Hatsune Miku | OSTER project |
| ブラックゴールド / Black Gold | Megurine Luka | otetsu |
| フランシスカ / Francisca | Kagamine Rin | Merazooma-P |
| break;down | Hatsune Miku | hmtk |
| Promise | Hatsune Miku, Kagamine Rin | samfree |
| from Y to Y | Hatsune Miku | JimmyThumb-P |
| ペリコ・スペースシッパー / PERICO SPACE SHIPPER | Hatsune Miku | Onecup-P |
| VOiCE -DIVA MIX- | Hatsune Miku | Lovely-P |
| 崩壊歌姫 / Houkai Utahime / Diva of Destruction -disruptive diva- | Hatsune Miku | Machigerita-P |
| 忘却心中 / Boukyaku Shinjuu / Oblivion Suicide | MEIKO | OPA |
| Holy Star -2010 DIVA mix- | Hatsune Miku | Ossan-P |
| 星屑ユートピア / Hitoshikuzu Utopia / Stardust Utopia | Megurine Luka | otetsu |
| ほしをつくるひと / Hoshi wo Tsukuru Hito / A Person Who Makes Stars | Kagamine Len | MazoP |
| ぽっぴっぽー / Po Pi Po | Hatsune Miku | Lamaze-P |
| ほんとは分かってる / Honto wa Wakatteru | Hatsune Miku | Funakoshi-P |
| 迷子ライフ / Maigo Life | Kagamine Rin | Nishizawasan-P (TOKOTOKO) |
| magnet | Hatsune Miku, Megurine Luka | minato |
| Magical Sound Shower | Hatsune Miku | HIRO |
| マスターオブパペッツ / Master of Puppets | Hatsune Miku, Megurine Luka | Death Ohagi |
| マージナル / Marginal | Hatsune Miku | OSTER project |
| 右肩の蝶 / Migikata no Chou / Butterfly on Your Right Shoulder | Kagamine Len | NoriP |
| 右肩の蝶 / Migikata no Chou / Butterfly on Your Right Shoulder -39's Giving Day Edition- | Kagamine Len | NoriP |
| みくみく菌にご注意♪ / Miku Miku-kin ni Gochuui♪ / Beware of the Miku Miku Bacteria♪ | Hatsune Miku | daniwellP |
| みくみくにしてあげる♪【してやんよ】 / Miku Miku ni Shite Ageru♪ [Shiteyanyo / I'll Make You Miku Miku'ed (You'll Do it)] | Hatsune Miku | ika |
| ミラクルペイント / Miracle Paint | Hatsune Miku | OSTER project |
| moon | Hatsune Miku | iroha(sasaki) |
| 結ンデ開イテ羅刹ト骸 / Musunde Hiraite Rasetsu to Mukuro / Hold, Release; Rakshasa and Carcasses | Hatsune Miku | Hachi |
| 迷的サイバネティックス / Meiteki Cybernetics / Depression of Cybernetics | Megurine Luka | otetsu |
| メルト / Melt | Hatsune Miku | ryo (supercell) |
| melody... | Hatsune Miku | mikuru396 |
| 妄想スケッチ / Mousou Sketch / Delusion Sketch | Hatsune Miku / Kagamine Rin | 40meterP |
| 悠久 / Yuukyuu -Song of Eternity-DIVAMIX- | Hatsune Miku | Tiara |
| ゆめゆめ / YUMEYUME / DREAM DREAM | Hatsune Miku | DECO*27 |
| LIKE THE WIND | Kagamine Rin | Kusemono x HIRO |
| Last Night, Good Night | Hatsune Miku | kz (livetune) |
| ラブリスト更新中? / Love List Koushinchuu? / Updating Your Love List? | Hatsune Miku | Hata Aki |
| リンリンシグナル / Rin Rin Signal -Append Mix- | Kagamine Rin, Kagamine Len | Signal-P |
| ルカルカ★ナイトフィーバー / Luka Luka★Night Fever | Megurine Luka | samfree |
| Leia | Megurine Luka | Yuyoyuppe |
| 炉心融解 / Roshin Yuukai / Meltdown | Kagamine Rin | iroha(sasaki) |
| ロミオとシンデレラ / Romeo to Cinderella / Romeo and Cinderella | Hatsune Miku | doriko |
| ローリンガール / Rolling Girl | Hatsune Miku | wowaka |
| ワールズエンド・ダンスホール / World's End Dancehall -Live Dance Edition- | Hatsune Miku, Megurine Luka | wowaka |
| ワールドイズマイン / World is Mine | Hatsune Miku | ryo (supercell) |
Reference
Edit
External links
Edit
Arcade - Project DIVA Arcade's official site (Japanese)
Arcade - Project DIVA Arcade's official site (English)