Hatsune Miku (初音ミク) is the first Japanese Vocaloid2 in the Vocaloid2 Character Vocal Series, the third Japanese Vocaloid created by Crypton Future Media, and is the seventh Vocaloid to have appeared overall; released on August 31, 2007. She is considered as the most popular and well known Vocaloid and the first to become a pop idol. The data for the voice was created by sampling the voice of Saki Fujita (藤田 咲, Fujita Saki), a Japanese voice actress.[1][2]
Crypton had the idea to release Miku as "an android diva in the near-future world where songs are lost."[3][4] When KEI illustrated Miku, he was asked to draw Miku as an android and a color scheme to go off of (based on YAMAHA synthesizer's signature blue-green color). Crypton also provided KEI her detailed concepts, however, Crypton says it was not easy to explain what a "Vocaloid" was like to him, and KEI says he could not create an image of a "singing computer" at first, as he did not even know what a "synthesizer" was. It took him more than a month. [5] The digital design on Miku's skirt and boots are based off synthesizer program colours and the bars represent the actual bars within the program, following Crypton's idea. Part of her design is based on some of Yamaha's keyboard models, particularly the DX-100 and the DX-7.[6][7]
Miku was originally intended to have a different hairstyle, but KEI stuck to pigtails after trying them out. Her pigtails have since become a iconic status of her design. On June 22 2012, Hatsune Miku's Twin tails even earned her the title of the Twin Tail which best represented the 2000s, marking her the best set of Twin Tails in the dawn of the 21st century. She now shares her twin tail distinction with other characters like Sailor Moon (who won best Twin Tails for the 90s period).[8]
After an Internet Meme involving Hachune Miku, Miku was associated with a spring onion (often mistaken for a leek due to the similar appearance). This along with Kaito's discovery started a habit called "the Item War" where it became traditional for new Vocaloids to have an item assigned to them and the items were debated on until one stuck via an Internet Meme.
The thin squares around her pigtails are futuristic ribbons made of a special material that float in place. As seen in Kei's art for Miku, they are able to hold Miku's pigtails in place without having to physically touch the hair itself. The ribbons are also reported by Kei to be the hardest item on the character's design for cosplayers to recreate.
Etymology
Edit
The name of the title and the character of the software was chosen by combining Hatsu (初, first), Ne (音, sound), and Miku (ミク, future) thus meaning "the first sound from the future."
Vocaloid Releases
Edit
Examples of Usage
Edit
| | |
| --- | --- |
| | Before adding translated or subbed videos, please read this tutorial in order not to list gravely mistranslated ones. |
To our readers and editors, for section notes please read; Notes; Examples sections.
Musunde Hiraite Rasetsu to Mukuro

Author(s):
Hachi
Category:
Original song
Featuring:
Hatsune Miku
Nicovideo Broadcast  Youtube Broadcast    


Description

A dark song which utilizes the "cartoonish" quality of Miku's voice to generate a creepy tone.
Division of Hatsune Miku → Destruction

Author(s):
CosMo
Category:
Original song
Featuring:
All Hatsune Miku Appends
Nicovideo Broadcast  Youtube Broadcast    


Description

A song that features the six append voicebanks along with the original one. The different voices alternate singing, thus forming several combinations of duets and choirs.
Marketing
Edit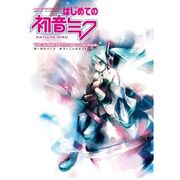 Miku's inital marketing was similar to past software synthesizers and Vocaloid voicebanks, as this was standard marketing at her time of release for Vocaloids. She was originally aimed only at professional producers; the amateur and Otaku market hadn't fully formed yet, and so it was not initially considered or factored in.[9] Her unexpected success was owed more to the creativity of fans, who experimented with her vocals and created songs that, in turn, influenced others to do the same. This provided Crypton with the chance to take advantage of early technical support for Miku and several guidebooks and magazine support were released souly focused on her vocals. This type of technical coverage was even possible long after Miku's inital release and methods of adapting her vocals are the most well documented amongst the Vocaloid2 era vocals.
Since the success of her voicebank led to an expansion of marketing possibilities, most of the mass marketing has come after her release and as a response to her popularity. Even with the addition of other Character Vocals, Miku's name continues to be used as the primary source of marketing for Crypton Future Media, to the point where most products for their Vocaloids will usually only feature Miku's name, despite the inclusion of other Crypton Vocaloids in the product. In March 2012, the Nomura Research Institute estimated that the sales of all "Hatsune Miku" brand goods added up into the region of ¥10,000,000,000 since her release in 2007[10], the result of Miku's marketing success is that her name is now the easiest of the Vocaloids to market. Also owed to her popularity, many vocaloid related products such as piano sheet music packs, books, and magazines carry her image on the front cover. Between Jan 28 2013 a 3 day survey was run by Tokyo Polytechnic University. During the survey (based on ages 12-38) 95% of those entering reported knowing who Hatsune Miku was, in comparison participants barely knew who Megpoid, IA or Aoki Lapis were.[11]
Corolla Miku, presented in 2011, has a slightly different attire than KEI's original design: instead of one skirt stripe and single floating ribbons, she now has two, as was intended by the client.
In 2011, Crypton began to focus on marketing Miku to the U.S. audiences. On May 7, USAmazon placed a preview of Supercell's hit song "World is Mine" as a single. When the song finally went on sale, it came 7th in the top 10 World singles list on iTunes in its first week of sales.[12] The entry was presented as "The World is Mine Feat. Hatsune Miku". Crypton had to consider who they were aiming the advertisements of Miku at, mostly at the web fanbase, and had to check the differences between the Japanese and English fanbases. Since Crypton always sold Miku as a virtual instrument in Japan, they asked their Japanese fan base if it was acceptable for them to sell her as a virtual singer to the new market audience.[13] The main purpose of the Miku English version is to allow Japanese producers to break into the west and expand their audiences.[14]
Crypton Future Media do not approve of using Miku for politics. This is so far one of the biggest areas of marketing that Miku has avoided being used for.[15]
Additional information
Edit
Popularity
Edit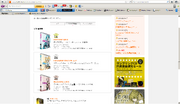 Before Miku was released, Vocaloid was not much more than an obscure program. Nico Nico Douga played a fundamental role in the recognition and popularity of the software today. Soon after its release, users of Nico Nico Douga started posting videos with songs created by the software. According to Crypton, a popular video with a comically-altered Miku holding a spring/Welsh onion, singing Ievan Polkka, presented multifarious possibilities of applying the software in multimedia content creation. As recognition and popularity grew, Nico Nico Douga became a place for collaborate content creation. Popular original songs written by a user would generate illustrations, animation in 2D and 3D, and remixes by other users. Other creators would show their unfinished work and ask for ideas.
The initial sales of Hatsune Miku were so high that Tokyo could not keep up with the demand. In the first 12 days of sale, nearly 3,000 sales reservations were made. This was around one sale in 250 in the music software industry, quoted as "an impossible number" by Wataru Sasaki—the person in charge of the planning and production company 'surprise'. Amazon.co.jp stated on September 12, 2007 that they had sales of Hatsune Miku totaling 57,500,001 yen, making her the number one selling software of that time.[102] It was confirmed in her first year alone, Miku sold 40,000+ units.[103] Later reports came that she had sold 60,000+ copies of her software, normally selling 1,000 copies of a synthesizing software was considered good business.[104] Because of Miku's success, Crypton Future Media were able to open up their services to allow more support for their Vocaloids, including websites such as Piapro and Karen-T, concerts and merchandise. By 2009, some were referring to her as Vocaloid's first "Diva". In 2010, Crypton Future Media produced a ranking of the Vocaloids they sold on their website.
Miku has remained the fan favorite amongst the Japanese fandom, having the strongest following and usage even after the release of much better Vocaloids from her era. Her popularity was so high that when GazettE's Aoi made a negative comment on her through twitter, he was immediately met with outraged fans and was forced to retract some of his comments after trying out the software for himself. Indeed most of the more popular songs for Vocaloid are sung by Miku and she has more hit songs on Nico Nico Douga than any other Vocaloid. Merchandise for Miku is plenty and often sells well due to her popularity; by 2009 most of the merchandise released for Vocaloid was Miku. All of Crypton Future Media's promotions also centered on Miku's image. As she is the most popular Vocaloid and the most commonly used, she is the most associated with the software and is regarded as the first true "Vocaloid Diva Star".
Hatsune Miku's popularity had major impact on the development of other Crypton Future Media voicebanks. Because of the high demand for her voicebank and character image, Crypton were caught up by the overwhelming popularity and demand for her vocal and character image. This caused delays to other Vocaloid 2 projects, including the release of a additional character. How much impact her popularity has had on other Vocaloid voicebanks is unknown, but Crypton Future Media has many delayed voicebanks that were originally set for a Vocaloid 2 release.
An independent Vocaloid search on Nico Nico Douga revealed that most Vocaloids had less then 1,000 videos uploaded on Nico Nico Douga in between July 1 and December 15 2011. Miku, however, had managed to gain 9904 uploads to the site during this period making her number one in video submissions for Vocaloid related videos. She also had the highest number of total views during this period with 23847081 views and 1943303 mylists. However, Miku was put in 3rd place on average number of views per video with 2407.82 views per video (and 196.21 mylists). However, a comment led by the report noted that due to the popularity of the most famous Producers it was much harder to conduct the report. When the mean number was conducted, which was a more accurate report of the Vocaloids during this period, Miku did not even make it into the top 6 Vocaloids despite having consistant no.1s throughout this period.[105]
Her design has also influenced the Vocaloid mascot designs of other companies, creating common design influence that divides fans opinions on character design. Her design has also spawned many producer based derivatives. She is the most common Vocaloid to receive derivatives due to the popularity of her voicebank and heavy promotions by Crypton Future Media.
In 2012, a poll was held for the London Olympic Games 2012 which asked people which singer or group they would like to see at the Olympics. Miku reached the no.1 spot, beating popular singers such as Lady Gaga and Justin Bieber. The poll was not offical and was done for popularity reasons.[106]
Those against Vocaloid or skeptical on it cite Hatsune Miku's vocal as a reason for their feelings against Vocaloid. A common negative reaction towards her centers on her high pitched vocals, labelling her as sounding like a "chipmunk", as it is not normal for a singer to be able to reach notes so high so easily. In turn this can led to incorrect presumptions on the software itself; a common stereotype of Vocaloid is that all Vocals are as high pitched as Miku herself. However, most Vocaloids cannot reach Miku's notes, the only Vocaloid capable of reaching her same notes during the Vocaloid 2 era was Prima , who does not have the same vocal pitching or vocal type as Miku. So for those who are not impressed by Miku, she can often end up being the source of anti-Vocaloid opinions.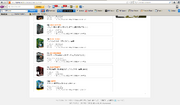 Miku's Append was not as well received as her original voicebank, though it managed to stay in the top ten products from Crypton Future Media. It may also disappear from the list entirely from time to time. However, it has been known to have reached the top 3 products on occasion, as well as knock other CV vocals further down the charts.[107] Miku was ranked as the no.1 Vocaloid product they sold and despite drifting between ranks on their product list her Append managed to grab 2nd place.[108]
Because she is the first Vocaloid many got to know and the first to draw a large amount of attention, there are a number of common misconceptions;

Miku is often mistaken as the very first Vocaloid ever produced by those new or unfamiliar to the software's history, or the first Vocaloid 2 released. While she was the first Vocaloid 2 to be released for the Japanese market, it was PowerFX's Sweet Ann who claimed the place as the first Vocaloid 2 to be released, she was released 2 months prior to Miku. When Miku became more known in 2010, the media also incorrectly labelled her as this as well. On more than one occasion Crypton Future Media have labelled her as the first, though this is likely an error as they usually introduce her as "the first of the character vocal series".
Since 2010, Miku has won the classification of "Virtual Diva" and has become a pop star in her own right. However, some reports mislabel her as "the first virtual star" when other "virtual stars" have been released prior to her existence as early as the mid-1990s, although these "stars" never rose to the level of popularity Miku has reached.
Miku is also not the first Vocaloid to debut in America as Zero-G's Vocaloids were already on sale before her. However, all previous Vocaloids failed to make an impact in America.
Miku is also not the first to have an avatar, the first was Sweet Ann who was based on "the bride of Frankenstein", though Miku was the first to have a profile and expand on the concept of an avatar. Leon and Lola did not feature a character on their boxart, Miriam had a blurred photo of Miriam Stockley. Though Kaito and Meiko had characters on their boxart, they were not originally meant to represent their vocals.
She was also not the first to feature in a "live" concert, Miriam had the first in 2004. However, Miku was the first to actually feature herself "live" in the concert whereas Miriam's concert featured just her vocal.
Sound Horizon, a popular band that uses music to tell stories, used Miku Hatsune in their third single "Ido e Itaru Mori e Itaru Ido" and its corresponding album, "Marchen". Saki Fujita, the voice actor, also does narrations.
With a total of 7 voicebanks released, Miku ties in 2nd place with Gumi in total number of released vocals.
Miku's signature item is a spring onion, though many have often confused it with a leek due to their similar appearances. This mistake is even found in a couple of the Project DIVA games and other games by SEGA.
Notable for...
Edit
First Japanese Vocaloid 2 to be released
First of Crypton Future Media's Character Vocal series
First specialised vocal of Vocaloid 2
Most merchandise to date
Most songs created to date
First Vocaloid to have a "true" avatar given
First Vocaloid to have a bio
First Vocaloid to earn the status of "Diva"
First Vocaloid to be Appended
Holds the highest sales figures of all Vocaloids
Highest amount of pre-orders of a software synthesizer
Most common/popular Vocaloid
First Vocaloid to have a videogame
First Vocaloid to be on stage
One of 3 voicebanks used by the robot HRP-4C
A number of the Internet Memes linked to Vocaloid
Most awarded Vocaloid software released
First to have a song with a million views
Cover of the unofficial manga Hatsune Mix
DTM magazine - Miku Append
Miku's photoshoot from Weekly Playboy magazine Japan
HRP-4C as Miku
Clash Magazine Feb 2011 issue
CD Journal, May 5th 2012 issue
Tinier Me Hatsune Miku (Hatsune Miku x TinierMe Collab)
Tinier Me Hatsune Miku Append Persona Gacha (Hatsune Miku x Tinier Me collab)
建築知識 Magazine, September 2012 issue vol.9 (no.694)
別冊spoon.2Di, July 2012 vol.21
Comptiq, February 2013 issue, vol.2 (no.417)
References
Edit
External links
Edit
Official :
Other :
Fandom :
VOCALOID by Voicebank gender factor