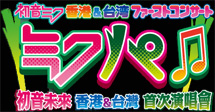 Event title
初音ミク 香港&台湾 ファースト コンサート 「ミクパ」
(初音未來 香港&台灣 首次演唱會)
Hatsune Miku's First Concert in Hong Kong & Taiwan
Singer
Hatsune Miku, Kagamine Rin, Kagamine Len, Megurine Luka
Producer(s)
40meterP • Agoaniki-P • cosMo • doriko • halyosy • ika • JimmyThumb-P • Junky • Kuchibashi-P • kz • Lamaze-P • livetune • minato • Noboru↑-P • Nori-P • OSTER project • ryo • samfree • supercell • Team MOER • Toraboruta-P • wowaka
Resources
Vocaloidism
Description
"Hatsune Miku Live Party 2012 in Hong Kong and Taiwan", Miku's third overseas concert, took place in Hong Kong on October 2nd, 2012, and Taiwan on October 6th, 2012. She was accompanied by Rin, Len, and Luka. There were two performances at each location, day and nighttime. The Taiwan evening concert was streamed on Tokyo MX. Unlike a Nico stream, there were commercial breaks, and the whole of the concert did not air.
Background
Edit
Concert date: October 2, 2012 (Hong Kong);  October 6th, 2012  (Taiwan)
Location:  KITEC Star Hall (Hong Kong, China);  Taipeishow  (Taipei, Taiwan) 
Entry fee:  $36 - $87 (Hong Kong), $51 - $98 (Taiwan)
Playlist №: 23 initially, 2 encore
Company: Crypton Future Media, SEGA
Associations: MARZA ANIMATION PLANET INC., piapro, MAGES.
Band Members: MKP39
Song list
Edit
Taiwan-only Encore Song
Edit
| № | Japanese, Romaji | English | Singer | Producer |
| --- | --- | --- | --- | --- |
| 25 | Starduster | Starduster | Miku | JimmyThumb-P |
Ad blocker interference detected!
Wikia is a free-to-use site that makes money from advertising. We have a modified experience for viewers using ad blockers

Wikia is not accessible if you've made further modifications. Remove the custom ad blocker rule(s) and the page will load as expected.