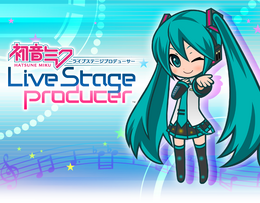 Hatsune Miku Live Stage Producer is a free smartphone game developed by SEGA.[1] It was announced on Tokyo Game Show 2012 on September 20, 2012.[2] It was the first game to be developed for Android devices and was released in Japan on November 8, 2012.[3] The Japanese iOS version was later released on December 6, 2012. Like Miku Flick and Miku Flick/02, SEGA also promises an USA/Europe Version soon.
In Hatsune Miku Live Stage Producer, players take on the role of Hatsune Miku's producer and owner of the live house that she performs at. As her producer, players train Miku using different lessons such as dancing and voice training. Players can train Miku however they want by choosing which ones to improve. Players can also design and customize their live house to increase its popularity.
Once Miku has been trained, she can be entered into contests. Players who do well enough can unlock items for their live house as well as alternate outfits for Miku. The game also features fast-action rhythm aspects that fans are sure to enjoy. Of course, well-known songs and costumes are included in the game. To commemorate the release of the iOS version, new songs, costumes, stages, and items have been released.
Scoring    
Edit
Players manage Miku's progress using six different stats (song, dance, style, cuteness, talk, and variety)
Featured producers
Edit
OSTER project, Toraboruta-P, Yasuo-P, Kobayashi Onyx, kz (livetune), Yuuyu-P, Lamaze-P, doriko, daniwellP, ryo (supercell), Deadball-P, ika, Toku-P, halyosy, baker, Nori-P, wowaka, Kazu-P, Travolta-P
Song list
Edit
References
Edit
Ad blocker interference detected!
Wikia is a free-to-use site that makes money from advertising. We have a modified experience for viewers using ad blockers

Wikia is not accessible if you've made further modifications. Remove the custom ad blocker rule(s) and the page will load as expected.