The following article is still a work in progress and being improved for the benefit of all visitors. Please bear with us while improvements are being made, and as soon as an editor is available to do so assume good faith until the edits are complete. For information on how to help, see the manual of style guideline. We apologize for the inconvenience this may cause in the meantime.

Work-in-progress pages are automatically sorted into this category.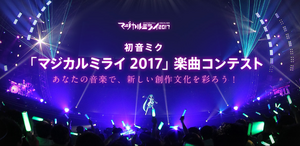 The Hatsune Miku Magical Mirai 2017 Song Contest is a contest hosted by Crypton Future Media on 3rd, February 2017 to promote Magical Mirai 2017 and Hatsune Miku V4X.
Contest Details
Edit
Producers have until the 3rd, April 2017 to produce an original song using Hatsune Miku and submit it via Piapro. A trial version of Hatsune Miku V4X Original has been provided via SONICWIRE. Crypton Future Media will choose the winners during the month of April.
Submission Rules
Edit
Original compositions only, covers of existing songs will be disqualified.
Submissions must have vocals created with Hatsune Miku vocal software only (V3 and both English banks are allowed).
Submissions must be in MP3 format.
Submissions must be under 4 minutes and 30 seconds in length, in any genre.
Submissions must be original, unreleased works not tied to any publishers, independent contracts, or management groups.
Songs submitted to sites other than Piapro will not be eligible for selection.
Submissions must be uploaded with the tag "マジカルミライ2017_楽曲" (copy and paste without quotes). Please be very sure to lock the tag.
You must post the lyrics in the description of your submission.
Contest Rules
Edit
There are no restrictions on who can enter (participants under 18 years old must have parents' permissions).
Submission of commercial works by corporate entities is not allowed.
Submissions can be collaborative works made by a team of people, but a single representative must be chosen as a contact point.
If a copyright infringement claim is filed on any contest submission, we cannot be held liable and all responsibilities to resolve the issue will rest on the submitter.
Any works already available to the public cannot be submitted.
If for whatever reason any songs are submitted past the contest deadline, they will not be considered for the prizes.
The Grand Prize winner submission will be rearranged by Crypton for the purpose of live performances.
The Grand Prize winner will be asked to submit 1) .wav or other lossless file format of their finished song, and 2) various data files required for live rearrangement of the song.
The rights to the Grand Prize submission will, upon selection, be transferred to Crypton Future Media. Payment for usage rights will be made.
This contest may undergo changes or be canceled without prior notice to its participants.
Grand Prix:
Hatsune Miku will sing your song at Magical Mirai 2017
A pair of free tickets for Magical Mirai 2017
A special goods SONICWIRE gift certificate (100,000 JPY).
Semi-Grand Prix (not limited to 1 person):
A SONICWIRE gift certificate (30,000 JPY).
Grand Prix
Edit
| Title | Producer | VOCALOID(s) | NND / YT / Etc. |
| --- | --- | --- | --- |
| Singularity | keisei | Hatsune Miku | |
Semi-Grand Prix
Edit
| Title | Producer | VOCALOID(s) | NND / YT / Etc. |
| --- | --- | --- | --- |
| dear my singer | mickeY@雨上がりP | Hatsune Miku | |
| Shiny★STARS | 雨漏りP | Hatsune Miku | |
| いるみねイト | キッドP | Hatsune Miku | |
| タイニーチャーム | Materia | Hatsune Miku | |
| Eternal Melodys | だいすけP | Hatsune Miku | |
External Links
Edit