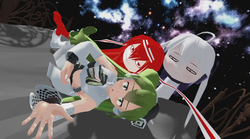 Song title
"Haunted Night"
Uploaded August 27, 2014, with 59+ views
Singer(s)
Macne Nana
OLIVER (chorus)
Producer(s)
Kyattorotto Mi☆ (music, lyrics, video)
Links
YouTube Broadcast
Background
Edit
"
In Japan, summer is considered as the season of horror.

I made this video for festivals of MacneNana and MMD Horror on the web.

"
"Haunted Night" is an original song by Kyattorotto Mi☆ featuring Macne Nana and OLIVER in the chorus.
Under the heavy air
I'm gasping on my bed
The voice is calling me
From where I've been before
I see the spirits in the dark
Fading consciousness
I'm going insane

In the heat of the night
I'm caught in madness
The voice is calling me
From where I've been before
I see the spirits in the dark
I saw a dream that an old tree talking to me
He said he spread the disease
Burning down the sin of human being

The voice is calling me
From where I've been before
I see the spirits in the dark
I saw a dream that an old tree talking to me
He said he spread the disease
Burning down the sin of human being

I saw a dream standing in a woods
Surrounded by the light
It showed me a vision of the earth
Pollution all around
There's no place to escape
Though I talked to myself it's just a dream
The vision was so clear
And the old tree said to me
Watch the news on TV
When morning comes you'll see