This song article is lacking a proper background. You can help by adding one! The relevant section in the Song Article Guideline is a good starting point, and this blog post may also be helpful. We apologize for the inconvenience this may cause in the meantime.

Song pages lacking proper backgrounds are automatically sorted into this category.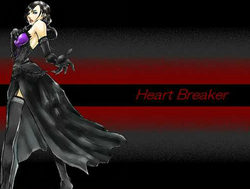 Song title
"Heart Breaker"
Uploaded May 19, 2008, with 1,700+ views
Singer(s)
Prima
Producer(s)
Kazutya
Links
Niconico Broadcast
Background
Edit
"Heart Breaker" is an original song by Kazutya featuring Prima.
Was it good I got to know you well although it made me see
Will I understand what you think, when you see me?
Don't waste my time with stupid excuses.
Don't worry about it. It's not your fault.

I singing a love song, words of a stranger
However, Love means nothing to me
What illusions did I have of you?

If you justice I become badness
Do you really know me?
Cause I am blinded no more!
Which one is it that me seek, I wonder?
Can this be wrong, it's love that is not ending
You know what is true? Still, you is a heartbreaker

Was it good I got to know her well although it made me see
Will I understand what you think, when you see me?
Because I had never been loved before
All my life, I've never been loved.

"What is it like to be loved?"
Crying out from the bottom of my heart
It's much better not to know love
I haven't answer to my question yet!

If you justice I become badness
Do you really know me?
Do you really not know anything?
How we were never meant to be
I was unable to cope with what you said
You know what is true?
Still, you is a heartbreaker

However, Love means nothing to me
What illusions did I have of you?

Love sounds familiar, but the emotion escapes me
"What is it like to be loved?"
Aren't you thinking too much?
I think.
It was good I got to know you well because it made me see
Love means nothing to me.
Is a heartbreaker…
External links
Edit
| | |
| --- | --- |
| | Lyrics |