This song article is lacking a proper background. You can help by adding one! The relevant section in the Song Article Guideline is a good starting point, and this blog post may also be helpful. We apologize for the inconvenience this may cause in the meantime.

Song pages lacking proper backgrounds are automatically sorted into this category.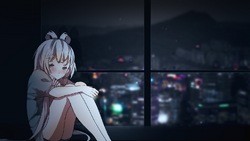 Song title
"hello&bye,days"
Uploaded December 17, 2015, with 281,000+ views
Singer(s)
Luo Tianyi
Producer(s)
COP (music, arrange, lyrics, tuning)
Wei Tu (illustrator)
saiqomo (video editor)
Links
YouTube Broadcast (reprint)
bilibili Broadcast

Background
Edit
"hello&bye,days" is an original Chinese VOCALOID song featuring Luo Tianyi.
The song has reached 100,000 views on bilibili.
Chinese (中文歌词)
Pinyin (拼音)
从未发觉 白昼已到尽头
cong wei fajue baizhou yi dao jintou
何时 我未留意的腐朽
he shi wo wei liuyi de fuxiu
在暮雨之中尝试绽放
zai muyu zhi zhong changshi zhanfang


三步并作两步走
san bu bing zuo liang bu zou
逃离喧嚣的街头
taoli xuanxiao de jietou
拨出烂熟的号码
bo chu lanshu de haoma
忙音人海中轻轻叩
mangyin ren haizhong qing qing kou


喝着冷藏数日的啤酒
hezhe lengcang shu ri de pijiu
划过早已冰冷的心口
huaguo zaoyi bingleng de xinkou
电视音渐渐模糊
dianshi yin jianjian mohu
试图去感受你的感受
shitu qu ganshou ni de ganshou


残留 这一刻余光仍些许残留
canliu zhe yike yu guang reng xiexu canliu
或许是早有预谋
huoxu shi zao you yumou
即使再苦苦哀求
jishi zai ku ku aiqiu
滴答声仍无情地
dida sheng reng wuqing de
将泛黄的记忆揉皱
jiang fan huang de jiyi rou zhou


这种 绝望 每个漆黑深夜
zhe zhong juewang mei ge qihei shenye
腐蚀着未愈的伤口
fushizhe wei yu de shangkou
那日的歌 那日的我
na ri de ge na ri de wo
仍在原地驻留
reng zaiyuan di zhu liu
无形节拍 嘶哑地轰鸣作响直至尽头
wuxing jiepai siya de hongming zuo xiang zhizhi jintou
季节更迭 枯木凋朽
jijie gengdie kumu diao xiu
所有人都已经远走
suoyou ren dou yijing yuan zou
霓虹灯无人路口
nihongdeng wu ren lukou
水洼透明的哀愁
shui wa touming de aichou
万籁悉数寂静后
wanlai xishu jijing hou
仅剩落空的祈求
jin sheng luokong de qiqiu


on this lonely day 为逆光的诀别干杯
on this lonely day wei niguang de juebie ganbei
或许 我只是一个傀儡
huoxu wo zhishi yige kuilei
在必然结局前被迫落泪
zai biran jieju qian bei po luo lei


街灯投下的光芒
jiedeng touxia de guangmang
映射着今夜的惆怅
yingshezhe jinye de chouchang
被目光灼热的寒星
bei muguang zhuore de hanxing
在梦醒时分又高高挂
zai meng xing shifen you gao gao gua


覆着薄薄尘土的天窗
fuzhe bao bao chentu de tianchuang
挡不住夜洒下的光华
dang bu zhu ye sa xia de guanghua
视线渐渐地模糊
shixian jianjian de mohu
因为困倦夹杂着花香
yinwei kunjuan jiazazhe huaxiang


飘荡 徘徊在浅秋深夜的风中
piaodang paihuai zai qian qiu shenye de feng zhong
拂过了谁的面庞
fuguole shei de mianpang
蛊惑了谁的愿望
guhuole shei de yuanwang
缠绕着一缕荧光
chanraozhe yi lu yingguang
袅袅盘旋而上
niaoniao panxuan er shang


深深刻进骨子里的苦楚
shen shenke jin guzili de kuchu
在这一刻隐隐作痛
zai zhe yike yinyin zuotong
是黑夜无法包容的温度
shi heiye wufa baorong de wendu
一抹鲜红
yimo xianhong
是光芒撕裂星空的预兆
shi guangmang si lie xingkong de yu zhao
试图触及谁人的灵魂深处
shitu chuji shei ren de linghun shen chu
在葱茏之中徘徊
zai conglong zhi zhong paihuai
抑制成瘾的依赖
yizhi cheng yin de yilai
恍惚之间醒来
huanghu zhi jian xing lai
凝望天边苍白
ningwang tianbian cangbai


没有星星的此空
meiyou xingxing de ci kong
纯净得赏心悦目
chunjing de shangxinyuemu
终将结束的爱
zhong jiang jieshu de ai
草草收拾了倦怠
caocao shoushile juandai


he- he- hello sunshine
bye bye say bye to the night


he- he- hello sunshine
bye bye say bye to the night
External links
Edit
| | |
| --- | --- |
| | Lyrics |