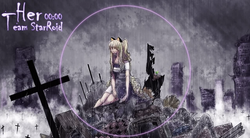 Song title
"Her"
Uploaded June 30, 2013, with 3,000+ views
Singer(s)
SeeU
Producer(s)
Team StarRoid:
Mr.Xtacy (music, mix)
Darth Vader (lyrics, vocal melody)
porifra (illust)
Bloomat (video)
Links
YouTube Broadcast
Background
Edit
"Her" is an original SeeU song. The singer laments the lost love of a beautiful girl, after her death following what is presumed to be the apocalypse. Or, a devastating event that caused the deaths of many people, including the lovely woman.
Korean (한국어 가사)
Romaja (로마자)
헐~헐~
heol~ heol~


두 눈 감으면 생각나는 것은
du nun gameumyeon saenggaknaneun geoteun
황량한 저 하늘과 메마른 대지
hwangryanghan jeo haneulgwa memareun daeji
두 눈을 떠도 보이는 것은
du nuneul tteodo boineun geoteun
황량한 저 하늘과 메마른 대지
hwangryanghan jeo haneulgwa memareun daeji
쇠락한 세계에 남은 것은 나 홀로
swerakhan segyee nameun geoteun na hollo
꿈도 희망도 나에게는 무의미
kkumdo huimangdo na-egeneun muuimi
나에게 미래는 더 이상 없어
na-ege miraeneun deo isang eopseo
미래는 없어
miraeneun eopseo


깨어나 보니
kkaeeona boni
나 혼자만의 멸망한 세계
na honjaman-ui myeolmanghan segye
깨어나 보니
kkaeeona boni
파괴된 침묵의 세계
pagwidwin chimmugui segye
소리를 외쳐 누군가를 불러도
sorireul wichyeo nugungareul bulleodo
돌아오는 것은 없어
doraoneun geoteun eopseo
돌아오는 것은 없어
doraoneun geoteun eopseo


무색의 하늘
musaegui haneul
침묵의 거리를 걷네
chimmugui georireul geonne
회색의 하늘
hwisaegui haneul
파괴된 거리를 걷네
pagwi georireul geonne
아무리 둘러봐도
amuri dulleobwado
나 혼자 밖에 없네
na honja bakke eomnne
나 혼자 만의 슬픔
na honja man-ui seulpeum
헛된 희망을 찾네
heotdwin huimangeul channe


이기심은 자연을 죽여
igisimeun jayeoneul jukyeo
나의 미래를 병들게 하고
naui miraereul byeongdeulge hago
슬픈 전쟁은 모든 것을 끝내버렸어
seulpeun jeonjaengeun modeun geoteul ggeunnaebeoryeosseo
남은 것은 비참한 현실
nameun geoteun bichamhan hyeonsil
끝을 모르는 어두운 미래
ggeuteul moreuneun eoduun mirae
하지만 어딘가엔
hajiman eodingaen
희망이 남아있을까
huimangi namaisseulkka


고개를 들어 쳐다보는 것은
gogaereul deureo chyeodaboneun geoteun
검은 구름 덮인 회색의 하늘
geomeun gureum deopin hwesaegui haneul
푸른색도 붉은색도 아닌
pureunsaekdo bulgeunsaekdo anin
검은 구름 덮인 회색의 하늘
geomeun gureum deopin hwesaegui haneul
희망을 찾아 걸어가지만
huimangeul chaja georeogajiman
찾지 못한 기대에 지쳐가네
chatji mothan gidaee jichyeogane
희망을 찾아 걸어가지만
huimangeul chaja georeogajiman
나는 지쳐 가고 있어
naneun jichyeo gago isseo


지친 몸을 이끌어 가는 것은
jichin momeul iggeureo ganeun geoteun
무거운 다리
mugeoun dari
쇠약한 정신
sweyakhan jeongsin
지친 몸을 붙들고 있는 것은
jichin momeul butdeulgo inneun geoteun
한줄기 희망
hanjulgi huimang
하나의 소망
hana-ui somang


홀로 걷는 언덕은 높기만 하고
hollo geonneun eondeogeun nopgiman hago
숨결은 거칠어지네
sumgyeoreun geochireojine
어두워진 하늘은 높기만 하고
eoduweojin haneureun nopgiman hago
발걸음은 무거워지네
balgeoreumeun mugeoweojine


헐~헐~
heol~ heol~


높은 언덕 끝에 다다라
nopeun eondeok ggeute dadara
그 아래 모습을 바라보네
geu arae moseupeul barabone
끝없이 펼쳐지는 무채색의 십자가들
ggeuteopsi pyeolchyeojineun muchaesaegui sipjagadeul
남은 것은 허탈한 심정
nameun geoteun heotalhan simjeong
그리고 밀려오는 절망의 파도
geurigo millyeooneun jeolmangui pado
이제는 모든 것이
ijeneun modeun geoti
정말로 끝나버렸어
jeongmallo ggeunnabeoryeosseo


하늘에서 비가 내려
haneureseo biga naeryeo
지쳐버린 내 몸 적셔
jichyeobeorin nae mom jeoksyeo
희망이 씻겨 내려가
huimangi ssikkyeo naeryeoga
절망이 감싸 안아와
jeolmangi gamssa anawa
빗속으로 녹아드는 눈물이
bissogeuro nukadeuneun nunmuri
두 눈을 타고 흘러 내려
du nuneul tago heulleo naeryeo
슬픔조차 씻겨 내려와
sulpeumjocha ssikkyeo naeryeowa
결국엔 나 혼자 뿐이야
gyeolguken na honja bbuniya


두 눈 감으면 생각나는 것은
du nun gameumyeon sanggaknaneun geoteun
황량한 저 하늘과 메마른 대지
hwangryanghan jeo haneulgwa memareun daeji
두 눈을 떠도 보이는 것은
du nuneul tteodo boineun geoteun
황량한 저 하늘과 메마른 대지
hwangryanghan jeo haneulgwa memareun daeji
쇠락한 세계에 남은 것은 나 홀로
swerakhan segyee nameun geoteun na hollo
꿈도 희망도 나에게는 무의미
kkumdo huimangdo na-egeneun muuimi
이런 내가 할 수 있는 한마디
ireon naege hal su inneun hanmadi


헐~
heol~