Ad blocker interference detected!
Wikia is a free-to-use site that makes money from advertising. We have a modified experience for viewers using ad blockers

Wikia is not accessible if you've made further modifications. Remove the custom ad blocker rule(s) and the page will load as expected.
This song article is lacking a proper background. You can help by adding one! The relevant section in the Song Article Guideline is a good starting point, and this blog post may also be helpful. We apologize for the inconvenience this may cause in the meantime.

Song pages lacking proper backgrounds are automatically sorted into this category.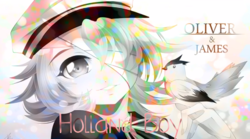 Song title
"Holland Boy"
Uploaded January 21, 2014, with 451+ views
Singer(s)
OLIVER
Producer(s)
Vrejl (music, lyrics)
fc00 (Illustration)
Carlos G. Music (VSQx)
Links
YouTube Broadcast
Background
Edit
| | | |
| --- | --- | --- |
| " | This is dedicated to a very special boy who I last saw 3 years ago, exactly 3 years. | " |
"Holland Boy" is an original song by Vrejl featuring OLIVER.
I'm falling out of sight
You did something that I loved
Took my bleeding heart away
I couldn't have done it anyway

Wanna be here, we can do it
In the most fantastic sense
I'd meet you in a wonderland
Built for an explosive romance

I closed my eyes to dream of you
The pain of the torture seemed so true
The night I killed I heard a last cry
I had no idea I would see him die

I looked at him with care, he seemed a mess
The future was all I could have guessed
But dreaming of him will always get me high
I had no idea I would see him die

If i could love that boy
From Holland one more time
I could make things alright
Maybe to hear one more sigh

If i could love that boy
From Holland one more time
I could make things alright
Back to a time of piece of mind

Time has passed, I'm still lost
Your pretty smile is all I got
I've been hoping for a tale
You were my shot of health
Another life, a life with you

I'm weakened by old replays
Your vengeance is long overdue
But now you're far, too far away
With nothing more to say

I closed my eyes to dream of you
The pain of the torture seemed so true
The night I killed I heard a last cry
I had no idea I would see him die

I looked at him with care, he seemed a mess
The future was all I could have guessed
But dreaming of him will always get me high
I had no idea I would see him die

If i could love that boy
From Holland one more time
I could make things alright
Maybe to hear one more sigh

If i could love that boy
From Holland one more time
I could make things alright
Back to a time of piece of mind

If i could love that boy
From Holland one more time
I could make things alright
Maybe to hear one more sigh

If i could love that boy
From Holland one more time
I could make things alright
Back to a time of piece of mind

If i could love that boy
From Holland one more time
I could make things alright
Maybe to hear one more sigh

If I could be his toy
Drop my defense, alright
Could see him all the time
Maybe I would also give my life
External links
Edit
| | |
| --- | --- |
| | Official |