Ad blocker interference detected!
Wikia is a free-to-use site that makes money from advertising. We have a modified experience for viewers using ad blockers

Wikia is not accessible if you've made further modifications. Remove the custom ad blocker rule(s) and the page will load as expected.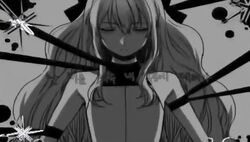 Song title
"I=Nightmare"
Uploaded November 27, 2011, with ~29,000+ views
Singer(s)
SeeU
Producer(s)
Ho-ong-i (music, lyrics)
Tyuh (movie)
Links
YouTube Broadcast (reprint, with subtitles)

Background
Edit
An original SeeU song. A spin-off of I=Fantasy. This song was originally published on CreCrew, which has since been shut down.
Korean (한국어 가사)
Romaja (로마자)
나는 꿈이야 꿈이야 나는 꿈이야
naneun kkumiya kkumiya naneun kkumiya
잠긴 문이야 문이야 도망칠 수 없어
jamgin muniya muniya domangchil su eopseo
I=Nightmare 이 악몽
I=Nightmare i akmong
벗어날 수 없는 깨어나고 싶은
beoseonal su eomnneun kkaeeonago sipeun
나의 이 악몽
naui i akmong


난 네가 겁에 질린 그 모습이 보고 싶어
nan nega geobe jillin geu moseubi bogo sipeo
난 너를 계속 내 악몽에 데려가
nan neoreul gyesok nae akmonge deryeoga


난 네가 도망치는 뒷모습이 보고 싶어
nan nega domangchineun dwitmoseubi bogo sipeo
난 너를 계속 내 악몽에 끌고가
nan neoreul gyesok nae akmonge kkeulgoga


도망쳐도 도망쳐도 끝이 없는 이 악몽
domangchyeodo domangchyeodo kkeuchi eomnneun i akmong
깨어나려 애를 써도 소용이 없네
kkaeeonaryeo aereul sseodo soyongi eomnne


나와 같이 놀아 보자 이 밤이 샐 때까지
nawa gachi nora boja i bami sael ttaekkaji
나와 같이 춤을 추자 눈 뜰 때까지
nawa gachi chumeul chuja nun tteul ttaekkaji


난 네가 겁에 질린 그 모습이 보고 싶어
nan nega geobe jillin geu moseubi bogo sipeo
난 너를 계속 내 악몽에 데려가
nan neoreul gyesok nae akmonge deryeoga
(나는 꿈이야 꿈이야 나는 꿈이야)
(naneun kkumiya kkumiya naneun kkumiya)


난 네가 도망치는 뒷모습이 보고 싶어
nan nega domangchineun dwitmoseubi bogo sipeo
난 너를 계속 내 악몽에 끌고가
nan neoreul gyesok nae akmonge kkeulgoga
(잠긴 문이야 문이야 도망칠 수 없어)
(jamgin muniya muniya domangchil su eopseo)


도망쳐도 도망쳐도 끝이 없는 이 악몽
domangchyeodo domangchyeodo kkeuchi eomnneun i akmong
깨어나려 애를 써도 소용이 없네
kkaeeonaryeo aereul sseodo soyongi eomnne
(I=Nightmare 이 악몽 벗어날 수 없는)
(I=Nightmare i akmong beoseonal su eomnneun)


나와 같이 놀아 보자 이 밤이 샐 때까지
nawa gachi nora boja i bami sael ttaekkaji
나와 같이 춤을 추자 눈 뜰 때까지
nawa gachi chumeul chuja nun tteul ttaekkaji
(깨어나고 싶은 나의 이 악몽)
(kkaeeonago sipeun naui i akmong)


난 네가 겁에 질린 그 모습이 보고 싶어
nan nega geobe jillin geu moseubi bogo sipeo
난 너를 계속 내 악몽에 데려가
nan neoreul gyesok nae akmonge deryeoga


난 네가 도망치는 뒷모습이 보고 싶어
nan nega domangchineun dwitmoseubi bogo sipeo
난 너를 계속 내 악몽에 끌고가
nan neoreul gyesok nae akmonge kkeulgoga


도망쳐도 도망쳐도 끝이 없는 이 악몽
domangchyeodo domangchyeodo kkeuchi eomnneun i akmong
깨어나려 애를 써도 소용이 없네
kkaeeonaryeo aereul sseodo soyongi eomnne


나와 같이 놀아 보자 이 밤이 샐 때까지
nawa gachi nora boja i bami sael ttaekkaji
나와 같이 춤을 추자 눈 뜰 때까지
nawa gachi chumeul chuja nun tteul ttaekkaji


난 네가 겁에 질린 그 모습이 보고 싶어
nan nega geobe jillin geu moseubi bogo sipeo
난 너를 계속 내 악몽에 데려가
nan neoreul gyesok nae akmonge deryeoga
(나는 꿈이야 꿈이야 나는 꿈이야)
(naneun kkumiya kkumiya naneun kkumiya)


난 네가 도망치는 뒷모습이 보고 싶어
nan nega domangchineun dwitmoseubi bogo sipeo
난 너를 계속 내 악몽에 끌고가
nan neoreul gyesok nae akmonge kkeulgoga
(잠긴 문이야 문이야 도망칠 수 없어)
(jamgin muniya muniya domangchil su eopseo)


도망쳐도 도망쳐도 끝이 없는 이 악몽
domangchyeodo domangchyeodo kkeuchi eomnneun i akmong
깨어나려 애를 써도 소용이 없네
kkaeeonaryeo aereul sseodo soyongi eomnne
(I=Nightmare 이 악몽 벗어날 수 없는)
(I=Nightmare i akmong beoseonal su eomnneun)


나와 같이 놀아 보자 이 밤이 샐 때까지
nawa gachi nora boja i bami sael ttaekkaji
나와 같이 춤을 추자 눈 뜰 때까지
nawa gachi chumeul chuja nun tteul ttaekkaji
(깨어나고 싶은 나의 이 악몽)
(kkaeeonago sipeun naui i akmong)


난 네가 겁에 질린 그 모습이 보고 싶어
nan nega geobe jillin geu moseubi bogo sipeo
난 너를 계속 내 악몽에 데려가
nan neoreul gyesok nae akmonge deryeoga
(나는 꿈이야 꿈이야 나는 꿈이야)
(naneun kkum-iya kkum-iya naneun kkum-iya)


난 네가 도망치는 뒷모습이 보고 싶어
nan nega domangchineun dwitmoseubi bogo sipeo
난 너를 계속 내 악몽에 끌고가
nan neoreul gyesok nae akmonge kkeulgoga
(잠긴 문이야 문이야 도망칠 수 없어)
(jamgin mun-iya mun-iya domangchil su eopseo)


도망쳐도 도망쳐도 끝이 없는 이 악몽
domangchyeodo domangchyeodo kkeuchi eomnneun i akmong
깨어나려 애를 써도 소용이 없네
kkaeeonaryeo aereul sseodo soyongi eomnne
(I=Nightmare 이 악몽 벗어날 수 없는)
(I=Nightmare i akmong beoseonal su eomnneun)


나와 같이 놀아 보자 이 밤이 샐 때까지
nawa gachi nora boja i bami sael ttaekkaji
나와 같이 춤을 추자 눈 뜰 때까지
nawa gachi chumeul chuja nun tteul ttaekkaji
(깨어나고 싶은 나의 이 악몽)
(kkaeeonago sipeun naui i akmong)


난 네가 겁에 질린 그 모습이 보고 싶어
nan nega geobe jillin geu moseubi bogo sipeo
난 너를 계속 내 악몽에 데려가
nan neoreul gyesok nae akmonge deryeoga
(난 천천히)
(nan cheoncheonhi)


난 네가 도망치는 뒷모습이 보고 싶어
nan nega domangchineun dwitmoseubi bogo sipeo
난 너를 계속 내 악몽에 끌고가
nan neoreul gyesok nae akmonge kkeulgoga
(난 천천히)
(nan cheoncheonhi)


도망쳐도 도망쳐도 끝이 없는 이 악몽
domangchyeodo domangchyeodo kkeuchi eomnneun i akmong
깨어나려 애를 써도 소용이 없네
kkaeeonaryeo aereul sseodo soyongi eomnne
(난 천천히)
(nan cheoncheonhi)


나와 같이 놀아 보자 이 밤이 샐 때까지
nawa gachi nora boja i bami sael ttaekkaji
나와 같이 춤을 추자 눈 뜰 때까지
nawa gachi chumeul chuja nun tteul ttaekkaji
(난 천천히)
(nan cheoncheonhi)


(난 천천히)
(nan cheoncheonhi)
Derivatives
Edit
Tacca's English Cover

| | |
| --- | --- |
| Featuring | Tacca |
| Author(s) | Tacca |
| Category | Human cover |
External links
Edit
| | |
| --- | --- |
| | Lyrics |