Ad blocker interference detected!
Wikia is a free-to-use site that makes money from advertising. We have a modified experience for viewers using ad blockers

Wikia is not accessible if you've made further modifications. Remove the custom ad blocker rule(s) and the page will load as expected.
iVocaloid Merli Launch Contest (iVOCALOIDメルリ 発売記念コンテスト) was a song & art contest hosted by I-style Project on April 4, 2014 to celebrate the launch of Merli's iVocaloid version release.
Contest Details
Edit
Contestants had until the 20th May, 2014 to submit either an original song to Youtube using Merli or a picture to VocaPic.
Rules (Song)
Edit
Songs must be tagged as 蒼姫ラピス生誕祭2014.
Producers must fill out a submission form in order for their entry to be valid.
Rules (Art)
Edit
Art must be placed in the " メルリ " category and tagged as " iVOCALOIDメルリ発売記念 ".
Art must be in either in the format .JPG, .PNG, or .GIF.
The file must be up to 8 MB.
The winner from either contest received the VOCALOID Starter Kit and either a copy of Aoki Lapis NEO or Merli NEO. The winning song was also distributed digitally under i-Style Music.
Three random contestants also won various Aoki Lapis and Merli character merchandise.
Winning Entries
Edit
Winning Art
Edit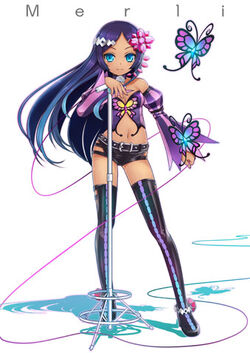 iVOCALOIDメルリ発売記念 by interlaken.
Winning Song
Edit
| Title | Producer | VOCALOID(s) | NND / YT / etc. |
| --- | --- | --- | --- |
| 大きなセカイ | あげは 雪音 | Merli | YT |
Other Song Entries
Edit
| Title | Producer | VOCALOID(s) | NND / YT / etc. |
| --- | --- | --- | --- |
| メルリのひとりごと | 初音一 | Merli | YT |
| ツーリング | Skywave400LTDABS | Merli | YT |
| ハマの姉ちゃんは東京が苦手 | bar4649 | Merli | YT |
| わたしはメルリ | 初音一 | Merli | YT |
| メデューサ破壊神 | AOKURAGE303 | Merli | YT |
| 褪めない夜に針 | naruru nnpa | Merli | NND YT |
| メルリメグル | KtPN | Merli | YT |
| 六時間 | bass remote | Merli | YT |
| left to you | mi taga | Merli | YT |
| How to arrive at there | Erico H | Merli | YT |
| Cross-species | team windfall | Merli | YT |
| So Far So Good | SATOSHI YOSHIDA | Merli | YT |
| formula | くずのせつ | Merli | YT |
External links
Edit